Sea Ice for Walrus Outlook 2021: Alaska Native Sea Ice Experts Share their Observations of Spring in the Bering Sea
By: Lisa Sheffield Guy, ARCUS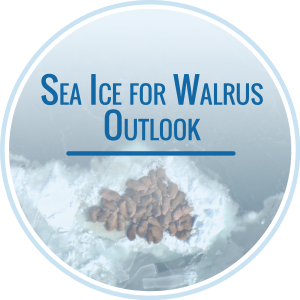 The Sea Ice for Walrus Outlook (SIWO) is a resource for Alaska Native subsistence hunters, coastal communities, and others interested in sea ice and walrus. The SIWO provides weekly reports during the spring sea ice season with information on weather and sea ice conditions relevant to walrus in the northern Bering Sea and southern Chukchi Sea regions of Alaska. The Outlooks are produced with information on weather and sea ice conditions provided by the National Weather Service - Alaska Region and Alaska Native sea ice experts. SIWO is managed by the Arctic Research Consortium of the U.S. (ARCUS), in partnership with the Eskimo Walrus Commission, the National Weather Service, the University of Alaska Fairbanks, and local observers in the communities of Nome, Brevig Mission/Port Clarence, Wales, Shishmaref, Savoonga, Gambell, and Diomede.
The 2021 SIWO season began on Friday, 26 March and ended on Friday, 18 June, running a total of 13 weeks. All 2021 and past season outlooks are publicly available in the SIWO Archive. Please visit the archive to view full reports with photos from all observers each week. As in recent years, we began the season with a "soft start" for those communities with open water—Savoonga, Gambell, and Brevig Mission (Figure 1). During the first weeks of the season, open water patches and leads shifted with the winds and were not often accessible to hunters, with the exception of the open water polynya on the south side of St. Lawrence Island.
25 March 2021 – Aqef Waghiyi, Savoonga.
There is open water but maybe not enough. When the wind died down the ice came back up a little bit. There's patches of open water here and there. Don't think nobody went boating today. Might take a week for Savoonga. Getting ready to go to south side.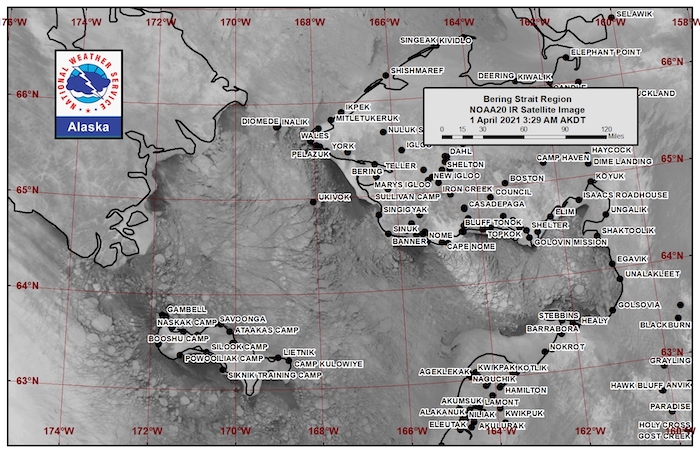 Figure 1. Satellite image of the Bering Strait region on 2 April 2021 provided for the Sea Ice for Walrus Outlook for the second outlook of the 2021 season by the National Weather Service Alaska Sea Ice Program.
The first walrus of the SIWO season were reported by Clarence Irrigoo, Jr. of Gambell on 9 April and walrus hunting began for this area by 16 April. Open water was first reported in Diomede by Marty Eeleengayouq Ozenna on 12 April, and by 23 April all communities were reporting areas of open water. The communities of Gambell, Savoonga, and Nome continued to report walrus throughout the month of May (Figures 2 and 3).
20 April 2021 – Robert Tokeinna, Jr., Wales.
Much open water, sea ice seems to be holding off, signs of thawing. Seen sea gulls and some snow birds. Warm past day or two upper 20s to lower teens, brisk 20 mph with mid 30s today. Notice couple fishermen, unsure if they were successful. This was taken about 10 PM Monday, April 19, 2021.
6 May 2021 – Boogles Johnson, Nome.
The sea ice is moving in the Nome area. Our shore fast ice is breaking off closer to the shore, last night there was a piece approx. 6 miles long that just broke off. I was able to head out hunting yesterday and the sea ice is ideal for Walrus & Seals now. We have not had many waves yet so the Pan ice is still mainly in pans. Yesterday was glass calm and a perfect day to be on the ocean. I have heard that several crews have successfully landed Walrus, Oogruk (bearded seals) and seals.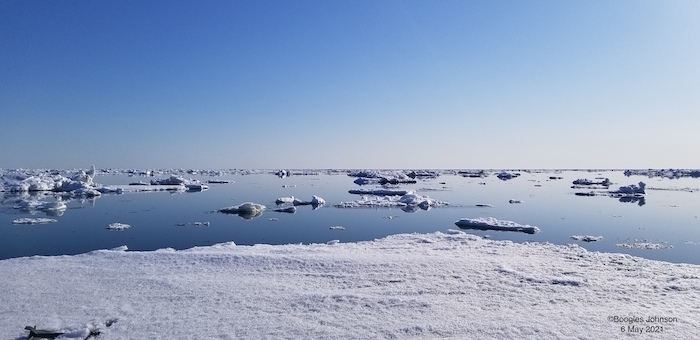 Figure 2. Sea ice and weather conditions in Nome, Alaska on 6 May 2021 courtesy of Sea Ice for Walrus Outlook Observer, Frank (Boogles) Johnson.
14 May 2021 – Clarence Irrigoo, Jr., Gambell.
From May 9–12 boats went out got walrus. May 11 was so foggy but 18-20 boats went out. Most of the boats got walrus. Once when we get to the ice 20+ miles out we see all this. See no more ice, only ice is coming from NE.
Figure 3. Walrus resting on the ice near Gambell, Alaska on 11 May 2021 courtesy of Sea Ice for Walrus Outlook Observer, Clarence Irrigoo, Jr.
Weather conditions—primarily wind and fog—kept hunters off the water during late May. By the first week in June, sea ice was still present in all communities and Curtis Nayokpuk reported hunters preparing to launch boats in shorefast ice open leads (Figure 4).
Friday, 4 June 2021 – Curtis Nayokpuk, Shishmaref.
Inch of fresh new snow on the ground this AM. Only a hand full of Bearded Seals brought in so far by hunters on snow mobiles. Off shore wind (east at 12) combined with new snow cover over thin ice will have hunters preparing boats and gear for hopefully launching along shore fast ice open leads when conditions permit.
Friday, 4 June 2021 – Curtis Nayokpuk, Shishmaref.
By the second week of June, sea ice had disappeared from the communities of Nome and Diomede and the SIWO concluded for those areas. Little ice remained around St. Lawrence Island, though walrus and seals were still present on what remained, and hunters in the Brevig Mission and Port Clarence areas had access to open water and walrus in the area.
Friday, 11 June 2021 – Marcus Barr
Ice near Brevig went out and hunters are going out boating. I heard of couple boats got walrus but ones that were swimming. More boaters took off yesterday.
The SIWO concluded its 2021 season with a final report for the communities of Savoonga, Shishmaref, and Wales on 18 June, with very little ice left in the area (Figure 5). Curtis Nayokpuk in Shishmaref reported, "This is the first time I've seen sea ice (loose pack outer waters) melt before our still solid lagoon! We can't boat to traditional egg hunting areas yet as lagoon areas blocked with ice." Also during this final week, Aqef Waghiyi observed walrus still in the area on the remaining ice about 14 miles north of Savoonga. This year was the latest-running season since 2014, with ice lingering in the region longer than in recent years. While many communities were able to hunt walrus and seals this season, others such as Diomede, were not able to meet community food security needs.
Friday, 11 June 2021 – Marty Eeleengayouq Ozenna
We've been pretty ice free and 3 days ago we had 3 pods of killer whales swim and pass by no game been empty like all the game passing along the coast all year barely see any kind of game just birds. Notice around no game swimming by, yet bad year for spring hunting in Diomede, again no meat in the freezers.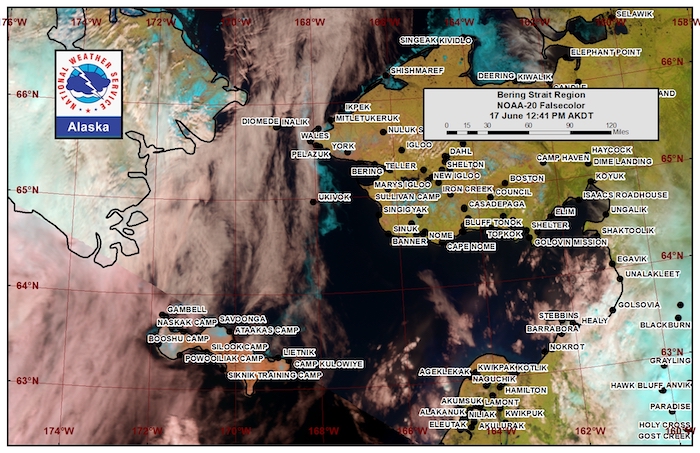 Friday, 11 June 2021 – Marcus Barr
During late summer/early fall 2021, a formal evaluation of the SIWO, funded by Alaska Sea Grant, will be led by Dr. Nathan Kettle and Amy Hendricks of University of Alaska Fairbanks. The goal of this evaluation is to examine how well SIWO—now in its twelfth season—has served both Bering Strait coastal communities and others who use SIWO information, and where there might be areas for improvement in future seasons. Results of the evaluation will be shared publicly when available. The next SIWO season is anticipated to begin in March or April 2022. Follow SIWO on Facebook for more discussion of Bering Strait sea ice, weather, and marine mammals year-round.
Thank you to the 2021 SIWO Observers for sharing their observations: Marcus Barr, Native Village of Brevig Mission; Clarence Irrigoo, Jr., Native Village of Gambell; Frank (Boogles) Johnson, Nome Eskimo Community; Curtis Nayokpuk, Native Village of Shishmaref; Marty Eeleengayouq Ozenna, Native Village of Diomede; Robert Tokeinna, Jr., Native Village of Wales; and Aqef Waghiyi, Native Village of Savoonga.
Funding for SIWO is provided to ARCUS by the National Science Foundation's Division of Arctic Sciences (PLR-1928794).
---
About the Author
Lisa is a Project Manager for the Arctic Research Consortium of the US (ARCUS) since 2015. Lisa works on a variety of programs at ARCUS, including the Sea Ice for Walrus Outlook, the Arctic Indigenous Scholars Program, The Arctic in the Classroom, and others. Lisa earned BS and MS degrees in Wildlife Science at Oregon State University where she studied seabirds as indicators of climate change on St. Lawrence Island, Alaska. Her professional interests include the impact of changing climate on ecosystems and communities, equitable inclusion of Indigenous Knowledge in science, science communication, and marine ecology.