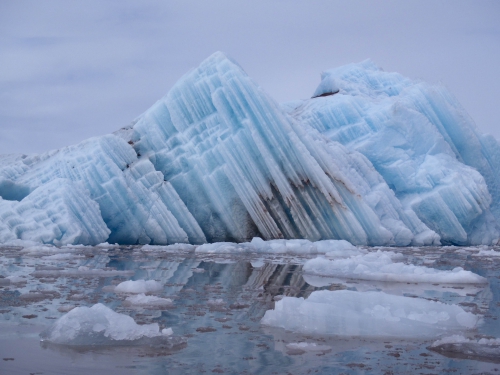 Arctic Indigenous scholars have historically and continue to advance a variety of issues, such as food security, hunting and fishing rights, community resilience, climate change, biodiversity, and a number of other topics and disciplines. The information and understanding put forward by such scholars is invaluable. It is increasingly clear that the study of the Arctic depends upon successfully empowering Arctic Indigenous scholars with the opportunity to provide insight and expertise to those scientists studying the Arctic within the realm of academic research, often from urban-based settings. The objective of this opportunity, led by the Arctic Research Consortium of the U.S. (ARCUS) and the Inuit Circumpolar Council (ICC) Alaska, and supported by the National Science Foundation's Division of Arctic Sciences, is to create a space for Indigenous scholars to educate and influence policy- and decision-makers engaged in Arctic Issues from the nation's capital, Washington, D.C.
What is an Indigenous Scholar?
We define a scholar as a person who is an expert within their own knowledge system. No formal education is required.
2018 Indigenous Scholars Selected!
Congratulations to the two Indigenous scholars for 2018 selected by our five-member volunteer selection committee, Ms. Rosemary Ahtuangaruak and Dr. Theresa Arevgaq John! We received many excellent applications for this opportunity and hope to continue it in the future. In addition to meeting with relevant policy- and decision-makers in Washington D.C., each scholar will have the opportunity to provide a public seminar/webinar on their topic of interest. We will post information on how to attend the seminars once they are scheduled.
Call for Applications - CLOSED
Due Thursday, 15 February 2018
To empower Indigenous scholars and provide a key opportunity for officials at U.S. government agencies, non-governmental organizations, and other groups working on Arctic issues to learn and integrate information/perspectives from multiple Arctic knowledge systems, ARCUS and ICC Alaska invite applications from and/or nominations of leading Arctic Indigenous scholars to travel to Washington D.C. Two scholars will be selected to participate in 2018 and travel expenses and per diem will be provided. While the selected Arctic Indigenous Scholars are in D.C., ARCUS and ICC Alaska will facilitate meetings with officials at relevant U.S. government agencies, non-governmental organizations, and other groups, where such scholars will be able to share their interests, learn of available resources, build toward collaborative relationships, and provide on-the-ground perspectives to key decision-makers. Also, Indigenous Scholars will provide an open seminar/webinar to Arctic policy-makers and others interested in the Arctic.
Participating Indigenous scholars will be selected by a committee composed of diverse Indigenous leaders, DC-area officials, and other Arctic researchers. Criteria for selection will include factors such as the Scholar's potential overall impact during their D.C. visit, applicant's ability to share the benefit from meeting with policy- and decision-makers, and the potential for that applicant to advance knowledge of all kinds and its application to real-world challenges through broader connectivity. Travel dates will be flexible within the months of April-May 2018.
Over the course of three to five days, the visiting scholar will be engaged in many formal and informal activities to connect with the Arctic research community located in Washington, DC. Depending upon the Scholar's specific expertise and interests, a customized agenda, as well as timing of the visit, will be scheduled. For example, the following types of activities may be included:
Seminar (with live-streamed and recorded webinar) at the ARCUS D.C. office.
Meetings with:

Senior Arctic research officials at agencies like the U.S. Arctic Research
Commission and the Interagency Arctic Research Policy Committee;
Non-governmental organizations like the National Academy of Sciences Polar
Research Board, American Association for the Advancement of Science, and the Arctic 21 coalition;
Federal agencies relevant to the Scholars' work, such as in the Department of
the Interior (e.g., USFWS, USGS, USDA, BLM), Department of Commerce, National Science Foundation, Department of Energy, or Environmental Protection Agency;
Representatives of other nation states or inter-governmental organizations.
Leading DC-area Arctic researchers; or
If appropriate, meetings with local science educators and their students.
Apply or Nominate a Scholar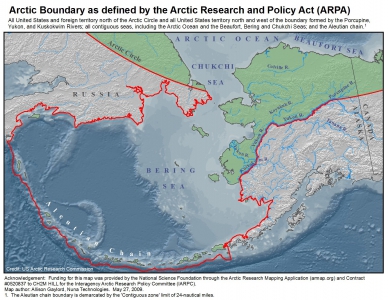 Candidates should be Arctic Indigenous persons with U.S. citizenship. For this opportunity, we are using the Arctic geographic boundaries as described by the Arctic Research and Policy Act (see figure). To nominate an Indigenous scholar, simply send us a letter of nomination outlining why and how you believe the scholar and their community would benefit from this opportunity. Please provide full contact information for your nominee and we will follow up with them to complete the application process. Nomination letters can be emailed to lisa [at] arcus.org or mailed to ARCUS, 3535 College Road - Suite 101, Fairbanks, AK 99709-3710. Letters should be emailed or post-marked by 15 February 2018.
To apply for the opportunity yourself, please choose one of the following formats to submit your application:
Online application form: https://www.arcus.org/indigenous-scholars/apply
Download a printable application form and mail to Lisa Sheffield Guy, Arctic Research Consortium of the U.S. 3535 College Road – Suite 101, Fairbanks, AK 99709-3710:
Call for Indigenous Scholars - Application (PDF 120 KB)
Call for Indigenous Scholars - Application (MS Word Document - 70 KB)
Arrange a telephone interview to apply (applications via phone will be recorded for committee review). To schedule a time, please call the ARCUS office at 907-474-1600.
For any questions regarding the project or application process, please contact Lisa Sheffield Guy at lisa [at] arcus.org or 907-474-1600.
Project Personnel
Project Co-leads:
Carolina Behe, Indigenous Knowledge/Science Advisor, Inuit Circumpolar Council Alaska
Robert Rich, Executive Director, Arctic Research Consortium of the U.S.
Project Manager:
Lisa Sheffield Guy, Project Manager, Arctic Research Consortium of the U.S.
Volunteer Selection Committee
Percy Ballot, Maniilaq Association, Buckland, AK
Alicia Bell-Sheeter, USDA Forest Service Office of Tribal Relations, Washington D.C.
Raychelle Daniel, The Pew Charitable Trusts, Washington, D.C.
Dalee Sambo Dorough, University of Alaska Anchorage, Anchorage, AK
Gay Sheffield, Alaska Sea Grant, Nome, AK