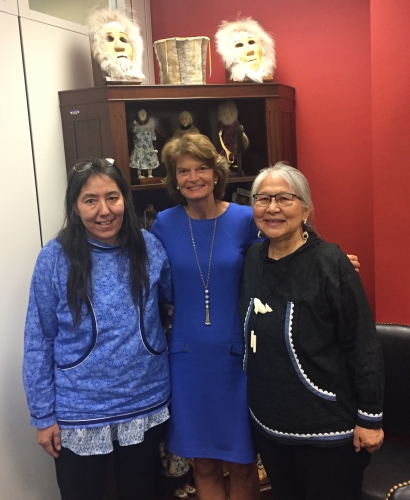 Arctic Indigenous scholars have historically and continue to advance a variety of issues, such as food security, hunting and fishing rights, community resilience, climate change, biodiversity, and a number of other topics and disciplines. The information and understanding put forward by such scholars is invaluable. It is increasingly clear that the study of the Arctic depends upon successfully empowering Arctic Indigenous scholars with the opportunity to provide insight and expertise to those scientists studying the Arctic within the realm of academic research, often from urban-based settings. The objective of this opportunity, led by the Arctic Research Consortium of the U.S. (ARCUS) and the Inuit Circumpolar Council (ICC) Alaska, and supported by the National Science Foundation's Division of Arctic Sciences, is to create a space for Indigenous scholars to educate and inform policy- and decision-makers engaged in Arctic issues from the nation's capital, Washington, D.C. Funding for this program is provided to ARCUS by the National Science Foundation's Division of Arctic Sciences (PLR-1304316).
What is an Indigenous Scholar?
We define a scholar as an expert within their own knowledge system. This includes hunters, fishers, and gatherers; those that process and store food; health aides; and others. It includes youth, elders, and adults. Your education may have come from the land, the water, or a classroom.
Recording Available - presented by Arctic Indigenous Scholar, Helen Aderman, at the U.S. Global Climate Research Program office in Washington, D.C. on Monday, 6 May 2019!
Title: The Bristol Bay Marine Ecosystem & Subsistence Resource Needs

The application period for the 2019 opportunity is now closed
The application period for 2020 Arctic Indigenous Scholars, if funded, will open in December 2019.
For any questions regarding the project or application process, please contact Lisa Sheffield Guy at lisa [at] arcus.org or 907-474-1600.
Meet the 2019 Arctic Indigenous Scholars
Congratulations to the four Arctic Indigenous Scholars selected in 2019! The scholars will travel to Washington, D.C. in May, 2019 where they will provide a seminar/webinar as part of the ARCUS Arctic Research Seminar Series and meet with with D.C. area officials relevant to their interests and community needs.
Helen Aderman
Helen Kegginarrluk Aderman is Yup'ik born in Togiak, Alaska, from Aleknagik, Alaska. She is the Bristol Bay Native Association's Marine Mammal Manager, based in Dillingham, and the Executive Director of the Qayassiq Walrus Commission and Bristol Bay Marine Mammal Council. She holds a B.A. in Rural Development from University of Alaska Fairbanks. Helen is working to address impacts on marine mammal habitat use areas and to ensure future Alaska Native generations will have continued access to their traditional marine foods for harvest. While in D.C., Helen hopes to work with federal stakeholders on resolving unique remote Alaska Native issues in establishing long-term marine ecosystem habitat protective measures.
Beth Leonard
Beth Ginondidoy Leonard is professor and director of the Alaska Native Studies Program at the University of Alaska Anchorage. She is Deg Xit'an (Athabascan) and member of the Shageluk Tribe of interior Alaska; her parents are James, and the late Jean Dementi. In 2014, she was awarded a Fulbright U.S. Core Scholarship and spent five months at Te Kawa a Māui – School of Māori Studies at Victoria University of Wellington (VUW). During that time, she taught a joint University of Alaska-VUW videoconference with Dr. Ocean Mercier, and researched Māori student recruitment, retention, and mentoring. Beth is a member of the Alaska Native Studies Council, and UArctic Indigenous Issues Committee. Her current research investigates the confluences of Indigenous methodologies, knowledges, and pedagogies in shaping Indigenous spaces in higher education.
Mark Miklahook
Mark Sivukrak Miklahook, III is St. Lawrence Island/Siberian Yupik from Savoonga, Alaska in the Bering Strait. As an Arctic Indigenous scholar, Mark hopes to address the importance of teaching Native Alaskan languages in village schools, how his community uses traditional food to continue their subsistence traditions, and how climate change is shortening winters and affecting hunting/subsistence activities. He is actively engaged in efforts to improve his community, such as the Alaska Community Action on Toxins, the Bering Sea Women's Group, and volunteering with the Alaska Rural Veterinary Clinic. Mark will use this opportunity to represent the voice of the Siberian Yupik people of St. Lawrence Island, who are often underrepresented in government discussions and policy decisions that are made in Washington D.C.
Tonia Osborne
Tonia Qanannaq Osborne is Inupiaq from the village of White Mountain, Alaska but she also grew up in Nome. She is a senior at the University of Alaska Southeast in Juneau where she is studying marine biology. Tonia is an Alaska Native Science and Engineering Program (ANSEP) university success student as well as a Caleb Pungowiyi Scholar. As an undergraduate, she is very involved with research with marine mammals through an REU (Research Experience for Undergraduates) program at Mystic Aquarium. Tonia will continue to do research with her university until she graduates. She is very interested in incorporating traditional knowledge from hunters, villagers, and elders in scientific research as the Arctic is experiencing amplified effects of climate change.
2018 Indigenous Scholars - Rosemary Ahtuangaruak and Theresa Arevgaq John
Congratulations to the two Indigenous scholars for 2018 selected by our five-member volunteer selection committee, Rosemary Ahtuangaruak and Theresa Arevgaq John! We received many excellent applications for this opportunity and hope to continue it in the future. Theresa and Rosemary traveled to Washington D.C. in May 2018 where they met with leaders and policy-makers to discuss issues important to their communities. We are grateful to those who took time to meet with the scholars, including: The National Science Foundation, the Environmental Protection Agency - Office of International and Tribal Affairs, The Department of State offices of International Health & Biodefense and Environment & Global Change, The Smithsonian Institution's Arctic Studies Center, Senator Lisa Murkowski and staff, The National Institute of Environmental Health Sciences, and the Department of Interior for hosting a multi-agency meeting at their headquarters.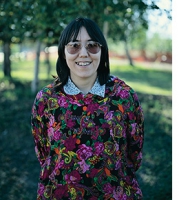 Rosemary Ahtuangaruak is an Inupiaq activist. She is a graduate of the University of Washington Medex Northwest Physician Assistant Program. She has fought tirelessly for the health and protection of her people and of the Arctic's unparalleled wilderness that has sustained her culture for thousands of years. Rosemary is a former mayor of Nuiqsut and currently serves on the board of the Inupiat Community of the Arctic Slope, the regional tribal government for the North Slope, and is an executive council member of the Alaska Inter–Tribal Council. She received the 2009 Voice of the Wild Award from the Alaska Wilderness League. She is a founding board member of REDOIL (Resisting Environmental Destruction on Indigenous Lands).
Theresa Arevgaq John is an Associate Professor in the Department of Cross-cultural Studies at the University of Alaska Fairbanks. She has authored numerous academic articles and a co-author of a book Yupiit Yuraryarait: Yup'ik Ways of Dancing and has presented her work at dozens of local, national, and international professional conferences. Dr. John currently serves on the National Advisory Council on Indian Education and the International Indigenous Women's Forum. She is a former member of the Alaskan State Council Arts and the former Chair of the Traditional Native Arts Panel. She is also the recipient of the Governor's Distinguished Humanities Educator Award and Alaska State Library Award. Dr. John received her B.S., M.Ed., and Ph.D. from the University of Alaska Fairbanks.
As an advocate for Native education, she is highly involved in various organizations and projects that promote traditional Native culture, history, spirituality, language and education. Among John's many affiliations, she is involved in the University Alaska Native and Language Committee, Alaska Native Education and Computer Assisted Language Learning project. She is a member of the National Indian Education Association and a former member of the Statewide Bilingual Multicultural Education Council, Alaska Association for Bilingual Education, Alaska Native Heritage Center Project, Qayaqs and Canoes, Paddling into the Millennium Selection Committee, and Alaska Rural Systemic Initiative. John has extensive performing experience, including several Yup'ik Traditional Dance Groups and her one woman show Yup'ik Arnaq. She is the founder of the Nunarpak Dancers at Alaska Pacific University, the Annual Cama-i Dance Festival in Bethel, the Inu-Yupiaq student Dancer Group at University of Alaska, Fairbanks, co-founder of the Tuma Theatre, and participated in the development of the Festival of Native Arts. John has performed all over the world, in festivals in Greenland, Greece, France, Russia, the Far East and Peru
Cultural Adaptation and Resilience in Arctic Climate Change
Arctic Research Seminar by Dr. Theresa Arevgaq John
Project Personnel
Project Co-leads:
Carolina Behe, Indigenous Knowledge/Science Advisor, Inuit Circumpolar Council Alaska
Helen Wiggins, Executive Director, Arctic Research Consortium of the U.S.
Project Manager:
Lisa Sheffield Guy, Project Manager, Arctic Research Consortium of the U.S.
2019 Volunteer Selection Committee
Rosemary Ahtuangaruak, 2018 Arctic Indigenous Scholar
Raychelle Daniel, The Pew Charitable Trusts, Washington, D.C.
Craig Fleener, ARCUS Board of Directors
Theresa Arevgaq John, University of Alaska Fairbanks, 2018 Arctic Indigenous Scholar
Inuuteq Stotts, ASRC Energy Services
2018 Volunteer Selection Committee
Percy Ballot, Maniilaq Association, Buckland, AK
Alicia Bell-Sheeter, USDA Forest Service Office of Tribal Relations, Washington D.C.
Raychelle Daniel, The Pew Charitable Trusts, Washington, D.C.
Dalee Sambo Dorough, University of Alaska Anchorage, Anchorage, AK
Gay Sheffield, Alaska Sea Grant, Nome, AK