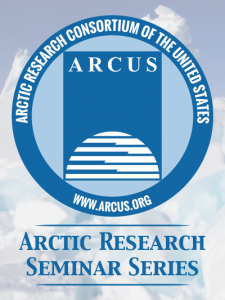 The ARCUS Arctic Research Seminar Series invites leading Arctic researchers and community leaders to share the latest findings in Arctic research and what they mean for decision-making. These webinar events are free and open to the public, and will be of particular interest to the international Arctic research community, federal agency officials, congressional staff, non-governmental organizations, Arctic educators, and the public.
Registration is required for each event.
Note: In addition to the Zoom presentation, a free livestream of the webinar will be broadcast on YouTube. A facilitator will help those participants submit written questions to the speaker. Please be aware there will be a slight delay from the Zoom presentation.
For those of you on Twitter, we also invite you to join our online discussion of each event using the hashtag #arcuswebinar.
The ARCUS Arctic Research Seminar Series is made possible with support by the National Science Foundation under Cooperative Agreement No. PLR-1928794.
Please contact Stacey Stoudt at stacey [at] arcus.org with any questions.
Seminar/Webinar Series Mailing List
To receive information about future seminar/webinar events, please subscribe to our mailing list here.
Seminar/Webinar Archive
For videos of past ARCUS Arctic Research Seminars, please visit our seminar/webinar archive here.
Upcoming Seminars/Webinars
Tuesday, 16 February 2021, 9:00 a.m. AKST: Kent Moore (University of Toronto Mississauga) - Anomalous Collapses of Nares Strait Ice Arches Leads to Enhanced Export of Arctic Sea Ice
Friday, 12 March 2021, 9:00 a.m. AKST: Gil Bohrer (The Ohio State University ) - Ecological Insights from the New Arctic Animal Movement Archive - Tracking Three Decades of Animal Movement Across a Changing Arctic