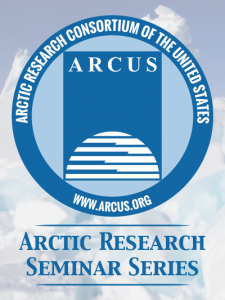 ARCUS would like to announce that we are making some changes to our Arctic Research Seminar Series. The largest change will be that Seminar Series will now be solely webinar-based, allowing a wider variety of available presenters.
The ARCUS Arctic Research Seminar Series invites leading Arctic researchers and community leaders to share, both in person and via simultaneous webinar, the latest findings in Arctic research and what they mean for decision-making. The events are free and open to the public, and will be of particular interest to interest to the international Arctic research community, federal agency officials, congressional staff, non-governmental organizations, Arctic educators, and the public.
Registration is required for each event.
For those of you on Twitter, we also invite you to join our online discussion of each event using the hashtag #arcuswebinar.
The ARCUS Arctic Research Seminar Series is made possible with support by the National Science Foundation under Cooperative Agreement No. PLR-1928794.
Please contact Stacey Stoudt at stacey [at] arcus.org with any questions.
Seminar/Webinar Series Mailing List
To receive information about future seminar/webinar events, please subscribe to our mailing list here.
Seminar/Webinar Archive
For videos of past ARCUS Arctic Research Seminars, please visit our seminar/webinar archive here.
Upcoming Seminars/Webinars
Jim Thomson: Ocean Waves in the New Arctic - 7 February 2020
When:
Friday, 7 February 2020 -

12:00pm

to

1:00pm
(ET)
Where: Online for live webinar
Abstract
The rapid decline of summer sea ice cover in the Western Arctic has been accompanied by a dramatic increase in the sea state of the region. Ocean waves are now more common throughout the region, including multiple energetic swell events each summer. These waves interact with the sea ice and help to both form and define the expanding Marginal Ice Zone of the Western Arctic. This seminar will review recent work to observe and forecast changes in the Arctic sea state, including implications for sea ice retreat and coastal morphology.
Speaker Details
Jim Thomson is a Senior Principal Oceanographer at the University of Washington's Applied Physics Lab and a Professor in the Dept. of Civil & Environmental Engineering. Dr. Thomson studied Applied Ocean Physics and Engineering in MIT's joint program with the Woods Hole Oceanographic Institution, receiving a PhD in 2006. Dr. Thomson studies waves and turbulence at the surface of the ocean, including interactions with sea ice. His work emphasizes field measurements and physical processes and includes the development of instrumentation and autonomous platforms.
---