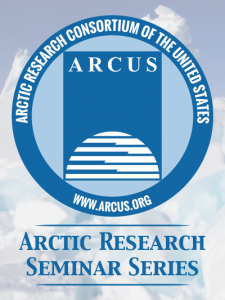 The ARCUS Arctic Research Seminar Series invites leading Arctic researchers and community leaders to share, both in person and via simultaneous webinar, the latest findings in Arctic research and what they mean for decision-making. The events are free and open to the public, and will be of particular interest to the international Arctic research community, Federal agency officials, Congressional staff, NGOs, Arctic educators, and the media.
Registration is required for the both the live seminar as well as the live-streamed webinar associated with each event. The location of the in-person seminar will vary depending on the location of the presenter. If you plan to attend a seminar live, our events begin at 12:00 p.m. local time of the seminar location. We welcome those attending in person to bring your lunch with you. Cookies and beverages will be provided.
For those of you on Twitter, we also invite you to join our online discussion of each event using the hashtag #arcuswebinar.
The ARCUS Arctic Research Seminar Series is made possible with support by the National Science Foundation under Cooperative Agreement No. PLR-1304316. We would also like to thank the Polar Research Board for their generous in-kind staff support during seminar events.
Please contact Stacey Stoudt at stacey [at] arcus.org with any questions.
Seminar/Webinar Series Mailing List
To receive information about future seminar/webinar events, please subscribe to our mailing list here.
Seminar/Webinar Archive
For videos of past ARCUS Arctic Research Seminars, please visit our seminar/webinar archive here.
Upcoming Seminars/Webinars
March 2019: Donna Hauser, (University of Alaska Fairbanks) - Diverse Responses and Emerging Risks for Marine Mammals in a Rapidly Changing Arctic