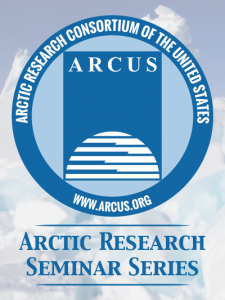 The ARCUS Arctic Research Seminar Series invites leading Arctic researchers and community leaders to share the latest findings in Arctic research and what they mean for decision-making. These webinar events are free and open to the public, and will be of particular interest to the international Arctic research community, federal agency officials, congressional staff, non-governmental organizations, Arctic educators, and the public.
Registration is required for each event.
Note: In addition to the Zoom presentation, a free livestream of the webinar will be broadcast on YouTube. A facilitator will help those participants submit written questions to the speaker. Please be aware there will be a slight delay from the Zoom presentation. A link to the YouTube broadcast will be provided here one hour prior to the seminar start time on the day of the event.
For those of you on Twitter, we also invite you to join our online discussion of each event using the hashtag #arcuswebinar.
The ARCUS Arctic Research Seminar Series is made possible with support by the National Science Foundation under Cooperative Agreement No. PLR-1928794.
Please contact Stacey Stoudt at stacey [at] arcus.org with any questions.
Seminar/Webinar Series Mailing List
To receive information about future seminar/webinar events, please subscribe to our mailing list here.
Seminar/Webinar Archive
For videos of past ARCUS Arctic Research Seminars, please visit our seminar/webinar archive here.
Upcoming Seminars/Webinars
Gerald "JJ" Frost (ABR, Inc) – The "Greening" of the Arctic
When:
Friday, 29 May 2020 -

1:00pm

to

2:00pm
(ET)
Where: Online
Abstract
Arctic lands and seas have experienced dramatic environmental and climatic changes in recent decades, and the pace of change is expected to accelerate in the future. Beginning in the early 1980s, a constellation of Earth-observing satellites has provided a unique vantage point for observing the remote and dynamic Arctic tundra biome—the treeless environment encircling most of the Arctic Ocean. The satellite record shows that the productivity of tundra vegetation has increased since the late 20th century, a phenomenon commonly referred to as "the greening of the Arctic." Trends in tundra productivity, however, have not been uniform in direction or magnitude across the circumpolar region and there has been substantial variability from year to year. This variability arises from a web of complex interactions that link the vegetation, atmosphere, sea-ice, seasonal snow cover, ground (soils, permafrost, and topography), and animals of the Arctic system. In this talk I will begin with an overview of the tundra biome and address the questions: what are the drivers of Arctic vegetation change? What types of change would be apparent to an observer on the ground? And, what are the consequences of these changes for Arctic residents and the rest of the globe? Frost will explore these questions through the lens of the satellite record, field studies, and the rich knowledge-base of Arctic residents to understand the drivers and impacts of ecological change in the Arctic tundra biome.
Speaker Details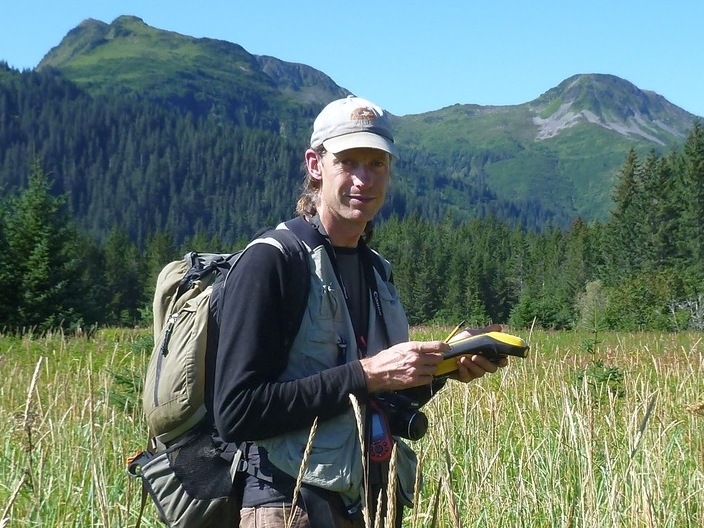 Gerald "J.J." Frost is an ecologist with a multidisciplinary research background focused on Arctic tundra and boreal forest ecosystems. He earned a bachelor's degree in Biological Sciences at the University of Alaska Fairbanks in 1999, and a Ph.D. in Environmental Science at the University of Virginia in 2013. J.J. has accumulated over twenty years of field experience in Alaska and northwestern Siberia. His recent work has focused on tundra vegetation dynamics, interactions and feedbacks between vegetation and permafrost, landscape change detection, and long-term monitoring of vegetation and permafrost. J.J.'s research integrates field measurements with a variety of modern and historical remote-sensing datasets to elucidate current ecosystem conditions and long-term change.
J.J. lives in Fairbanks, Alaska where he is a senior scientist with ABR (Alaska Biological Research), Inc.
---