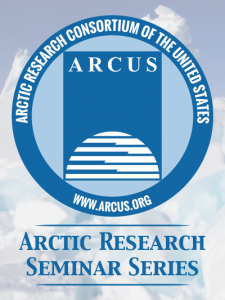 The ARCUS Arctic Research Seminar Series invites leading Arctic researchers and community leaders to share the latest findings in Arctic research and what they mean for decision-making. These webinar events are free and open to the public, and will be of particular interest to the international Arctic research community, federal agency officials, non-governmental organizations, Arctic educators, and the public.
Registration is required for each event.
For those of you on Twitter, we also invite you to join our online discussion of each event using the hashtag #arcuswebinar.
The ARCUS Arctic Research Seminar Series is made possible with support by the National Science Foundation under Cooperative Agreement No. PLR-1928794.
Please contact Stacey Stoudt at stacey [at] arcus.org with any questions.
Seminar/Webinar Series Mailing List
To receive information about future seminar/webinar events, please subscribe to our mailing list here.
Seminar/Webinar Archive
For videos of past ARCUS Arctic Research Seminars, please visit our seminar/webinar archive here.
Upcoming Seminars/Webinars
Friday, 23 April 2021, 9:00 a.m. AKDT: Emily S. Choy, (McGill University) - Marine Predators as Sentinels of Environmental Change in Arctic Ecosystems
Emily Choy: Marine Predators as Sentinels of Environmental Change in Arctic Ecosystems
When:
Friday, 23 April 2021 -

1:00pm

to

2:00pm
(ET)
Where: online
Abstract
Arctic ecosystems are undergoing rapid change, and long-lived top predators are considered sentinels of the impacts of climate change on marine ecosystems. Beaufort Sea beluga whales (Delphinapterus leucas) and thick-billed murres (Uria lomvia) in northern Hudson Bay have experienced long-term shifts in prey species and declines in inferred growth rates, believed to be the result of environmental changes. In partnership with Inuvialuit communities, we examined inter-annual variation and environmental factors affecting prey, body condition, and physiology of Beaufort Sea beluga whales. The estimated proportional contributions of Arctic cod (Boreogadus saida) to beluga diet decreased from 2011 to 2014, coinciding with an increase in capelin (Mallotus villosus). Belugas consumed the highest proportions of capelin and the lowest proportions of cod in 2014. Body condition of whales was positively correlated with myoglobin, hemoglobin concentrations, and % hematocrit, resulting in lower total body oxygen stores in whales with lower body condition. The relationship between body condition and oxygen storage capacity may represent a positive feedback mechanism, in which environmental changes resulting in decreased body condition impair foraging ability. To examine the impacts of climate-induced prey shifts on the energetics of seabirds, heart rate was examined as a proxy for O2 consumption in murres and black-legged kittiwakes (Rissa tridactyla), and were calibrated with GPS-accelerometers to classify behaviours and activity rate. Finally, we examined the effects of Arctic warming on murre physiology. In response to increasing temperatures, murres exhibited limited heat tolerance and low ability to dissipate heat, with one of the lowest evaporative cooling efficiencies recorded in birds. These results highlight the various impacts of climate change on marine predators and their broader implications on Arctic ecosystems.
Speaker Details
Dr. Emily Choy is a postdoctoral fellow in the Department of Natural Resource Sciences at McGill University and Environment and Climate Change Canada. Her research is supported by NSERC and a L'Oreal-UNESCO for Women in Science Research Excellence Fellowship. Dr Choy is studying the physiological response of thick-billed murres on Coats Island, Nunavut, to Arctic climate change, specifically the effects of changes in prey availability on their energetics and warming temperatures on their physiology and behaviour. She completed her PhD in Biological Sciences at the University of Manitoba and Fisheries and Oceans Canada, on beluga whales as sentinels of environmental change in the Beaufort Sea ecosystem in partnership with communities in the Inuvialuit Settlement Region of the Northwest Territories. Dr. Choy completed her MSc. in Biology at the University of Ottawa, studying the ability of seabirds to transport contaminants to coastal food webs at Cape Vera, Devon Island, Nunavut. Dr. Choy was a scientist on the Victoria Strait expedition and a recipient of the Erebus Medal. She is a Fellow for the Royal Canadian Geographical Society, a Scientific Advisor for The W. Garfield Weston Foundation's Northern Committee, and a council member for the Association of Field Ornithologists. Dr. Choy is very passionate about science outreach and is currently partnered with Earth Rangers in their Northern Project to teach kids about the conservation of Arctic wildlife.
---