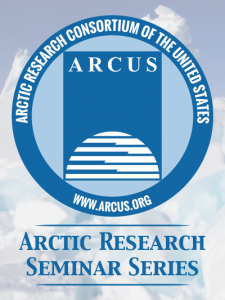 The ARCUS Arctic Research Seminar Series invites leading Arctic researchers and community leaders to Washington, D.C. to share both in person and via simultaneous webinar the latest findings in Arctic research and what they mean for decision-making. The events are free and open to the public, and will be of particular interest to the international Arctic research community, Federal agency officials, Congressional staff, NGOs, Arctic educators, and the media.
If you plan to attend a seminar live in Washington, D.C., our events begin at 12:00 p.m. ET and we welcome you to bring your lunch with you. Cookies and beverages will be provided and there are numerous eateries in our neighborhood. The ARCUS D.C. Office is located at 1201 New York Ave., NW, Washington, DC, 20005. We are on the 4th floor. When you arrive via the elevator, there will be a sign to direct you to the conference room.
The ARCUS Arctic Research Seminar Series is made possible with support by the National Science Foundation under Cooperative Agreement No. PLR-1304316. We would also like to thank the Polar Research Board for their generous in-kind staff support during seminar events.
Upcoming Arctic Research Seminar Speakers:
22 February: John Farrell, U.S. Arctic Research Commission
1 March: Heather Conley, Center for Strategic & International Studies
14 April: Mia Bennett, UCLA
3 May: Robert Corell, University of Tromso
Registration is required for the both the live seminar as well as the live-streamed webinar associated with each event.
Please visit our seminar archive here for videos of past ARCUS Arctic Research Seminars. For those of you on Twitter, we also invite you to join our online discussion of each event using the hashtag #arcuswebinar.
Please contact Brit Myers at brit [at] arcus.org with any questions.
John Farrell, U.S. Arctic Research Commission - Update on the US Arctic Research Commission and Musings on the Science-Policy Connection
When:
Wednesday, 22 February 2017 -
(ET)
Where: ARCUS DC Office - 1201 New York Avenue, NW. Fourth Floor. Washington, DC 20005 or online for live webinar
Abstract
After a brief review of the US Arctic Research Commission, an independent federal agency, that will include a description of its purpose, duties, personnel, activities, publication, and working groups, USARC's Executive Director will speak on the topic of science and public policy, addressing current questions and long-standing truths.
Speaker Details
Dr. John Farrell is the Executive Director of the U.S. Arctic Research Commission, an independent federal agency of Presidential appointees that advises the White House and Congress on Arctic research matters and works with executive branch agencies to establish and execute a national Arctic research plan. The Commission also facilitates cooperation with local and state governments and recommends means for developing international scientific cooperation in the Arctic.
Farrell previously served as the Associate Dean of Research and Administration at the Graduate School of Oceanography at the University of Rhode Island. Before that, he was Director of the international Ocean Drilling Program that involved over 20 nations and had an annual budget of approximately $65M/yr. The program was dedicated to advancing scientific understanding of the Earth.
Farrell helped organized and conduct the first successful international scientific ocean drilling expedition to the high Arctic in 2004. He also participated in a US ocean mapping effort aboard the icebreaker US Coast Guard Cutter Healy in 2012.
He obtained a Ph.D. and Sc.M. in geological sciences from Brown University, and a B.A. in geology from Franklin and Marshall College. He was a NSF-funded Post-Doctoral Fellow at Brown University and an NSERC-funded Senior Research Associate at the University of British Columbia, in Vancouver, Canada.
Heather Conley, Center for Strategic and International Studies - Establishing Norms and Practices for Arctic Shipping
When:
Wednesday, 1 March 2017 -
(ET)
Where: ARCUS DC Office - 1201 New York Avenue, NW. Fourth Floor. Washington, DC 20005 or online for live webinar
Abstract
The vast changes taking place across the Arctic are turning the once isolated region into an area of increased economic activity and opportunity. Declining sea ice extent is not only exposing natural resources, but also new routes to connect once distant economies. Routes initially seen as impossible to navigate are viewed as future alternatives to some of the world's most popular channels. This presentation will discuss the future of Arctic shipping, including areas of cooperation between Arctic actors. As traffic increases, Arctic states should develop new management schemes that reduce the risk of maritime accidents and minimize the negative impacts on the environment, while realizing the growing economic benefits.
Speaker Details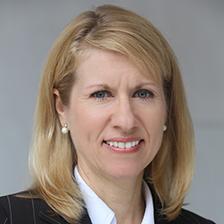 Heather A. Conley is senior vice president for Europe, Eurasia, and the Arctic and director of the Europe Program at CSIS. Prior to joining CSIS in 2009, she served as executive director of the Office of the Chairman of the Board at the American National Red Cross. From 2001 to 2005, she served as deputy assistant secretary of state in the Bureau for European and Eurasian Affairs with responsibilities for U.S. bilateral relations with the countries of northern and central Europe. From 1994 to 2001, she was a senior associate with an international consulting firm led by former U.S. deputy secretary of state Richard L. Armitage. Ms. Conley began her career in the Bureau of Political-Military Affairs at the U.S. Department of State. She was selected to serve as special assistant to the coordinator of U.S. assistance to the newly independent states of the former Soviet Union. Ms. Conley is a member of the World Economic Forum's Global Agenda Council on the Arctic and is frequently featured as a foreign policy analyst on CNN, MSNBC, BBC, NPR, and PBS. She received her B.A. in international studies from West Virginia Wesleyan College and her M.A. in international relations from the Johns Hopkins University School of Advanced International Studies (SAIS).
Mia Bennett, UCLA - Development on Ice: Social and Economic Impacts of Arctic Transportation Infrastructure
When:
Friday, 14 April 2017 -
(ET)
Where: ARCUS DC Office - 1201 New York Avenue, NW. Fourth Floor. Washington, DC 20005 or online for live webinar
Abstract
Climate change is destabilizing the Arctic environment and rendering its communities vulnerable. Yet new infrastructure projects are springing up on top of the shifting landscape, from ports along Russia's northern coast to highways in Canada. This presentation will examine how certain northern communities have managed to benefit from and occasionally spearhead major new transportation infrastructure projects while others remain sidelined as their resources are extracted and exported, often for consumption in the world's urban core. Addressing this topic requires first determining patterns of economic development in the Arctic at a regional scale, which are shown for the past two decades using night light satellite imagery. Fieldwork conducted in Canada and Russia helps explain how certain infrastructure projects are negotiated and brought into being at a local scale while drawing attention to both the benefits and risks of industrial development. Taken together, this presentation aims to identify the mechanisms which are selectively connecting certain northern communities to regional and global transportation networks.
Speaker Details
Mia Bennett is a PhD candidate in the Department of Geography at UCLA and founder and editor of the Cryopolitics blog. Her research examines the drivers and impacts of contemporary Arctic industrial development by merging fieldwork, policy analysis, and remote sensing. Currently, she focuses on transportation infrastructure projects in Canada's Northwest Territories and the Russian Far East. Mia received an MPhil in Polar Studies from the University of Cambridge, where her research focused on the roles of China, Japan, and South Korea in the Arctic. She speaks French, Swedish, and Russian and has traveled extensively in the Arctic, from the Greenland Ice Sheet to northeast Russia. She shares photographs from her journeys on her blog and can be followed on Twitter @miageografia.
Robert Corell, University of Tromso
When:
Wednesday, 3 May 2017 -
(ET)
Where: ARCUS DC Office - 1201 New York Avenue, NW. Fourth Floor. Washington, DC 20005 or online for live webinar
Speaker Details
Bob Corell is Chair of the Arctic Climate Impact Assessment and a Principal for the Global Environment Technology Foundation. He also serves as a Professor II at the University of Tromso and is a senior fellow with the American Meteorological Society. He served as Assistant Director for Geosciences at the National Science Foundation where he had oversight for the Atmospheric, Earth, Ocean Sciences, Polar Programs and the global change programs of the National Science Foundation. He Chaired the U.S. Global Change Research Program for the Federal government. Bob is an oceanographer and engineer by background and training, having received Ph.D., M.S., and B.S. degrees at Case Western Reserve University and MIT.