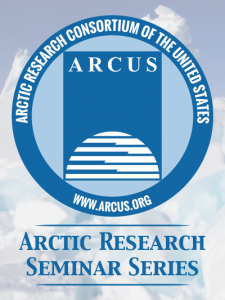 The ARCUS Arctic Research Seminar Series invites leading Arctic researchers and community leaders to share the latest findings in Arctic research and what they mean for decision-making. These webinar events are free and open to the public, and will be of particular interest to the international Arctic research community, federal agency officials, non-governmental organizations, Arctic educators, and the public.
Registration is required for each event.
For those of you on Twitter, we also invite you to join our online discussion of each event using the hashtag #arcuswebinar.
The ARCUS Arctic Research Seminar Series is made possible with support by the National Science Foundation under Cooperative Agreement No. PLR-1928794.
Please contact Stacey Stoudt at stacey [at] arcus.org with any questions.
Seminar/Webinar Series Mailing List
To receive information about future seminar/webinar events, please subscribe to our mailing list here.
Seminar/Webinar Archive
For videos of past ARCUS Arctic Research Seminars, please visit our seminar/webinar archive here.
Upcoming Webinars
6 June 2023, 9:00 am AKDT: Cana Uluak Itchuaqiyaq (Iñupiaq scholar, Virginia Tech) and Corina Qaaġraq Kramer (Director of Operations at Aqqaluk Trust) - Getting Started with Equitable Arctic Research at Any Stage of Your Project: Tips from Inuit Arctic Researchers
28 June 2023, 9:00 am AKDT: Alec Bennett (University of Alaska Fairbanks) - Arctic Sea Ice Decline and Geoengineering Solutions: Cascading Security and Ethical Considerations