Image Spotlight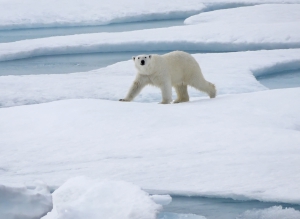 Bill Schmoker: "While stopped for a CTD cast a polar bear approached from far out and walked along the Healy about 100 meters away before swimming across an open lead and continuing to patrol into the distance." Aboard the USCGC Healy icebreaker in the Beaufort Sea.
Approx. Coordinates: 72.4931, -140.8672
Credit:
Photo by Bill Schmoker (PolarTREC 2010), Courtesy of ARCUS
From Twitter
Donate
ARCUS supports increased understanding of the changing Arctic by building strong relationships between the many stakeholders and disciplines—from researchers to the public, from policymakers to industry. See how you can help!
Arctic Research Seminars
The ARCUS Arctic Research Seminar Series invites leading Arctic researchers and community leaders to share, both in person and via simultaneous webinar, the latest findings in Arctic research and what they mean for decision-making. The events are free and open to the public, and will be of particular interest to interest to the international Arctic research community, federal agency officials, congressional staff, non-governmental organizations, Arctic educators, and the public.
From Youtube
ARCUS Monthly Report
Sign-up here to receive a monthly update on key ARCUS activities, Member news, and a list of upcoming deadlines for Arctic research funding and professional development opportunities.
Purchase
Show your support of Arctic research, education, and outreach with a t-shirt, sweatshirt, mug, water bottle, and many more items from the ARCUS CafePress store!