2018 ARCUS Annual Meeting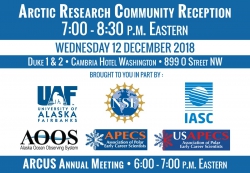 Date: Wednesday, 12 December 2018
Time: 6:00 - 7:00 p.m. (Eastern Time)
Location: Cambria Hotel (899 O St NW, Washington, DC 20001), Rooms: Duke I & II
Register for the ARCUS Annual Meeting
Please join us for this important community discussion of the current challenges facing the Arctic research community and to celebrate the many achievements and successes of the past year! This meeting of ARCUS members is open to anyone interested in Arctic research.
The 2018 meeting agenda will focus on discussion of member priorities for Arctic research, education, and outreach; our tentative agenda is now available for view/download in PDF form (last updated 5 December):

2018 ARCUS Annual Membership Meeting - Tentative Agenda (PDF - 135 KB)
The primary representative of each ARCUS Institutional Member will be invited to participate in this Board election prior to the annual meeting. Please don't forget to vote!
Following the meeting, all participants are also invited to join us for the Arctic Research Community Reception, taking place in the same location from 7:00-8:30 p.m. (Eastern Time). There is no cost to participate in either the meeting or reception.
For members unable to attend the Annual Meeting in person, there will also be a simultaneous web-conference to enable remote viewing of the event and participation in group break-out discussions. Please register as a "webinar only" attendee to receive remote participation details.
The venue for our Annual Meeting and Arctic Research Community Reception is wheelchair accessible; please contact alex [at] arcus.org or (202) 854-1425 if you have any questions about or need accessibility accommodations and we'll be happy to assist.
---
2018 Arctic Research Community Reception

Date: Wednesday, 12 December 2018
Time: 7:00 - 8:30 p.m. (Eastern Time)
Location: Cambria Hotel (899 O St NW, Washington, DC 20001), Rooms: Duke I & II
Register for the Arctic Research Community Reception
The 2018 Arctic Research Community Reception will be held following the ARCUS Annual Meeting, from 7:00-8:30 p.m. (Eastern Time). All members of the international Arctic research community, regardless of whether or not you are participating in the American Geophysical Union (AGU) Fall Meeting are invited to join their Arctic research colleagues in conversation, networking, and socializing. No ticket is required. We do invite you to register, however, to help us ensure we have plenty of tasty appetizers and bar offerings on hand!
The event will be held at the Arctic Community Meeting Rooms which ARCUS hosts at the AGU Fall meeting each year, with sponsorship support provided by the National Science Foundation. If you are also looking for space to hold an Arctic community side-event or meeting during the week of Dec 10-14, please send us a room reservation request here!
Support for the Arctic Community Reception has been generously provided by the National Science Foundation Arctic Sciences Section, the University of Alaska Fairbanks, the Alaska Ocean Observing System, the International Arctic Science Committee, the Association of Polar Early Career Scientists (APECS), and the United States National Committee of APECS.




To make a sponsorship contribution, please visit our online donation page or contact Alex Thornton at alex [at] arcus.org or (202) 854-1425.