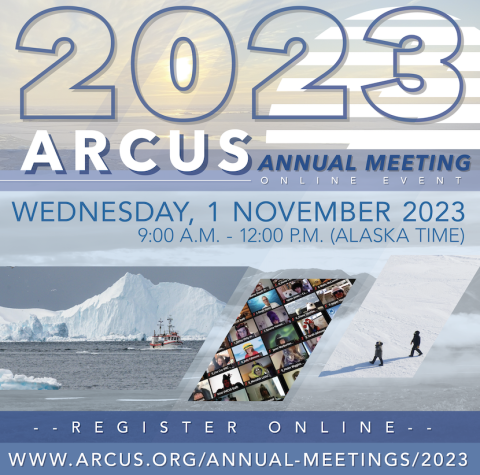 Date: Wednesday, 1 November 2023
Time: 9:00 am - 12pm (Alaska Time) Time Converter
Location: This will be a virtual event. Please register for Zoom login details.
The ARCUS Annual Meeting will take place this year on Wednesday, 1 November from 9-12pm AK/10-1pm PT/11-2pm MT/12-3pm CT/1-4pm ET/8-11pm EET and we invite you save the date by registering at the link above.
The ARCUS Annual Meeting is an open event and you do not need to be an ARCUS individual member or institutional affiliate to participate—all are welcome! This event is intentionally organized to help introduce different members of the ARCUS community and to encourage an informal exchange of ideas with potential collaborators from other institutions or disciplines.
ARCUS staff will be reaching out to ARCUS Institutional Representatives to invite presentations and other contributions to the meeting agenda in the months to come and we look forward to working with you all to make this year's meeting useful and valuable.  
If you would like to be more involved in the planning for this event, we also invite you to get in touch with any member of the 2023 ARCUS Membership Committee to learn more about opportunities to inform the agenda or to help with the facilitation of break-out session discussions.
Meeting Goals
CONNECT: Bring members of the Arctic research and education community together to meet, talk, and connect.
SHARE: Explore what ARCUS members are doing around a number of Arctic research focus areas.
ADVANCE: Identify actionable ways that the ARCUS community can work together and support each other.
Meeting Agenda
A draft meeting agenda in now available here. Please check back or register here to receive an email update when the annual meeting agenda is updated.
Meeting Atmosphere & "Dress Code"
We sincerely hope attendees will take our invitation to "come as you are" to this virtual gathering to heart! ARCUS Annual Meetings are intentionally designed to be fun, casual networking events. ALL ARE WELCOME and we completely appreciate the quirks and interruptions that accompany virtual participation (pets are always welcome to our meetings).
With the meeting being the day after Halloween this year, costumes and funny hats are once again welcome to help make the Annual Meeting a fun experience!
Code of Conduct
We also invite everyone to take a couple moments to review the ARCUS Annual Meeting Code of Conduct to help ensure a positive experience for all participants.
Contact Us
For additional information or questions about the meeting, please contact Brit Myers at brit [at] arcus.org.