SEARCH Transition to Implementation Phase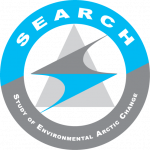 SEARCH continues to transition from a planning-focused structure to an implementation phase. As follow-up from a SEARCH kick-off meeting this past fall and with input from a SEARCH Town Hall and related meetings at the AGU Fall Meeting, SEARCH has made progress on key governance and structure issues, including posting and announcement of three new SEARCH positions and rotations in the Science Steering Committee (SSC):
In addition to hiring and SSC nominations, SEARCH is finalizing an updated Terms of Reference and related governance issues.
Arctic Observing Open Science Meeting 2015
Initial planning for an Arctic Observing Open Science Meeting is underway. This meeting, which will be scheduled for November 2015 in the Seattle, Washington area, will gather members of the Arctic research community to share and discuss observing activities and related scientific findings. Meeting co-chairs are Craig Lee (University of Washington), Matthew Shupe (Cooperative Institute for Research in Environmental Sciences, University of Colorado and NOAA Earth Systems Research Laboratory), and Cathy Wilson (Atmosphere, Climate & Ecosystem Sciences Team Leader, Earth and Environmental Sciences Division, Los Alamos National Laboratory). Funding for core meeting activities is being provided by the NSF Arctic Observing Network program; co-sponsorship is sought for additional activities, including web streaming, poster session, student/early career researchers travel scholarships, and development of meeting products. Updates on the meeting will be announced through ArcticInfo, and the SEARCH and ARCUS websites.
Arctic Observing Network (AON) Position Paper
A draft position paper on the design and implementation of an integrated AON is undergoing final revision. Key issues addressed in the paper include governance, network integration, and sustained funding. The draft was circulated for input and comments are now being integrated; the final paper will be circulated in the coming weeks.
Sea Ice Prediction Network (SIPN)
The SIPN project, a contribution to SEARCH, has several achievements since the last update in Witness the Arctic. A post-season report for the Sea Ice Outlook (SIO) was finalized and released. The final report was developed by a Sea Ice Outlook Action Team that worked with SIPN leadership to develop a draft, which was circulated to SIPN members. The report addresses physical processes that factored into the sea ice dynamics during the 2014 melt season, as well as a discussion of the various SIO methods. The final report, including a short highlights summary, can be found here.
SIPN held an open meeting at the AGU Fall Meeting focused on issues related to sea ice modeling and initial conditions. The presentation and notes from the meeting, as well as a SIPN poster presented at an AGU session, can be found here.
SIPN will hold a webinar, "Sea Ice Modeling: Characteristics and Processes Critical for the Radiation Budget" on Tuesday, 3 March 2015 from 10:00 a.m. to 11:00 a.m. AKST. The speaker will be Elizabeth Hunke (Los Alamos National Laboratory) and the webinar is targeted for the sea ice research community and others interested in learning about sea ice modeling from the global climate model perspective. More information and registration is available here.
More information and updates on SIPN can be found via the SIPN website and mailing list. An open LinkedIn group has also been created; more information on the group is here.
For more information about any SEARCH activity, see the SEARCH website or contact Hajo Eicken, U. of Alaska Fairbanks (SEARCH SSC Chair) at hajo.eicken [at] gi.alaska.edu or Helen Wiggins, ARCUS (SEARCH Project Office) at helen [at] arcus.org. Updates on all SEARCH activities are also provided through ARCUS' twitter account: @ArcticResearch.