By: Natasha Haycock-Chavez, Community Engagement and Outreach Coordinator, Arctic Data Center
My name is Natasha Haycock-Chavez, and I am the new Community Engagement and Outreach Coordinator at the Arctic Data Center. An integral part of our mission at the Center is to engage with the National Science Foundation (NSF) Arctic research communities. As Community Engagement and Outreach Coordinator, I will practice meaningful engagement with NSF-funded and other Arctic researchers, external research organizations and networks, students and educators, and will also strive to enhance connections with Arctic communities to promote usage of the open-access data repository.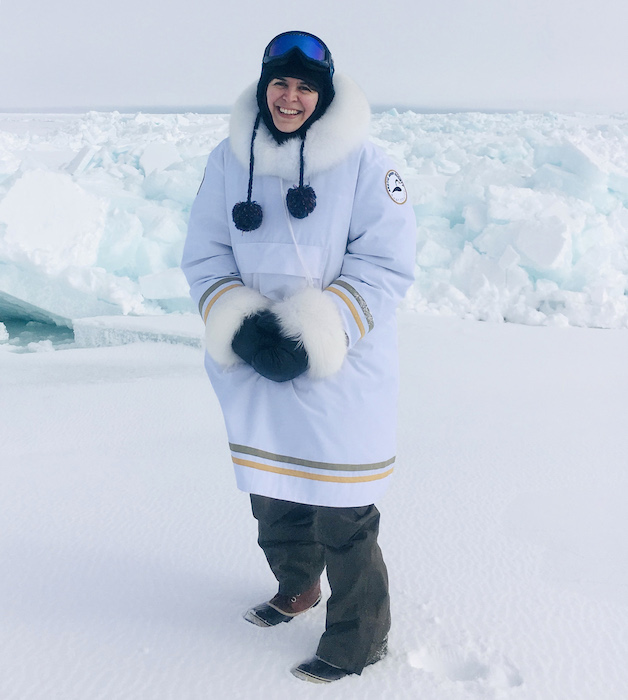 I received an MA in Geography from Memorial University in Newfoundland, where I specialized in Indigenous-led conservation. My master's research took place in Sanikiluaq, Nunavut, Canada, where I worked with the Inuit community of Sanikiluaq, as they planned and developed a protected area, known as Qikiqtait Protected Area. Qikiqtait Protected Area is based on a collaborative community-planning framework led by Sanikiluaq.
Lessons from Community-led Conservation in Nunavut
Sanikiluaq, Nunavut, is a community of about 900 people located in the Belcher Islands in the eastern heart of Hudson Bay. Sanikiluarmuit (residents of Sanikiluaq) pride themselves on being environmental stewards of the region, and formally designating the Belcher Islands as a federally recognized protected area is an achievement they have been working towards for decades.
I was invited to be a part of this project to produce a background report that identified research gaps that could be integrated into the protected area planning (such as species monitoring), as well as conduct a spatial analysis of the study area. The purpose of this analysis was to examine how an Indigenous, community-driven approach to protected area planning differs from the model more typically used by conservation and government agencies in Canada. Specifically, my research compared potential conservation plans of the Belcher Islands from World Wildlife Fund (WWF) Canada and spatially compared them with Sanikiluaq's spatial conservation plan. The analysis concluded that the biggest difference was spatial scales used by each party, and that if WWF's solutions were used alone, there was a potential to miss crucial areas for nonmigratory species.
Lessons from this research point to the importance of community leadership and participation in conservation work and research. Furthermore, bottom-up approaches to conservation projects tend to have greater success than top-down approaches because community engagement and support is crucial to a protected area's success.
Moving Forward
I plan to leverage this experience in community engagement for the benefit of the Arctic Data Center and the community supported by our tools, services, and infrastructure. Part of my research emphasized how Indigenous research methodologies and self-determination can be integrated into conservation planning, as well Arctic research in general. I am excited to integrate some of these lessons into this role, in addition to my focus on researchers across a broad diversity of disciplines.
More information is found on the Arctic Data Center website.