ARCUS Member Highlight - AOOS
Introduction
The Alaska Ocean Observing System (AOOS) was established in 2004 as the Alaska regional component of the Integrated Ocean Observing System (IOOS) of the U.S., an interagency program housed within the National Oceanic and Atmospheric Administration (NOAA). The organization is tasked with supporting ocean observations throughout Alaska's waters, including the Arctic Ocean/Chukchi and Beaufort Seas, the Bering Sea and Aleutian Islands, and the northern Gulf of Alaska, to meet stakeholder needs (see photos in Highlights from the Chukchi Sea Ecosystem Mooring Project section below).
AOOS is governed by a Memorandum of Agreement signed by its member organizations, which include federal and state agencies, research and academic institutions, and stakeholder and private sector organizations. A board of directors sets policy and makes funding decisions. AOOS stakeholders are users of the marine environment in Alaska including fishermen, resource managers, tribes, researchers, recreational boaters, the Mariculture industry, subsistence users, the shipping industry, and the general public. AOOS operates as a non-profit, with the Alaska SeaLife Center as its fiscal sponsor and primary funding through a cooperative agreement with NOAA. AOOS was certified as a Regional Association of IOOS in 2017 ensuring that federal standards for operations and data management under the Integrated Coastal and Ocean Observation System (ICOOS) Act of 2009.
AOOS provides three major services:
Access to Alaska ocean and coastal data through the AOOS Data System and its interactive web-based data portal, the Ocean Data Explorer (ODE);
Support for identifying and filling gaps in observing technologies, data and information products; and
Statewide facilitation and collaboration services, including;
The Ocean Data Explorer
The AOOS Ocean Data Explorer (ODE) portal is its flagship program and operates as a regional data assembly center providing public access to existing coastal and ocean data, including real-time sensor feeds, operational oceanographic and atmospheric models, satellite observations, and geographic information system (GIS) data sets that describe the biological, chemical, physical and human use characteristics of Alaska and its surrounding waters. The ODE consists of an interactive map that can integrate 4,500 data layers selected from a searchable data catalog. This map can automatically analyze and visualize raw data streams from 2,800 sensors representing 94 different parameters from more than 60 data sources in the Alaska region. The data catalog offers the ability to download data and metadata in a variety of formats.
Figure 1. A screen capture from the AOOS Ocean Data Explorer portal map showing historic AIS vessel tracking data from December 2015-December 2016 in the southern Bering Sea. Image courtesy of AOOS.
Through the ODE, AOOS works with stakeholder groups to create data tools and applications to help in decision-making. Among these are an Arctic Oil Spill Risk Assessment for North Slope communities, AIS vessel tracking historical database, and the Alaska Water Level Watch portal, which provides access to Federal, state and private water level data in similar formats. AOOS supports the data management needs of both individual researchers as well as large, integrated research programs (e.g., Arctic Marine Biodiversity Observation Network, Marine and Estuarine Goal Setting for South Florida (MARES), the North Pacific Research Board's Arctic Integrated Ecosystem Research Program (AIERP)) through the AOOS Research Workspace, a scientific collaboration and data management tool used to secure, centralize, and ultimately publish data files on public portals, catalogs, and archives. Researchers can use tools within the Workspace to write their own scripts to operate on any of the data stored within the AOOS data system.
Filling Gaps in Observations
AOOS engages with the research community and other stakeholders to identify key gaps in ocean and coastal observations to support these societal benefit areas:
Navigation safety
Ecosystem and climate trends
Coastal hazards, including flooding and erosion
Water quality, including harmful algal blooms, ocean acidification, and marine debris
AOOS used this process to identify its recent priorities, which include: ecosystem moored observatories in the Chukchi Sea and Gulf of Alaska and ocean acidification buoys in the Bering Sea and Gulf of Alaska; support for the Seward Line ship surveys, Alaska's longest ocean time series; wave buoys in Nome (Figure 2), Kodiak, and Cook Inlet; shore-based high frequency radars (Figure 3) along the northwest coast and most recently in the Bering Strait; weather stations co-located with automatic identification system (AIS) vessel tracking stations; and autonomous underwater glider surveys (Figure 4), including a new program to support commercial fisheries management in the Bering Sea and Gulf of Alaska.
Figure 2. AOOS supported Coastal Data Information Program (CDIP) buoy being deployed off the Port of Nome in Norton Sound. Photo courtesy of AOOS.
Figure 3. AOOS funded High Frequency Radar site at Point Lay on the coast of the Chukchi Sea. Photo courtesy of AOOS.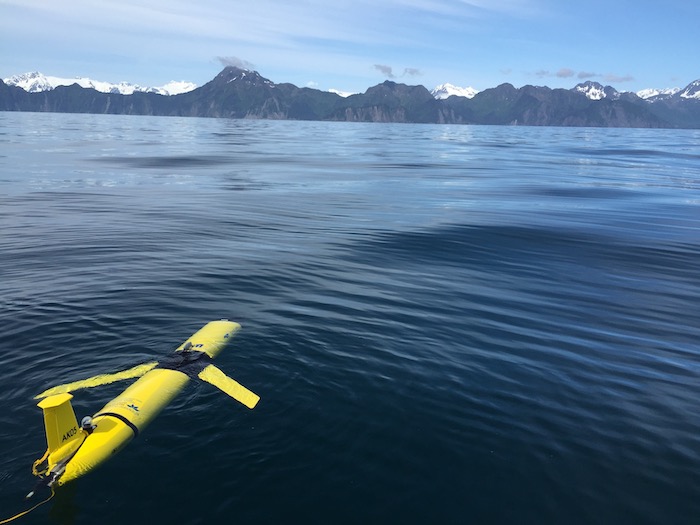 Figure 4. Deployment of AOOS funded autonomous underwater glider in the Arctic for marine mammal acoustic studies. Photo courtesy of AOOS.
Innovative Observing Technologies
One way that AOOS responds to stakeholder identified gaps in observations is through piloting new and innovative technologies. A recent project with the National Weather Service (NWS) used stakeholder outreach to identify gaps in active observations of water level variations along portions of Alaska's remote coastline, representing some of the nation's most vulnerable areas to geohazards such as coastal sea level rise, tsunami, extra-tropical storm surge, and erosion. AOOS and the NWS have been testing the efficacy of a land-based, GPS/Global Navigation Satellite System (GNSS) reflectometry water level measurement approach. The GPS/GNSS systems do not rely on coastal infrastructure (mostly lacking in western Alaska) and can be operated and maintained in real-time for a fraction of the cost of a National Water Level Observation Network (NWLON) installation. They also provide the quality level data necessary to improve storm surge forecasts while providing adequate real-time water level conditions for communities. The system has been tested in Seward and Homer, and has been deployed in St. Michael with a new site soon in Utqiagvik.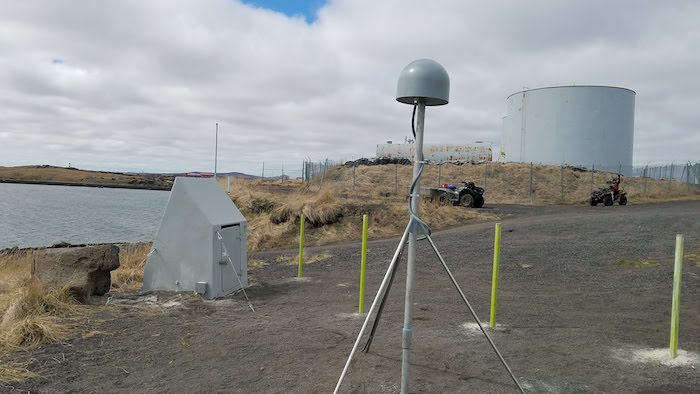 Figure 5. AOOS GPS/GNSS pilot project site at St. Michaels on the coast of Norton Sound. Photo courtesy of AOOS.
Highlight Photos from the Chukchi Sea Ecosystem Mooring Project
Figure 6. Recovery of a mooring from the Chukchi Sea Ecosystem Observatory showing a yellow buoy with attached acoustic Doppler current profiler, a satellite recovery beacon and a temperature/conductivity/pressure datalogger. Below the surface is a hydrophone, orange floats, and white box of the discrete water sampler, which fills IV bags with water for later laboratory chemical analyses. Photo courtesy of Roger Topp.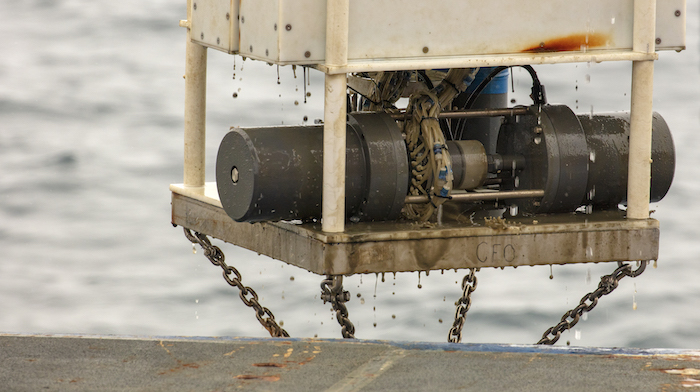 Figure 7. Recovery of the Chukchi Sea Ecosystem Observatory water sampler. Photo courtesy of Roger Topp.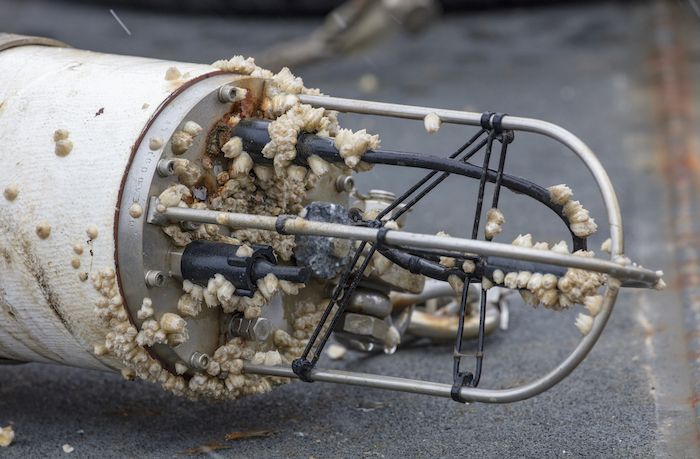 Figure 8. Barnacles growing on the casing of the hydrophone from the Chukchi Sea Ecosystem Observatory, which records the vocalizations of marine mammals and other underwater sounds. Photo courtesy of Roger Topp.
Collaborations
A cornerstone of the AOOS mission is facilitating and coordinating marine-related efforts. Currently AOOS co-facilitates the Alaska Harmful Algal Bloom Network, and hosts the Alaska Water Level Watch Network and the Alaska Ocean Acidification Network (AOAN). All three networks work closely with stakeholders, tribes, and the scientific and technical communities. The AOAN, established in 2016, is a national leader in its efforts to engage with scientists and stakeholders to expand the understanding of ocean acidification (OA) processes and consequences in Alaska, as well as potential adaptation strategies. The AOAN has grown to include 35 collaborating organizations, with five separate working groups focused on Tribal engagement, policy, k-12 education, outreach & communication, fishing community engagement, and research & monitoring. The AOAN hosts a website with a wealth of information and resources, sends researchers out to remote Alaskan communities for presentations, produces regular newsletters, and sponsors presentations to industry groups like the Alaska Board of Fisheries. The AOAN just produced its second annual report on the state of OA science in Alaska.
Future plans
AOOS is now reviewing its current portfolio of activities and will be accepting new proposals in preparation for developing the next five-year cooperative agreement with the NOAA IOOS program. If you would like to be put on the AOOS mailing list for future notification, contact Holly Kent, below.
For more information, please contact Holly Kent, Director of Administration & Outreach
(kent [at] aoos.org), or visit the AOOS website.