IARPC Launches Development of the next Five-Year Arctic Research Plan
By: IARPC Secretariat Executive Secretary Sara Bowden, Web Manager and Communications Officer Jessica Rohde, and Project Analyst Meredith LaValley
The Interagency Arctic Research Policy Committee (IARPC) has begun development of the next Arctic Research Plan as called for in the Arctic Research Policy Act (ARPA) of 1984 (15 U.S.C. § 4108). The Plan will aim to strengthen interagency communication, coordination, and collaboration of the fourteen federal agencies, departments, and offices that make up IARPC. When released at the end of 2021, the Plan will identify those areas where research in the Arctic can be improved by interagency collaboration. As called for in ARPA, IARPC will consult with collaborators in the State of Alaska, local communities, Indigenous organizations, nongovernmental organizations, and the academic community to ensure that the interests and needs of all stakeholders are addressed appropriately in this research plan. Input is sought from any interested individuals and organizations, and IARPC is committed to an open and equitable consultation process. These consultations will extend throughout the Plan development process.
The Arctic environment is undergoing a rapid transition as sea and land ice diminish, with tremendous implications for natural environments, human well-being, national security, transportation, and economic development. The United States and the other Arctic nations require strong, coordinated research efforts to understand and forecast changes in the Arctic. The new Arctic Research Plan will provide a blueprint for effective Federal coordination of Arctic research for the next half-decade and positions the United States to remain a global leader in Arctic stewardship for many years to come.
How to contribute to Plan development
IARPC is looking for broad input on the goals and objectives of the Plan, ideas on how the Plan should be structured, and suggestions on ways to ensure all interested parties have opportunities to contribute.
Current opportunities to contribute
Submit your thoughts through this online form.
Comment or direct message us on the IARPC Collaborations Facebook page.
Participate in public webinars (dates TBA). Join our Diversity & Inclusion Team to receive updates.
If you would like us to come to a conference or meeting in your community or would like to receive physical materials contact Meredith (

mlavalley

[at]

arcus.org

or 940 733 5675)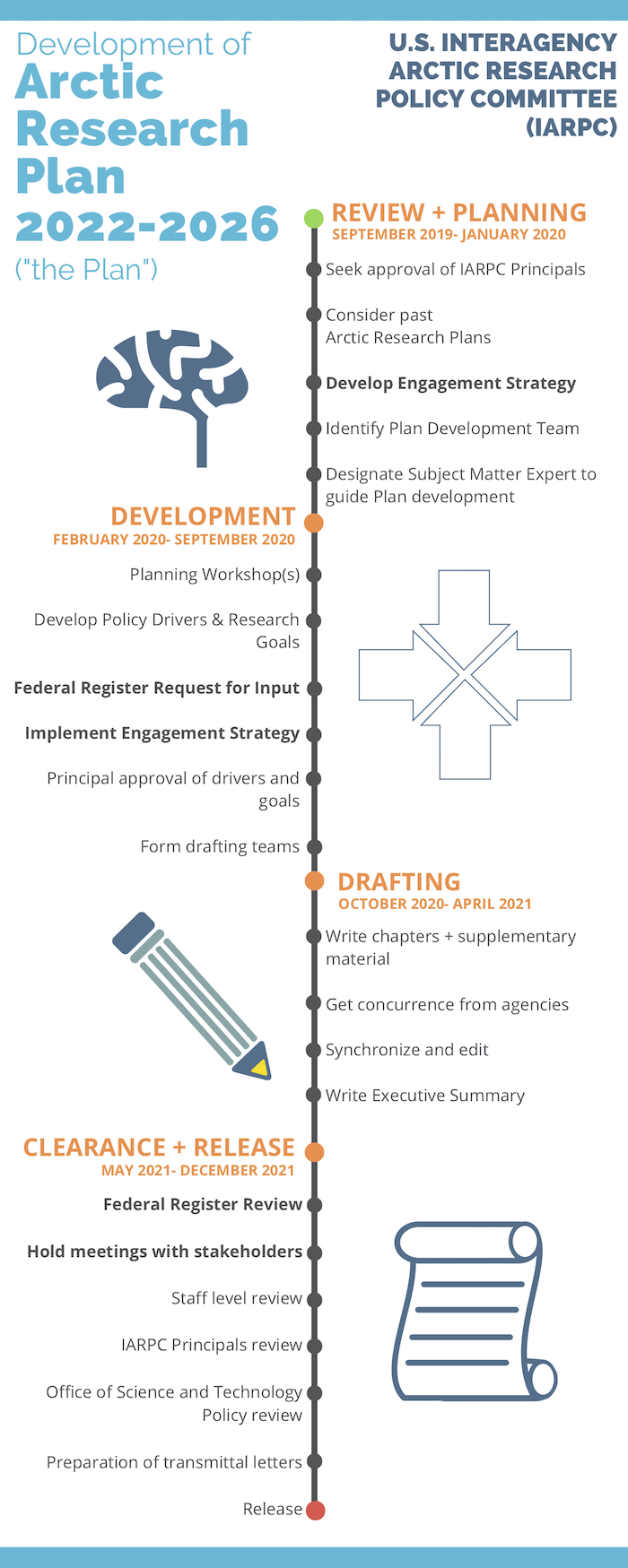 IARPC Launches Development of the next 5-Year Arctic Research Plan