IARPC Collaborations: Communicating Across Boundaries and Delving into Critical Issues
By: IARPC Secretariat Executive Secretary Sara Bowden, Web Manager / Communications Officer Jessica Rohde, and Project Analyst Meredith LaValley
The Interagency Arctic Research Policy Committee (IARPC) Collaborations is changing the way Arctic researchers communicate and collaborate. Our open, online platform on the IARPC Collaborations website, brings together over 2000 members from the research community in the United States and internationally to share resources, form connections, and team up to address new and emerging science questions.
IARPC consists of principals from 16 agencies, departments, and offices across the U.S. federal government and is charged with enhancing both the scientific monitoring of and research on local, regional, and global environmental issues in the Arctic. IARPC Collaborations was created by IARPC to connect federal government and non-federal government researchers and other stakeholders, including those overseas, to work together to solve the hard problems laid out in the IARPC Arctic Research Plan 2017—2021.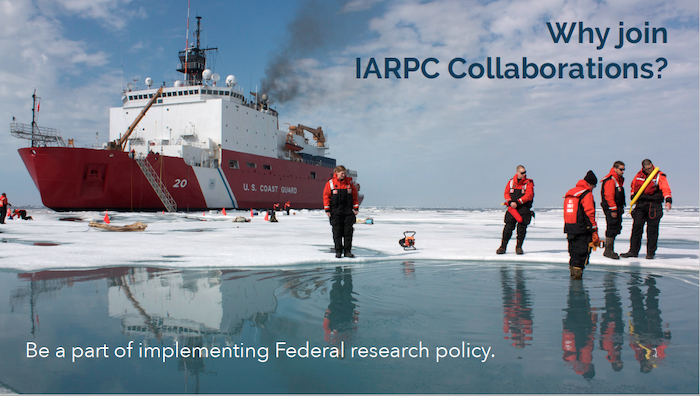 IARPC Collaboration Teams provide an opportunity for members of the Arctic research community to participate in implementation of federal research policy. Image courtesy of IARPC Collaborations.
To better support the Arctic research community, the IARPC Collaborations Teams website includes a "self-forming team" feature. Self-forming teams are organized around a topic not covered in the existing set of Collaboration Teams and sub-teams. If members of the research community identify an emerging topic or need webspace to communicate and collaborate at any stage of a research effort, they may create a page on the site for community members to join and share their ideas. Currently the website supports six self-forming teams. Participation in the teams is open to anyone in the research community. Team meetings are posted as events on the IARPC Collaborations events website.
To join a team, please request an account on the IARPC Collaborations member space.
The recently created Diversity and Inclusion Self-forming Working Group recognizes the value of diversity and inclusiveness in Arctic science and encourages open conversations on how to facilitate inclusion and equity in scientific research to enhance problem solving and generate innovative solutions. This team is focusing its early efforts on sharing diversity and inclusion policies of federal funding agencies and other entities and holding open conversations via webinars to share experiences and ideas for ways to ensure diversity in the current and future generations of researchers.
The Field Operations Working Group facilitates coordination and collaboration among organizations supporting field operations and campaigns to collect Arctic data. Each year federal members of the team compile a vessel and aircraft matrix that is made available early in the field season so that local communities as well as researchers know which vessels will be operating in the Bering, Chukchi, and Beaufort seas. A recent Field Operations Working Group meeting featured a thorough overview of the logistics involved in the Multidisciplinary Drifting Observatory for the Study of Arctic Climate (MOSAiC) project. This team is also a forum for sharing information and good practices around topics of common interest such as environmental compliance, managing risk in field settings, and implementing the Principles for Conducting Research in the Arctic.
The Arctic STEM Education Working Group, chaired by NSF and the National Oceanic and Atmospheric Administration (NOAA), was initially formed in 2018 to coordinate federal Science, Technology, Engineering, and Math (STEM) education activities in the Arctic. Initially a federal agency-only group, this team is now open to anyone who wishes to join. Its first open meeting convened on 31 May 2019. The group will connect STEM education organizations in order to leverage Arctic science. Its early work will be focused on bringing together STEM educators to discuss best practices and share ideas for expansion of STEM activities in the Arctic.
The Science Communications Forum provides an online space for members to share resources for communicating Arctic science across disciplines and to the public. This forum, run by the IARPC Collaborations Web Manager and Communication Officer, also supports an online course in interdisciplinary science communication for early career scientists. Students and forum members use this space to share and receive feedback on their individual science communication projects as well as network and share other resources.
Two of the self-forming teams use IARPC Collaborations to disseminate and receive information. The Arctic Domain Awareness Center (ADAC) has a team which uses the space to share information about upcoming events, research, and activities of the ADAC. The U.S. Forum for the International Arctic Science Committee (IASC) has a self-forming team where U.S. representatives to IASC keep the U.S. research community informed about IASC activities.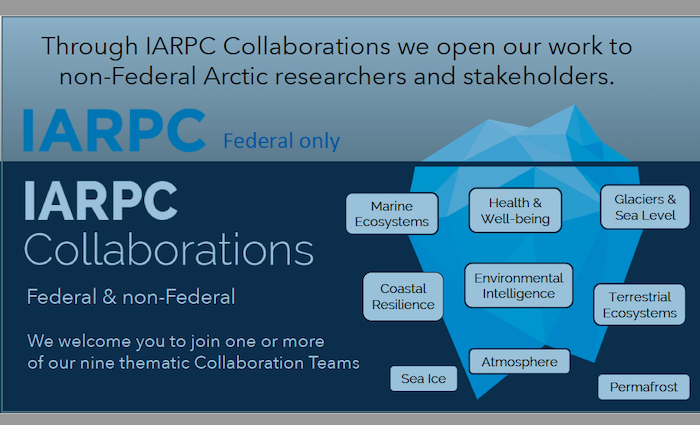 IARPC Collaborations welcomes federal and non-federal Arctic researchers and stakeholders to join a collaboration team. Image courtesy of IARPC Collaborations.
It is easy to join any of these teams. Use the online form to request an account on the member space, then simply click the "join" button on the "Teams" page and you will be added to the distribution list for upcoming meetings and for posting by members. If you have a need for space to communicate with fellow federal and non-federal researchers about a topic or issue, contact the IARPC Secretariat and fill out an application for a self-forming team. New teams may be from any sector, but each team must have at least one federal co-sponsor. For more information about any of the self-forming teams or to request a new team, please contact IARPC Web Manager and Communications Officer Jessica Rohde at jrohde [at] arcus.org.
---
About the Authors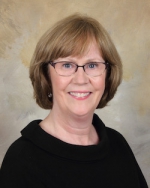 Sara Bowden is Executive Secretary to the IARPC Secretariat. In 2011, Sara joined the IARPC secretariat and contributed to the drafting of the first 5-year research plan. She has worked with the IARPC Executive Director, Staff Group, and Principals to put in place the implementation and collaboration team structure and assisted with the development of the IARPC Collaborations website for sharing and communicating U.S. Arctic research undertakings. She began her career as a Presidential Management Intern in the Department of Commerce and from there held positions in the International Trade Administration and the Office of the United States Trade Representative. She served for five years in as a senior policy analyst for international affairs in the White House Office of Science and Technology Policy before beginning her science management and administration career in the Arctic. She has served as the Executive Secretary for the Arctic Ocean Sciences Board (AOSB) and the International Arctic Science Committee (IASC).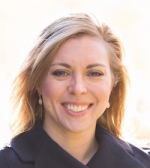 Jessica Rohde joined the IARPC Secretariat in 2014 to manage the newly launched website, IARPC Collaborations. As the Web Manager and Communications Officer, she performs many functions for IARPC including managing the IARPC Collaborations website and its community of over 1200 users, outreach materials and campaigns, and the IARPC Public Webinar Series. In addition to her research background in fisheries science and science communication, she has developed websites for science-based organizations since 2008.
Meredith LaValley is a Project Analyst for the IARPC Secretariat. She recently completed her Master's in Environmental Policy at Bard College, where she focused much of her independent studies on Arctic issues, and her thesis focused on understanding knowledge exchange within IARPC Collaboration Teams. She recently relocated to Anchorage, Alaska, where she will work closely with the Alaska-based IARPC Collaborations community.