SEARCH Program Highlights
Contributors: Brendan Kelly (SEARCH Executive Director, University of Alaska Fairbanks); Helen Wiggins, Lisa Sheffield Guy, and Brit Myers (SEARCH Science Office, ARCUS); David McGuire (U. S. Geological Survey, University of Alaska Fairbanks), and Matthew Druckenmiller, SEARCH Sea Ice Action Team, Based at National Snow and Ice Data Center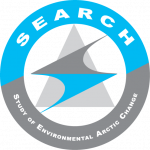 SEARCH Develops Arctic Answers
Decision makers, Arctic residents, students, scientists, and others have questions about the rapidly changing Arctic, and—for many—the questions are not academic. Questions framed in immediate and policy-relevant terms call for answers in concise and accessible formats, and the Study of Environmental Arctic Change (SEARCH) has developed Arctic Answers to address that need.
SEARCH commissions Arctic experts in diverse disciplines to answer policy-relevant questions in briefs, the linqua franca of the policy world, where sophisticated leaders have limited time to integrate input from diverse sources, including science. The expert answers are assembled in a web interface comprising what we refer to as knowledge pyramids. A one- to two-page jargon-free brief at the apex of each pyramid answers a specific policy question. Successively more information is contained in lower tiers including summary papers, synthesis papers, and—at the base of the pyramid—original research publications.
The tiers beneath the apex briefs assure policymakers of the supporting science and serve as alternative entry points for readers with more background and time. Thus, a science journalist might start with the summary papers collected in the second tier; a scientist in another discipline might start at the tier containing synthesis papers; and a specialist will be interested in the collection of primary literature at the base of the pyramid. We also note the potential for the one-page summaries to be useful not only for policymakers but also for efficient communication among scientists of different disciplines. Providing specialists windows into each other's science will facilitate the multidisciplinary collaborations necessary for a fuller understanding of environmental change in the Arctic.
To date, questions addressed at Arctic Answers are:
What do we know about the future of Arctic sea-ice loss?
How is diminishing sea ice impacting marine ecosystems?
How is diminishing Arctic sea ice impacting lower latitude weather patterns?
How is diminishing Arctic sea ice impacting coastal communities?
How is Arctic permafrost thaw impacting climate change?
How are melting Arctic sea-ice and land-ice linked to sea-level rise?
How fast is the Greenland Ice Sheet melting?
Several other knowledge pyramids are currently in development. At the same time, SEARCH is seeking input from policymakers and others to determine the most relevant questions and to refine the format of Arctic Answers. SEARCH invites your input on these resources and seek additional experts to write briefs and/or serve as reviewers.
Methane Workshop Report Released
A final report from SEARCH's International Workshop to Reconcile Methane Budgets in the Northern Permafrost Region has been released. The report details near-term and longer-term priorities for addressing questions about methane dynamics in the northern permafrost region.
The workshop, held in March 2017, was funded by the National Science Foundation, the National Aeronautics and Space Administration, the U.S. Geological Survey, and the U.S. Arctic Research Commission. The primary goal was to produce a plan for reconciling methane budgets in the northern permafrost region. Forty‐two scientists participated, including representatives of the atmospheric, inland (wetlands and lakes), marine (coastal and oceanic), and remote sensing communities.
Participants committed to completing a paper describing a roadmap for synthesis by the end of 2017, and developing plans to address near‐term priorities to reduce uncertainties in methane budgets by the end of 2018. The longer‐term priorities include addressing possible sensitivities of methane emissions to climate variability and change in the region and evaluating the degree to which changes in methane dynamics are detectable. To address these longer‐term priorities, there is a need to organize existing methane data for the region. Studies using these data can then evaluate how methane observation network enhancements would improve estimates of methane emissions and the detection of trends. The Permafrost Action Team of SEARCH will develop research summaries and briefs based on the follow‐on activities from the workshop. An Eos Meeting Report is currently forthcoming/in press.
For more information on the workshop and report, contact David McGuire (U. S. Geological Survey, University of Alaska Fairbanks) at: admcguire [at] alaska.edu.
Report Released from the First SEARCH Knowledge Exchange Workshop on the Impacts of Arctic Sea Ice Loss
The SEARCH Sea Ice Action Team's First Knowledge Exchange Workshop on the Impacts of Arctic Sea Ice Loss took place over two days in Washington, DC during September 2016 and brought together over 30 participants from a diverse range of perspectives. More information about the workshop is available via the SEARCH website and the SEARCH Sea Ice Action Network website. The resulting workshop report summarizes:
Best practices and opportunities for communicating with policymakers, the media, local Arctic residents and stakeholders, and other science disciplines.
Recommendations for development of sea ice SEARCH knowledge pyramids.
The state of scientific knowledge and engagement across three themes related to Arctic sea ice loss: Arctic marine ecosystems, lower latitude weather, and human activities in the Bering, Chukchi, and Beaufort Seas.
More information about the report, related activities, and upcoming plans for the Second SEARCH Knowledge Exchange Workshop, which is being planned for 25-27 September 2017, can be found at the SEARCH Sea Ice Action Network website or by contacting Matthew Druckenmiller at druckenmiller [at] nsidc.org.
Additional Talent on the Land Ice Action Team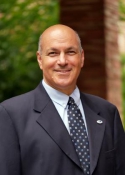 Dr. Waleed Abdalati is taking the lead of SEARCH's Land Ice Action Team. Dr. Abdalati is the Director of the Cooperative Institute for Research in Environmental Science and previously served as the Chief Scientist at NASA. His research uses satellite and airborne remote sensing techniques, integrated with in situ observations and modeling, to understand how and why the Earth's ice cover is changing, and what those changes mean for life on Earth. More information about Dr. Abdalati is available here.



Dr. Twila Moon (University of Colorado, Boulder) has joined the Land Ice Action Team as a SEARCH postdoctoral fellow. Dr. Moon brings extensive experience studying ice sheet dynamics as well as strong communication skills. She is a cryosphere scientist with a special interest in ice sheet motion, ice sheet and ocean interaction, and ice-ocean-atmosphere-ecosystem linkages. More information about Dr. Moon is available here.


For More Information and to Get Involved
More information on these and other SEARCH activities is available through the SEARCH website, by joining the SEARCH mailing list, or by contacting Brendan Kelly, SEARCH Executive Director, at: bpkelly [at] alaska.edu. Additional suggestions for participating in SEARCH can be found on the "Get Involved" webpage.