Friday, 17 June 2022 - Sea Ice for Walrus Outlook
Weekly Outlook
Click the name of each community below to view more frequently updated and detailed information from the National Weather Service.
Synopsis A low will move north through the Chukchi Sea into the high Arctic through Saturday as high pressure moves off to the east. High pressure will reestablish over the southern Beaufort Sea Sunday and Monday.
The remaining sea ice is east of Savoonga off the north and east sides of the island. Off the north side of the island is very close to consolidated pack ice consisting of small to big floes. This pack ice extends up to 20 nm (32 km) north of the coast. East of the island is an area of close pack ice that consists of brash ice and ice cakes with very few small to medium floes left.
The outlook has concluded for the season for this area.
Nome port entrance webcam (via AOOS webpage): https://bering-sea.portal.aoos.org/?ls=79875242-e362-65cb-914e-fed20ff9e...
Waters throughout the Brevig Mission/Port Clarence area are sea ice free.
The previously shorefast ice along the Wales to Shishmaref coast is drifting away from the coast and spreading out as it melts. There is still very close pack ice consisting of big to giant floes between Wales and Shishmaref, with open pack ice to close pack ice extending up to 19 miles (30 km) from shore consisting of brash ice and small to medium floes beyond that. Beyond the compact ice is sea ice free water. East of Shishmaref there is a large area of close to very close pack ice consisting of medium to vast floes that is moving north out of Kotzebue Sound.
The outlook has concluded for the season for this area..
Forecast Discussion
Ice Forecast
Around St. Lawrence Island, sea ice will move south and briefly compact against the north side of the island through Saturday. As winds shift back to southerly, the sea ice will move back to the north and continue to spread out and melt.
In the Wales to Shishmaref area, sea ice will likely compact against the coastline through Saturday, then move with the local currents Sunday. From Monday through Thursday, the southerly winds will move the sea ice north away from the coast as it continues to break apart, spread out, and melt.
NWS 5-day Sea Ice Forecast
NWS Sea Ice Stage Analysis
Wind Synopsis
North to northeast winds of 15–25 mph (13–21 kts) will continue across the Bering Strait, Seward Peninsula Coast, and St. Lawrence Island regions on Friday before gradually switching to out of the north Friday evening and increasing slightly west of Nome before trending to light and variable by the evening. Winds remain light and variable until Monday morning when winds increase to 15–25 mph (10–20 kts) out of the southwest. Winds increase slightly off the northern Seward Peninsula coast to around 30 mph, but otherwise winds remain 15–25 mph (10–20 kts) for the remainder of the week.
Temperature Trend
From Friday, June 17th through Friday, June 24th, high temperatures will be 40 to 50 degrees and overnight lows are expected to be 35 to 45 degrees. Temperatures will be a few degrees cooler north of Shishmaref to St. Lawrence Island but overall, little change in the temperature field over the next week.
Daily Weather, Wind, and Temperature Updates
The National Weather Service provides twice-daily, text-only updates on the weather, wind, and temperature conditions in specific geographical zones. An interactive weather map for access to other Alaskan zones can be found here: http://weather.gov/anchorage/ice
Higher resolution satellite images and wind maps (wind updated daily) can be viewed here: http://www.weather.gov/afg/SIWO_overview
The Alaska Ocean Observing System shares a variety of weather and sea ice related resources in their Bering Sea Portal at https://bering-sea.portal.aoos.org/.
Remote Sensing Images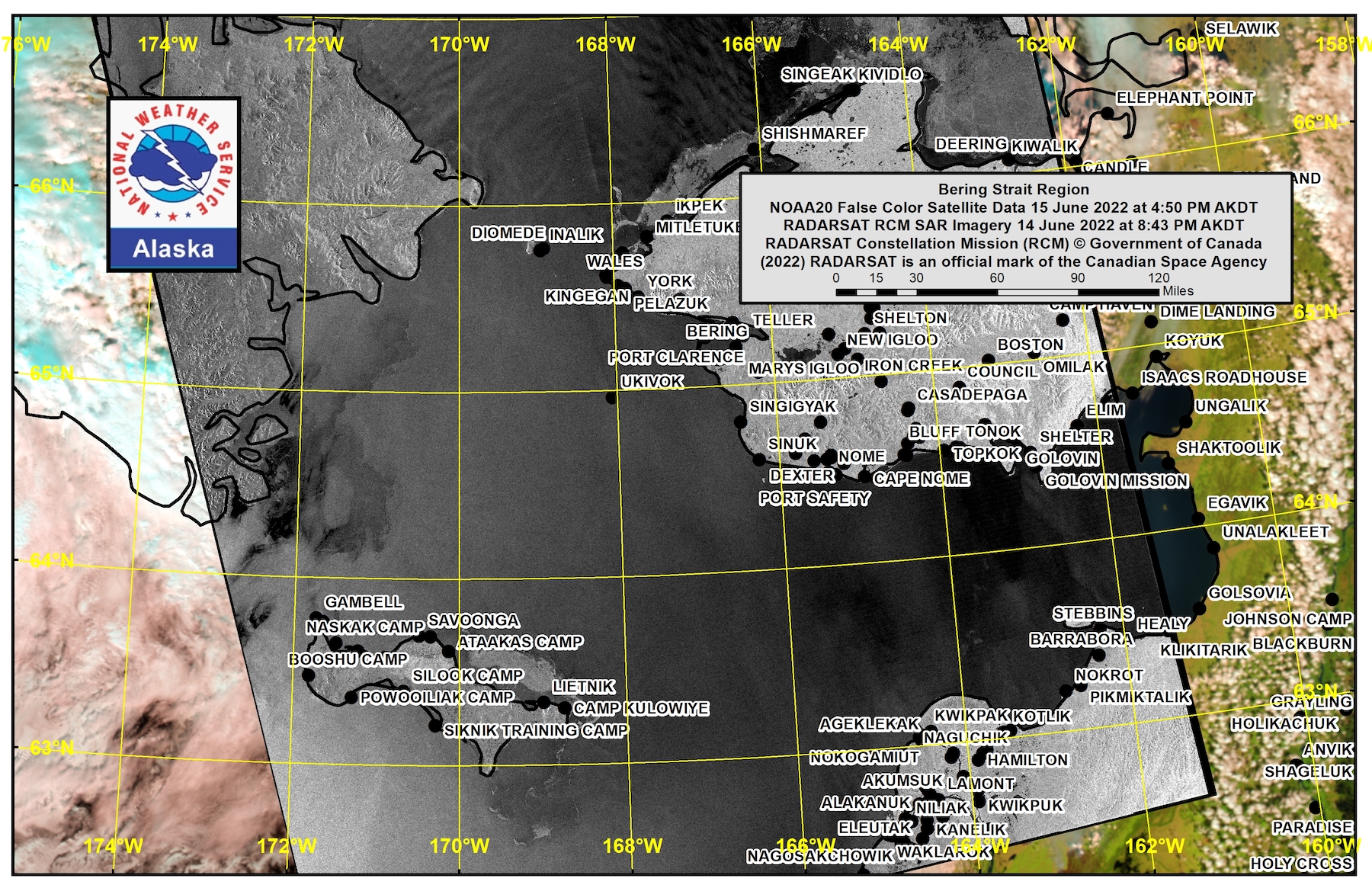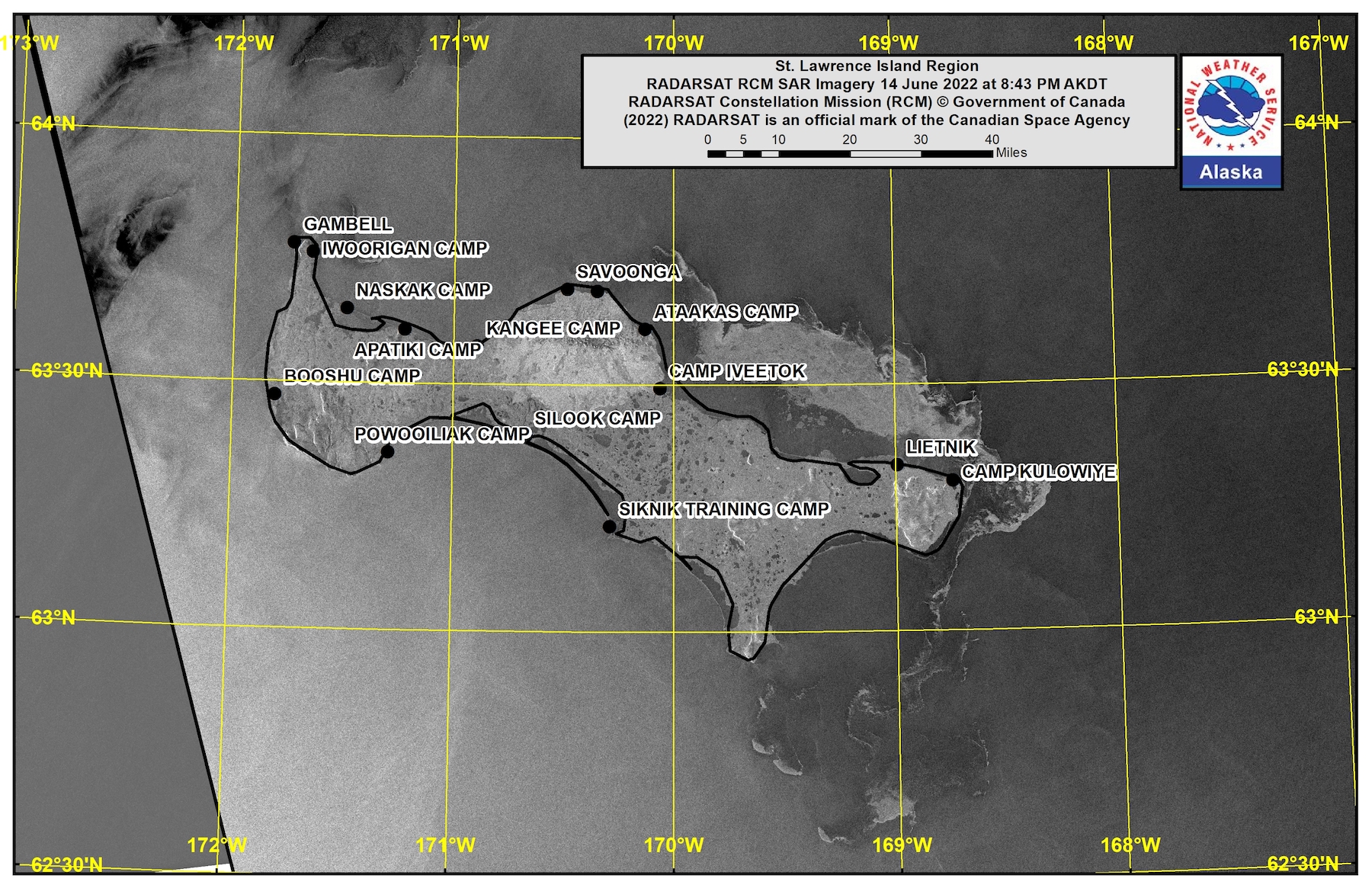 Observations and Comments
Observations of Sea Ice Development
Observations from Shishmaref
Friday, 17 June 2022 – Curtis Nayokpuk
Mad rush to get fuel from only local vendor selling gas yesterday with continuing fuel dispenser problems at both stores this spring. Hunters prepping to go out and hunt in remaining ice when winds died down only to be hampered by arrival of thick fog again. With melting ice this weekend will be last chance pending favorable weather for end of spring hunting for community of Shishmaref, have a good and safe fishing season.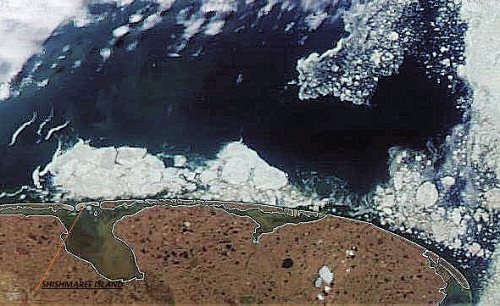 Satellite image of Shishmaref area courtesy of Curtis Nayokpuk.
Thursday, 16 June 2022 – Curtis Nayokpuk
Shore ice moved out about a mile or two. Looks packed tight assume from outer water swell from high winds Wales to Pt. Hope and our off shore southerly winds.
Wednesday, 15 June 2022 – Curtis Nayokpuk
Shore fast ice breaking up with brisk southerly winds. Few Walrus taken and young and larger Bearded Seals as opportunity presents at end of season with rotting/melting ice as most game left the area. Below average spring harvest for the community due to weather and ice conditions. Any late season hunting will be up coast toward Kotz Sound in remaining ice.
Observations from Port Clarence, Brevig Mission, and Cape Douglas
Friday, 17 June 2022 – Marcus Barr
Strong north winds for a week blew out the ice and south winds afterwards with snow/rain melted the ice that was left. Nobody had gone out walrus hunting due to weather.
Additional Comments Provided by Local Experts and Other Contributors:
Visit the SIWO Facebook page @seaiceforwalrus to view this animation showing the predicted movement of ice predicted by the HYbrid Coordinate Ocean Model (HYCOM). Snapshots from the forecast show ice coverage from 0% (black) to 100% (white) and arrows show the relative speed and direction of the ice. A light boundary is drawn at 15% predicted ice cover to highlight the ice edge, but ice may be predicted to extend beyond it. Some bays, lagoons, and areas very close to shore are not covered by the model (Image produced by the Alaska Ocean Observing System / Axiom Data Science).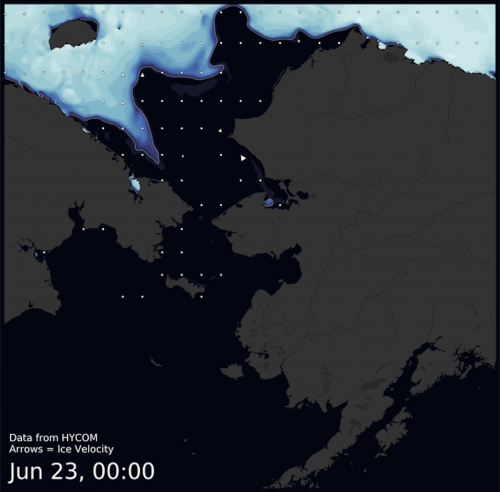 Visit the SIWO Facebook page @seaiceforwalrus to view this animation.