Friday, 20 May 2022 - Sea Ice for Walrus Outlook
Weekly Outlook
Click the name of each community below to view more frequently updated and detailed information from the National Weather Service.
Synopsis High pressure over the eastern Bering will migrate north to the North Slope over the weekend. A low moving over the Aleutians will affect the Bering Sea through Monday.
Shorefast ice is mainly on the northeast side of the island and extends up to 5 miles (8km) from shore. The largest floes are to the west and northwest of the island, where there are areas of close pack ice consisting of big to vast floes. Otherwise, there are several areas of open to close pack ice consisting of small to big floes to the north of the island as well as south of Booshu Camp and Powooiliak Camp. The rest of the area is open water to very open pack ice.
The only sea ice remaining in the Nome area is shorefast ice between Singigyak and Dexter that extends 2 to 3 miles (3 to 5 km) offshore, then some open to close pack ice consisting of small to big floes approximately 20 miles (32 km) west of Sinuk.
Nome port entrance webcam (via AOOS webpage): https://bering-sea.portal.aoos.org/?ls=79875242-e362-65cb-914e-fed20ff9e...
Shorefast ice remains intact 15 miles (24 km) to the west of Port Clarence and 17 miles to the south of Port Clarence (27 km). Beyond the shorefast ice is open water to very open pack ice consisting of small to medium floes.
Shorefast ice extends 25 miles (40 km) to the north of Wales, and 4 miles (6 km) to the north of Shishmaref. Between Wales and Shishmaref beyond the shorefast ice, close pack ice consisting of medium to big floes extends 6 to 25 miles (10 to 40 km) northwest of the shorefast ice edge, then open pack ice consisting of small to medium floes extends beyond that for another 50 miles (80 km).
Shorefast ice between the islands remains intact, extending south around 5 miles (8.5 km) from Diomede. Otherwise, open water to very open pack ice consisting of small to big floes extends to the north and south of the island for over 70 miles (112 km) and to the east to Wales.
Forecast Discussion
Ice Forecast
Sea ice in the Bering Strait region will generally move off to the north and east through the week, especially where currents are stronger through the Bering Strait itself and near the Alaska mainland coastline near Norton Sound. Sea ice will continue to melt through the week as well, and additional pieces of shorefast ice can be expected to break off.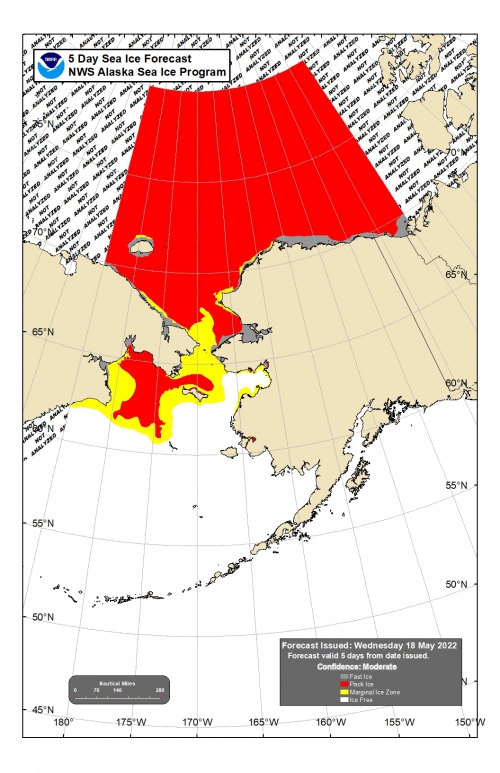 NWS 5-day Sea Ice Forecast
NWS Sea Ice Stage Analysis
Wind Synopsis
North to NE winds of 15 to 25 kts (17 to 29 mph) to start Friday morning near St. Lawrence Island and the Bering Strait and last through early next week. Winds south of Nome will be around 10 to 15 kts (12 to 17 mph) out of the northeast through Monday. Winds north of the Bering Strait will be north-northeast around 10 to 20 kts (12 to 23 mph) through Monday as well. Winds weaken out of the nort- northwest 5 to 15 kts (6 to 17 mph) on Tuesday into Wednesday.
Temperature Trend
Highs: Friday through Sunday, highs in the mid to upper 30's at Wales, St. Lawrence Island, and Shishmaref. Warming trend Thursday through the weekend at Nome with upper 50's for highs possible. Cooler early next week with highs around mid-40s at Nome.
Lows: Friday and through the period, lows around 30 for St. Lawrence Island and mid to upper 20s for Shishmaref. Upper 30's to low 40's Friday through Sunday for Nome. Slightly cooler Monday through Wednesday for Nome with low temperatures in the mid 30's.
Daily Weather, Wind, and Temperature Updates
The National Weather Service provides twice-daily, text only updates on the weather, wind, and temperature conditions in specific geographical zones. An interactive weather map for access to other Alaskan zones can be found here: http://weather.gov/anchorage/ice
Higher resolution satellite images and wind maps (wind updated daily) can be viewed here: http://www.weather.gov/afg/SIWO_overview
The Alaska Ocean Observing System shares a variety of weather and sea ice related resources in their Bering Sea Portal at https://bering-sea.portal.aoos.org/.
Remote Sensing Images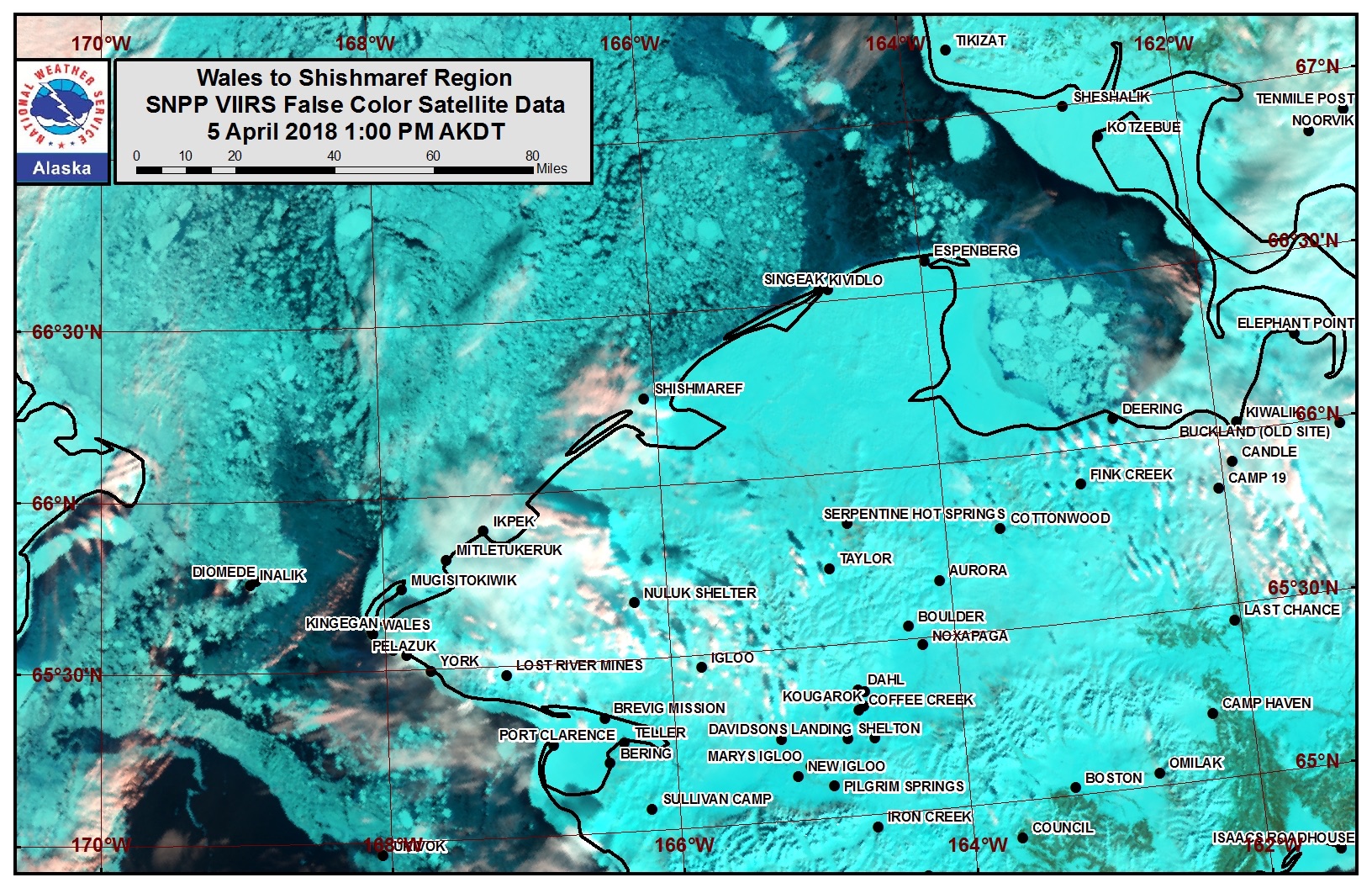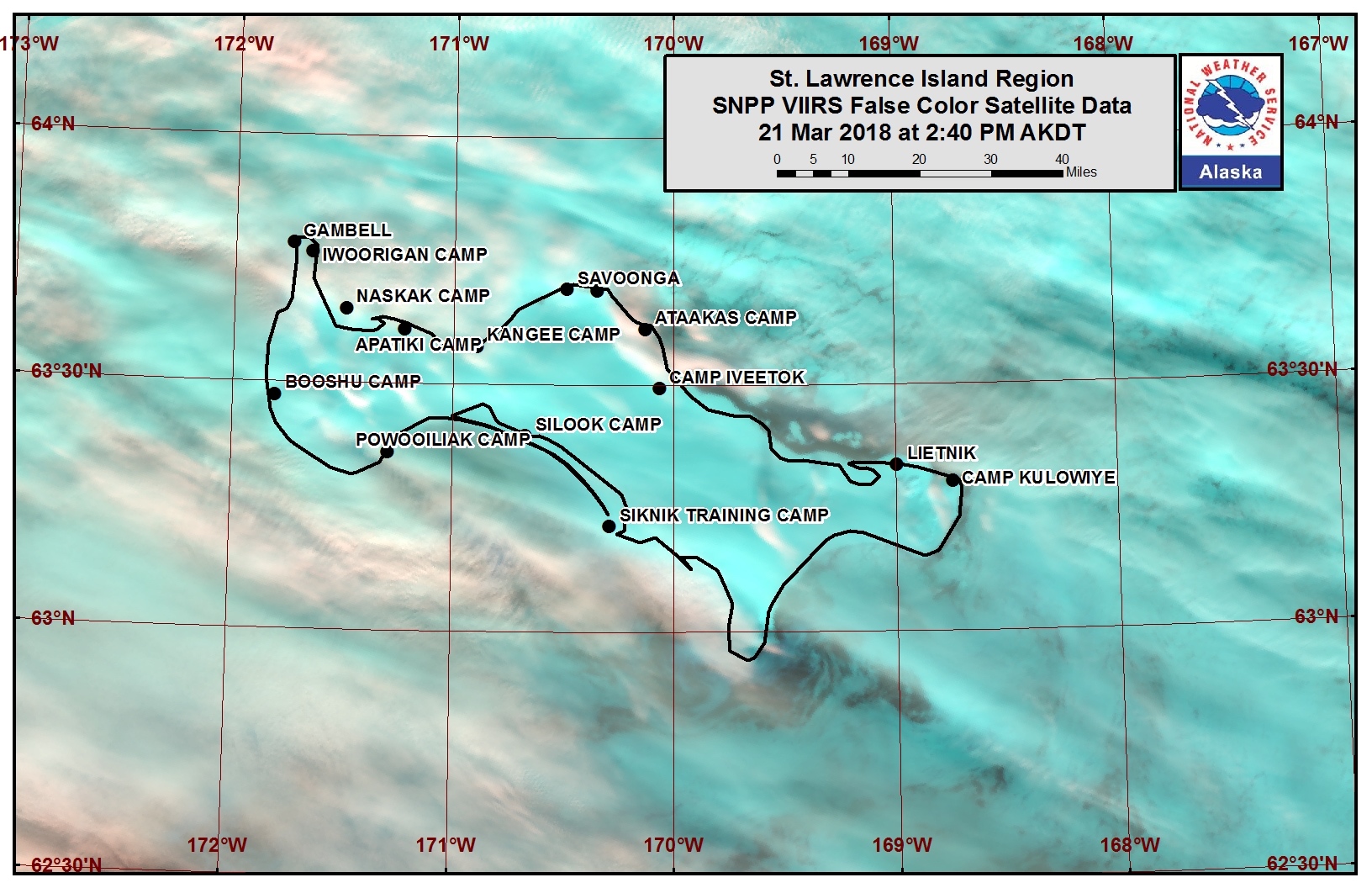 Observations and Comments
Observations of Sea Ice Development
Observations from Savoonga
Thursday, 19 May 2022 – Aqef Waghiyi
People been going boating. Most boats got walrus and bearded seals. A few days ago couple boats got qasiqaq. Boats are still getting ready to go out. Foggy but few miles north of town is clear. They're looking for female with calves or bearded seal with pup before we hunt for bull walrus.
Observations from Gambell
Friday, 20 May 2022 – Clarence Irrigoo, Jr.
Today is dense fog, few boats get walrus. The ice have lots of game most of the hunters got their share.
Walrus and calf near Gambell.
Walrus resting on the ice near Gambell.
Bearded seals resting on ice near Gambell.
Bearded seal on the ice near Gambell.
Young bearded seal near Gambell.
Observations from Shishmaref
Friday, 20 May 2022 – Curtis Nayokpuk
A few Bearded Seals taken home so far. Hunters on snowmobiles hampered by ice edge cluttered with broken loose pack ice and leads freezing at night. Most Bearded Seals out of reach "sunning" in broken pack ice. Couple crews hauling boats to open water to the west.
Observations from Port Clarence, Brevig Mission, and Cape Douglas
Friday, 20 May 2022 – Marcus Barr
Shorefast ice breaking off, more crews brought their boats to Cape Douglas and got walrus. A few crews already done hunting walrus as they got bearded seal already also. The shorefast ice is starting to rot near Douglas, probably a week or less until it breaks free.
Observations from Wales
Friday, 20 May 2022 – Robert Tokeinna, Jr.
I don't have pictures at the moment. Here in Wales, spring has sprung. Few days ago can hear Walrus in the flow ice. Hunters are preparing their gear, but no one has gone out due to persistent winds and ice foggy conditions. The Shorefast Ice has been going out piece by piece as the days go by. I have seen cranes, ducks, and more birds. Winds have been northerly and switched to south winds this week all while being in the lower 30s to 20 degrees last week. This week started out cool and weather calls for above freezing temperatures thru the weekend. Lots of overflow water all over the place with birds and seagulls all around. Local heavy equipment crew started to play snow to open up roads around town. Much thawing of the snow will persist and our shorefast ice seems to be stable, but with warm weather approaching, it may be going out soon as the water near town drains over. Pictures to come soon.
Additional Comments Provided by Local Experts and Other Contributors:
Visit the SIWO Facebook page @seaiceforwalrus to view this animation showing the predicted movement of ice predicted by the HYbrid Coordinate Ocean Model (HYCOM). Snapshots from the forecast show ice coverage from 0% (black) to 100% (white) and arrows show the relative speed and direction of the ice. A light boundary is drawn at 15% predicted ice cover to highlight the ice edge, but ice may be predicted to extend beyond it. Some bays, lagoons, and areas very close to shore are not covered by the model (Image produced by the Alaska Ocean Observing System / Axiom Data Science).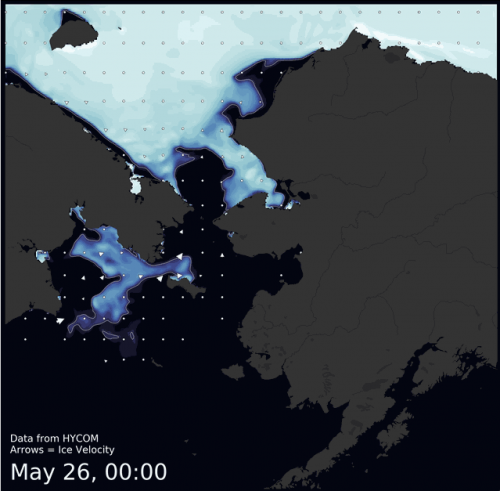 Visit the SIWO Facebook page @seaiceforwalrus to view this animation.