Date:
Assessment of Current Ice Conditions Relevant to Distribution and Access of Walrus
Near St. Lawrence Island
Sea ice conditions near St. Lawrence Island have continued to decline this week. Sea ice within the lagoons around the island is no longer shorefast. Niyakpak Lagoon has surface and near shore melting with open water conditions. From Camp Iveetok over to Tomname Lagoon and Camp Kalowiye the ice near shore is melting from the coastline out with surface meltwater ponds forming. There is also very open pack ice drifting between Camp Iveetok and Tomname Lagoon, with sea ice-free water beyond the isolated area. To the south of the island within the lagoons, the sea ice continues to slowly melt in place with meltwater ponds forming on the ice surface. Much of the island is surrounded by sea ice-free or open water conditions at this time.
Wales to Shishmaref
More of the previously shorefast sea ice along the coast from Wales up to Shishmaref broke off from the coastline this past week. At this time the remaining sea ice is rotting in place along coastal areas with a lot of meltwater on the remaining ice surfaces. The furthest extent of the remaining ice near the coast extends roughly two miles off the coast near Shishmaref. The remainder of the ice near the coast is confined to the lagoons.
Beyond the lagoons from Mugisitokiwik to Shishmaref lies an area roughly three to five miles wide of very open pack ice consisting of first year ice floes. Beyond that area from Shishmaref down through the Bering Strait past Wales lies a region of close pack ice. This area extends up to roughly 15 miles west of Mugisitokiwik to roughly 50 to 60 miles west of Shishmaref.
5 to 10 Day Forecast
Weather System/Wind Synopsis
With low pressure in the southwest Bering Sea, winds across the Bering Strait and near St. Lawrence Island will be from the southeast at 15 to 30 kt (20 to 35 mph) on Friday, 29 May. The main low-pressure system will move westward through Saturday, with southeast winds continuing at 10 to 20 kt (15 to 25 mph). High pressure will build over the Arctic for Sunday and Monday, bringing north and northeast winds of 10 to 20 kt (15 to 25 mph) to the St. Lawrence Island and Bering Strait region. Another low will move toward the western Aleutians on Tuesday, 2 June, and will slowly move eastward across the north Pacific. Winds will generally be from the north at 10 to 25 kt (15 to 30 mph) through Wednesday. As the low moves eastward, winds will become northeasterly for Thursday and Friday, 4-5 June, at 5 to 20 kt (10 to 25 mph). A third low will move northward toward the western Aleutians on Saturday, 6 June, with winds through the Bering Strait and St. Lawrence Island areas remaining out of the north and northeast at 5 to 15 kt (10 to 20 mph) through Monday, 8 June, as the low moves eastward south of the Aleutian Islands.
Temperature Trend & Ice Forecast
Temperatures will be around normal to 10 degrees above normal with daytime temperatures around 35 to 50°F through Sunday, 31 May. The warmest temperatures will be on the mainland. Overnight temperatures in the middle 30s to lower 40s are anticipated. Temperatures will dip closer to normal for Monday, June 1 and toward the end of the period with the northeast winds present. Daytime temperatures from the 1st to the 8th of June will range from 35 to 45°F. Overnight temperatures will dip into the 30 to 35°F range.
The wind direction will be generally out of the north and northeast through much of the week. Therefore, we expect that sea and lagoon ice will continue to destabilize or melt in place especially along the southern coastline of St. Lawrence Island. The ice that is through the Bering Strait northward will likely condense along the north-facing coasts as it moves southward and southwestward. Open water and sea ice-free areas surrounding Saint Lawrence Island are expected to continue, with isolated first year ice floes drifting offshore near the north and east coastlines of the island and diminishing or entirely melting through the week.
During this time the remaining coastal ice outside of the lagoons along the coast from Wales to Shishmaref is expected to destabilize while sea ice remaining within the lagoons continues to melt in place. Compact ice floes near Wales and through the eastern Bering Strait will shift and spread out to the west, decreasing in concentration within the Bering Strait and toward Russia. Meltwater ponds will continue to form on remaining first year ice in the Bering Strait region due to the warmer temperatures during this period, and moderate ice melt will occur across the Bering Strait region.
From Tuesday through Monday (2-8 June), winds will be from the northeast. During this timeframe, we expect low concentration ice floes to move out of the Chukchi Sea through the Bering Strait toward St. Lawrence Island and melt along the way.
Marine forecast for the West Coast and Arctic Coast
Remote Sensing Images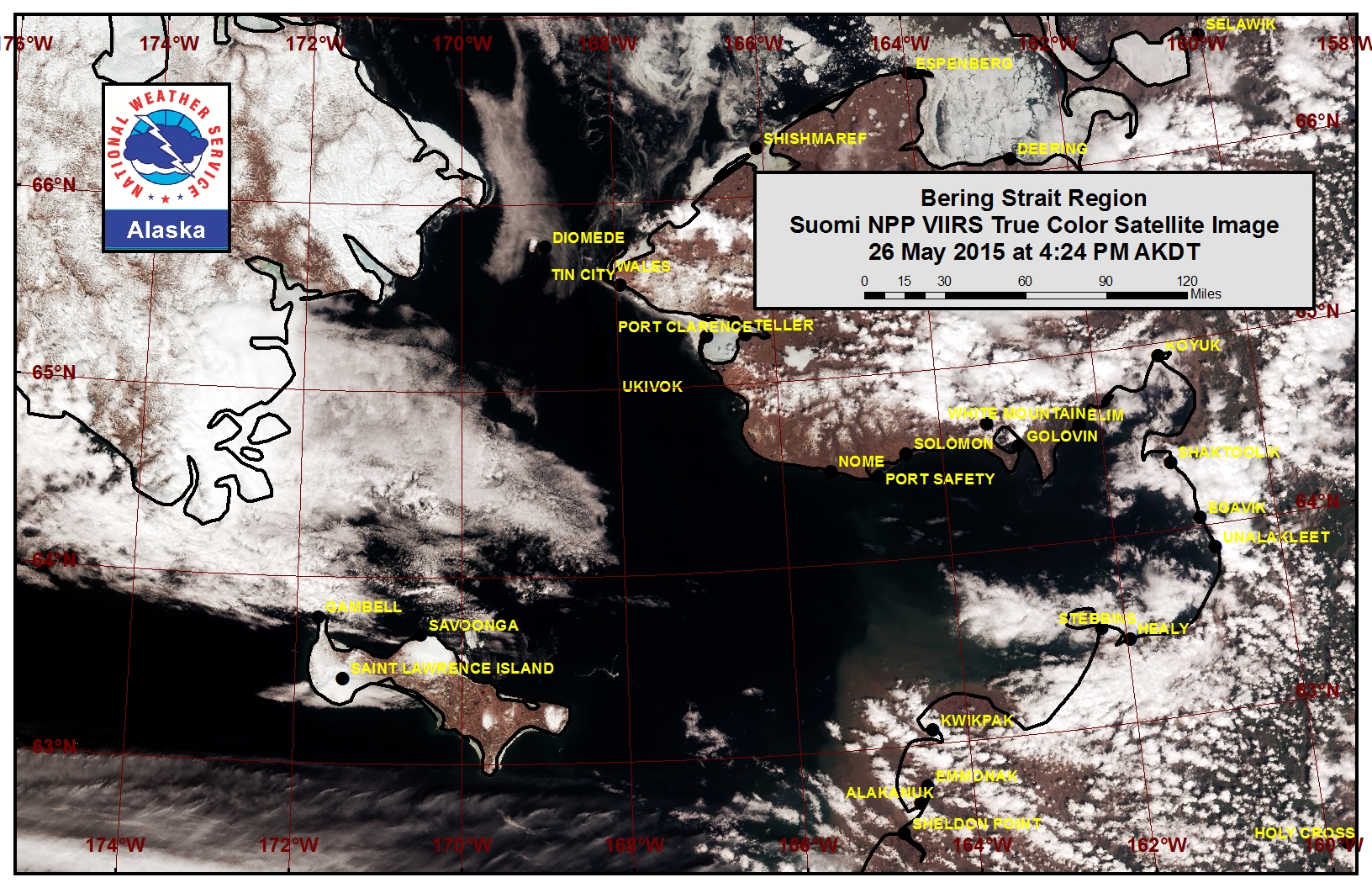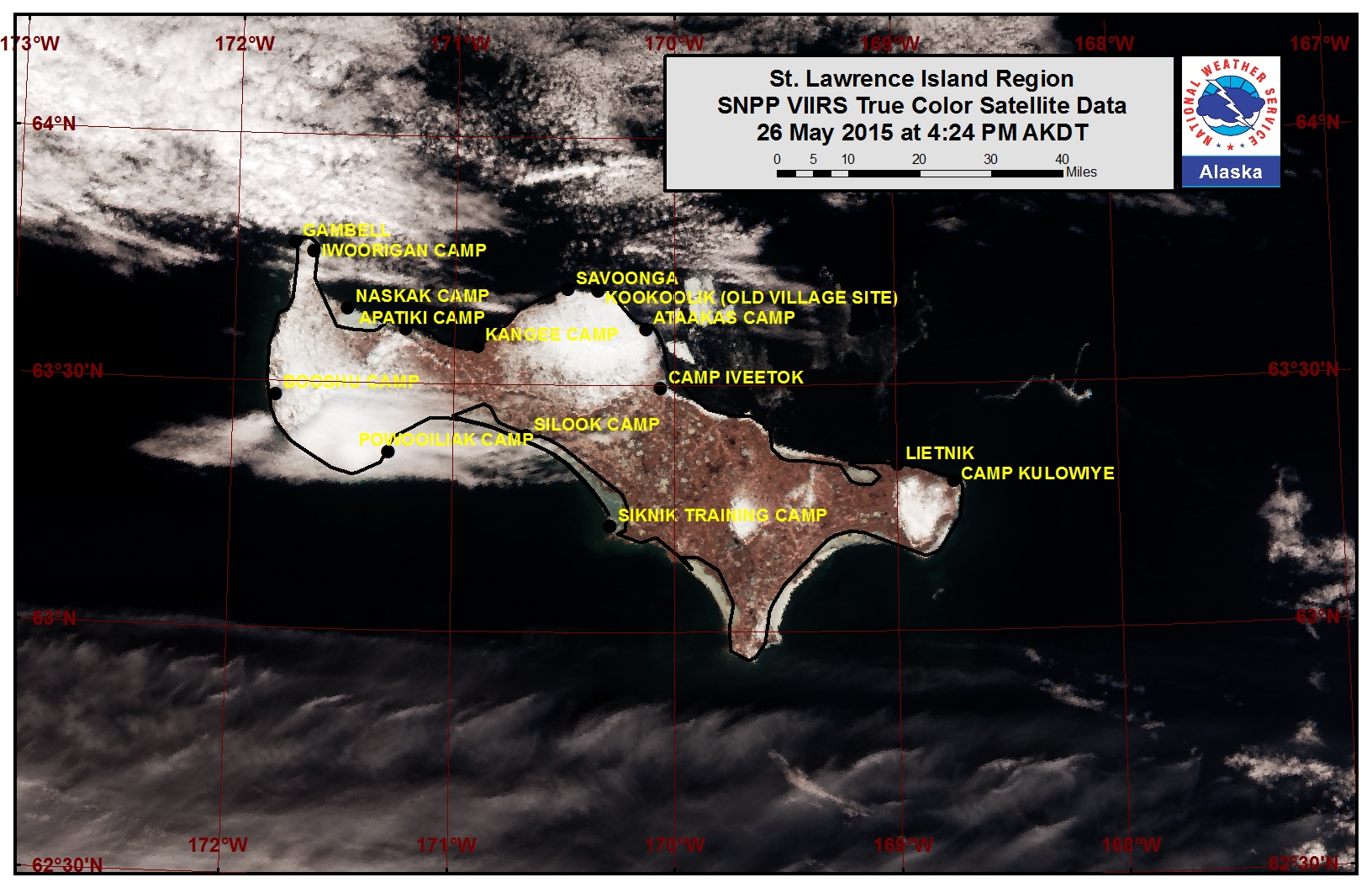 Observations and Comments
Observations of Sea Ice Development
Observations from Wales
1 June 2015 - Winton Weyapuk
Most of the sea ice has drifted past and today there is no pack ice visible. We have strong northeasterly winds so if there is any ice to the south it has been blown out into the Bering Strait and is not visible from here. Wales passengers flying from Nome to Wales reported there still is broken shorefast ice in front of Brevig and in Port Clarence, as well as some ice near shore 15-20 miles north of Wales. They also reported seeing a large walrus herd on an ice-floe twenty miles southeast by Cape York, which was the only piece of ice available for them here. We probably won't see the pack ice to the southeast as the wind will blow it out further.
31 May 2015 - Winton Weyapuk
10:10 a.m. Skies are overcast, wind is variable, temperature 40F, visibility 32 miles. There is a narrow strip of low pack ice (less than ¼ mile wide) moving north. There are numerous small pieces of broken ice on shore with 3-4 foot waves breaking on shore and the sandbars. There were two Wales crews out hunting yesterday.
30 May 2015 - Winton Weyapuk
8:20 a.m. Skies are clear, wind NNE at 20 mph, temperature 41F, visibility 32 miles. There are a few small scattered ice floes moving north with the current 1½ miles from shore and none visible further out. These small pieces are probably the last of the pack ice we will see this spring.
29 May 2015 - Amos Oxereok
A couple of pictures from a hunt earlier this week:
Observations from Shishmaref
1 June 2015 - Curtis Nayokpuk
The high NE-E winds forecast for rest of the week will limit late season hunts in the remaining sea ice. Shorefast ice is breaking up and moving out with east winds today. Early season break up (rain, wind) caught hunters off guard and forced an early hunt. It was very slow the first two weeks (scarce seals), and then the weather improved. When the Norton Sound ice moved North through the Bering Strait there was good weather and concentration of bearded seals and walrus making for good hunting compared to previous years.
This is the first day of June and most hunters are done with bearded seal and working on final hunts for walrus. Seasonal (traditional) hunting would be in mid-season (with snowmobile use) then boating up until the first week of July for walrus. Hunters have had a very good early spring season and will be out mainly for egg hunting then prep for first salmon runs with ice gone along the shoreline.
30 May 2015 - Curtis Nayokpuk
Ice pack spreading out for boat travel. No walrus in ice off Shishmaref, so hunters are traveling W-NW 30 to 40 miles to hunt at the ice edge. They are finding walrus along Wales to Pt. Hope in the main current. Hunting continues in ice pack for bearded seals. Good spring subsistence season for hunters with clear sky and light winds after the early spring melt with rain, fog, and high winds a few weeks ago.
Sea ice and walrus pictures from a recent trip:
Observations from Gambell
29 May 2015 - Merle Apassingok
Looks like there is no visible ice in all directions in the immediate vicinity and up to a 40-mile radius according to reports. But there is some residual ice on the northern shore between Gambell and N.E. cape. Rotting shore ice continues to break up.