Date:
Assessment of Current Ice Conditions Relevant to Distribution and Access of Walrus
Near St. Lawrence Island
Sea ice conditions near St. Lawrence Island have steadily declined this week. The shorefast ice along the northern coastline of the island continues to be limited in extent, currently extending up to 4.5 miles, while the shorefast ice along the southern coastline remains limited to the lagoons. Beyond the shorefast ice to the north and northeast of the island lies a region of very close to close pack ice consisting of first year ice floes. To the east of the island, close pack ice is shifting in and out near the shoreline. The coastline from Gambell around to the west and south facing coasts of the island are open water, with isolated first year ice floes passing in a strip from the pack ice north of the island beyond the coastline near Gambell on to the southwest.
Wales to Shishmaref
Shorefast ice remains in place along the northwest Seward Peninsula. The shorefast ice edge extends roughly 13 miles off the coast from Mugisitokiwik, 13 miles from Ikpek, and 1.5 miles off the coast from Shishmaref. Beyond the shorefast ice edge from Shishmaref to the outside of Kotzebue Sound lies a region of close to very close pack ice consisting mainly of first year ice floes. Beyond the shorefast ice edge from Ikpek up to Shishmaref lies a region of open to close pack ice consisting of first year ice floes with new and young sea ice filling in around the floes. The ice pack is currently very mobile through the Bering Strait near Wales with a large region roughly 12 miles offshore from Wales that is mainly new sea ice with isolated first year ice floes drifting through.
5 to 10 Day Forecast
Weather System/Wind Synopsis
A low-pressure system over Eastern Russia on Friday, 8 May will move into the Chukchi Sea by Saturday. Northwest winds of 15 to 20 kt (20 to 25 mph) will turn southerly Friday night. High pressure quickly moves into the Chukchi Saturday night turning the winds to the northeast at 15 kt (20 mph). High pressure remains over the Chukchi Sea Sunday, 10 May with northeast winds of 15 to 25 kt (20 to 30 mph). Low pressure moves into the Western Bering Sea Monday the 11th with southerly winds of 20 to 30 kt (25 to 35 mph). These winds will remain through Tuesday but diminish on Wednesday, 13 May as the low weakens and turns to the southeast at 15 to 25 kt (20 to 30 mph). Another low from the northeast moves into the Southern Bering Sea Thursday with winds around 10 to 15 kt (15 to 20 mph). The low strengthens on Friday the 15th with northeast winds increasing to 15 to 20 kt (20 to 25 mph). The low moves toward Russia Saturday, 16 May with southeast winds increasing to 25 kt (30 mph) near St. Lawrence Island, and east winds around 15 kt (20 mph) in the Bering Strait. These conditions diminish a bit as the low weakens in the Western Bering Sea with southeasterly winds of 10 to 20 kt (15 to 25 mph). Weak high pressure will settle into the area Monday, 18 May with south winds of 10 to 15 kt (15 to 20 mph).
Temperature Trend & Ice Forecast
Temperatures will be around 5 degrees above normal with daytime temperatures around 35-45° F. Overnight temperatures in the 30s are anticipated.
The wind direction will be generally out of the southeast through much of the period. Therefore, we expect that shorefast and compact sea ice will destabilize along the northern coastline of St. Lawrence Island, with the open waters south and west of the coastline experiencing some ice floes from the large ice expanse toward the west coast of Alaska. During this time the shorefast ice edge from Wales to Shishmaref will destabilize as well and may result in some breaks from the shorefast and compact ice along this area. Ice floes near Wales along the Bering Strait will shift out into the Bering Strait and north and west into the Chukchi Sea compacting ice in the Chukchi Sea. Independent ice floes will push to the southern coast of St. Lawrence Island as well.
Marine forecast for the West Coast and Arctic Coast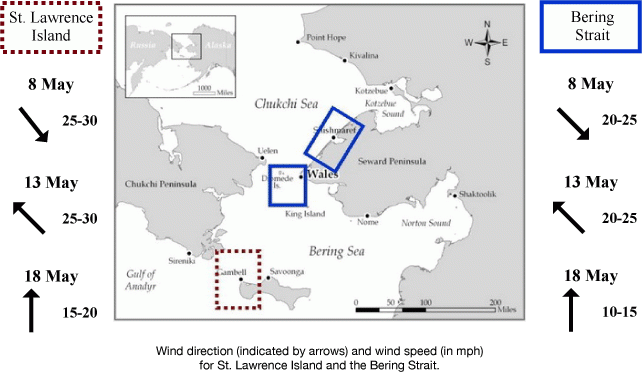 Remote Sensing Images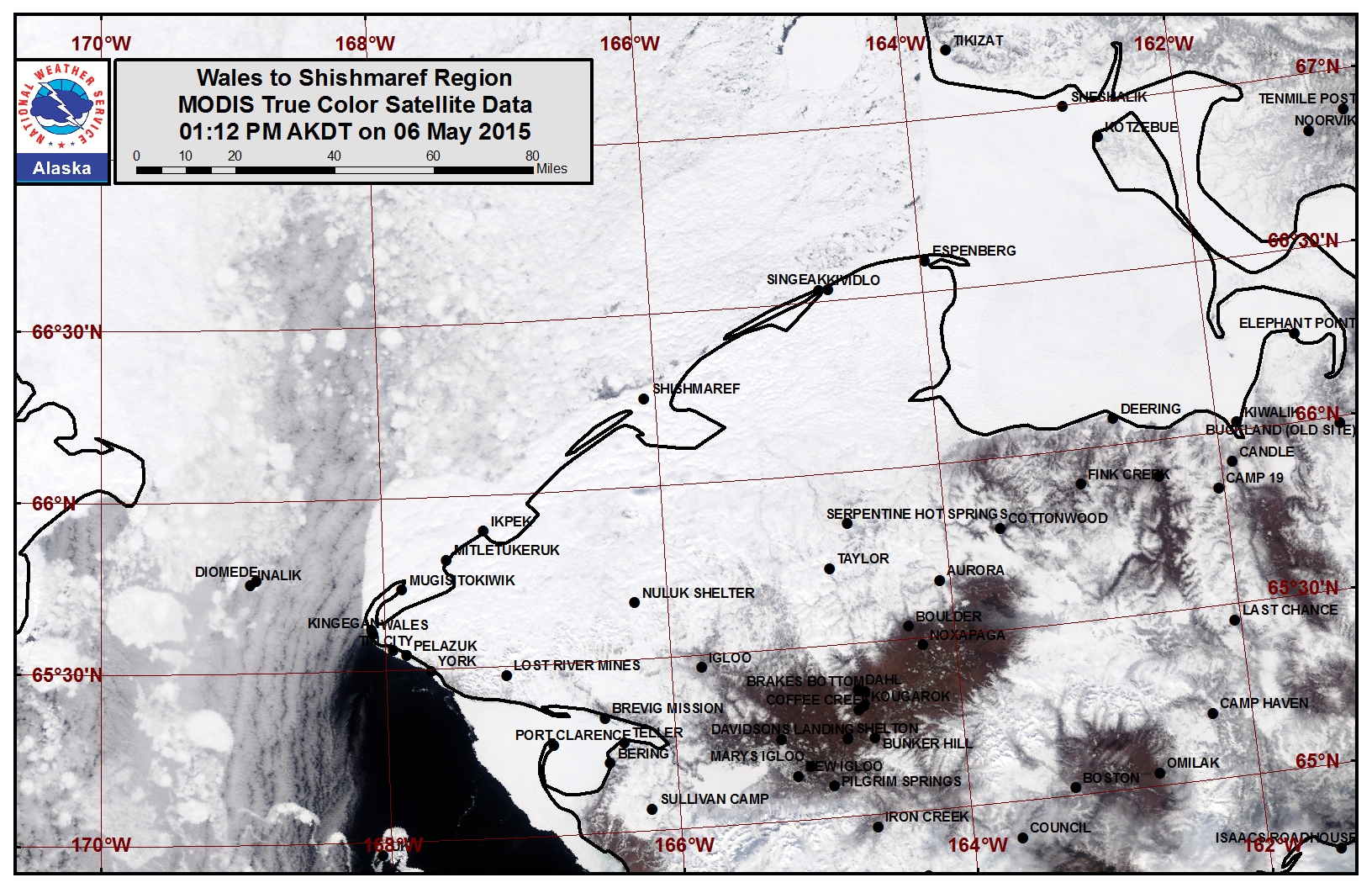 Observations and Comments
Observations of Sea Ice Development
Here are updated images from 9 May 2015 for the Bering Strait and St. Lawrence Island sent by the Anchorage Ice Desk.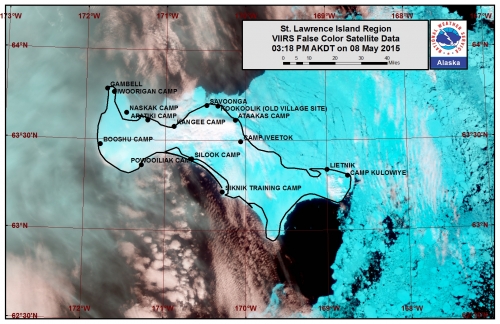 Observations from Nome
8 May 2015 - Fred Tocktoo
Yesterday, May 7, 2015 the shorefast ice started to break off near and around Nome. Shore ice is going to linger for another couple of weeks, going back and forth while still moving northward through the Bering Straights and beyond. Couple years ago the ice broke off around May 15th.
7 May 2015 - Boogles Johnson
The sea ice west of Cape Nome that is not shorefast has broken off and there's open water from Cape Nome west as far as you can see. The ice is getting rotten fast with the warm days and there are vast pans of young ice south west of Nome that will break up when there's any wave activity. Currently I'm flying back from White Mountain to Nome and there's open water as far west as I can see. The hot days these last few weeks have melted the ice fast. I was out oogruk hunting on Monday and there's still plenty of good ice. We made it out 17.5 miles south, southeast of Cape Nome and there were numerous oogruk and spotted seals, we haven't run into any walrus yet. Looking south from Topkok there's open water to about 20 miles out.
East of Nome there's still plenty of ice pack to hunt but when we have a North or east wind the ice will go. The ice pack is south of Cape Nome with open water from Cape to Sledge island. There's about 1/2 to 3/4 mile of shorefast ice from Cape Nome to Sledge island. The ice is starting to go south and west making vast open water.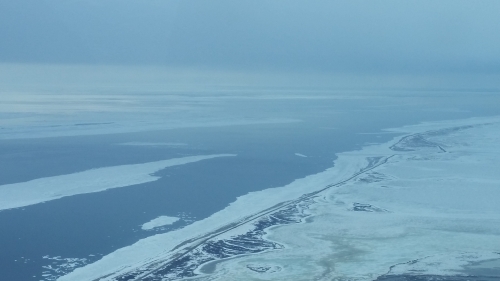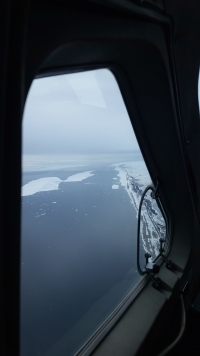 Observations from Gambell
7 May 2015 - Merle Apassingok
Sparse ice conditions around Gambell. Most of the ice is wind-driven into the shorefast ice. Ice is packed in the north side between Gambell and Savoonga. There are slivers of ice being moved by the current with lots of open water in the northwest and north.