Date:
Assessment of Current Ice Conditions Relevant to Distribution and Access of Walrus
St. Lawrence Island
Breakup is in earnest now in the Northern Bering Sea. Satellite imagery shows cloud formations called cloud streets (because they are long and narrow) that indicate the presence of lots of open water between the ice floes. This is especially the case for the waters south of the island and also west and northwest of Gambell. Compact ice continues to be present across the north shore of St. Lawrence Island although there are some leads forming.
Wales to Shishmaref
Breakup is also evident in the satellite imagery especially for the west portion of the Bering Strait. Again, the presence of cloud streets indicates lots of open water between floes. Shorefast ice is still present along the entire shore. The ground pressure ridge of ice that extends northwest from Point Prince of Wales is still present. The shorefast ice is beginning to show lots of leads off Shishmaref. The very large piece of shorefast ice that broke away from the shore in early April is still present offshore.
5 to 10 Day Outlook
A large storm in the Gulf of Alaska and high pressure over eastern Russia is producing 20 knot (25 mph) northerly winds. This pattern will continue into early next week though the winds will increase to 25-30 knots (30-35 mph) over the weekend. The storm in the Gulf of Alaska will weaken Tuesday, 8 May, and move eastward as a high pressure ridge slowly drifts eastward into the Bering Sea. Winds will be northerly 15-20 knots (20-25 mph) Wednesday and continue through Friday, 11 May, then shift to southwest 15 knots (20 mph) on Saturday. Winds will increase on Sunday as a strong storm moves eastward into the southern Bering Sea and winds become easterly 25-35 knots (30-40 mph) on Monday, 14 May.
---
Arrows show wind direction and wind speed in knots
---
Remote Sensing Images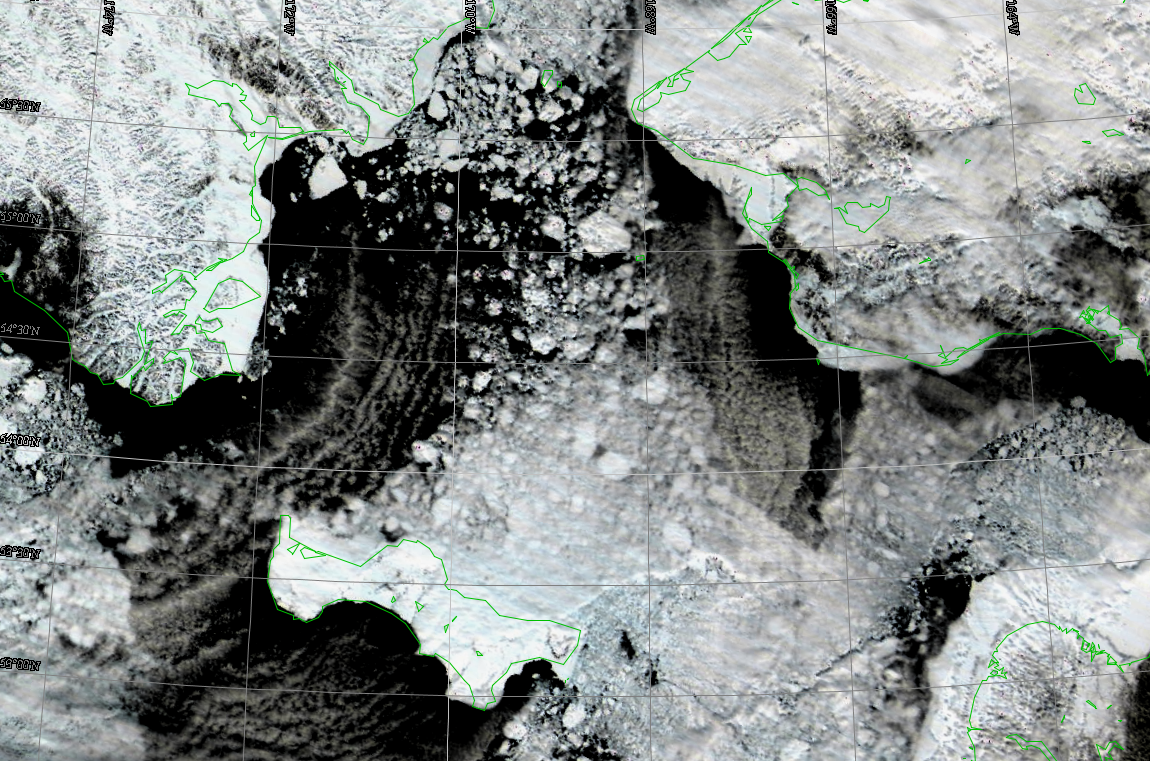 Observations and Comments
Observations of Sea Ice Development
Comments from Wales
3 May 2012 - Winton Weyapuk Jr.
Northerly winds during the past three days have brought the corner of the lead along the shorefast ice edge closer to Wales. It is now about 5 miles north of the village. The northeasterly winds last week had lengthened the lead to about 15 to 20 miles north of Wales. Light snow and light fog have obscured visibility over the strait further offshore from the land fast ice edge.