Date:
Assessment of Current Ice Conditions Relevant to Distribution and Access of Walrus
St. Lawrence Island
Satellite imagery shows that the sea ice continues to break up. There are now more open water leads and open water spaces south of St. Lawrence Island and what ice floes are present are now smaller than 900 feet in diameter near the shore. There is a lot more open water along the west coast of St. Lawrence Island near Gambell, where the ice floes near shore are also less than 900 feet in size with numerous smaller floes.
Shortfast ice still dominates the north shore of the island. Along the east coast, compact floes are present right up to the shore.
Wales to Shishmaref
There is still shorefast ice extending more than a mile offshore near Wales, however, past the shorefast ice there is a lot of open water with numerous ice floes. Very few floes larger than 900 feet are found in the western Bering Strait. The shorefast ice off Shishmaref continues to break up west of the town. Satellite imagery shows the very large piece of shorefast ice that broke off a few weeks ago has slowly drifted further north into outer Kotzebue Sound. The ice ridge that extends northwest from Cape Prince of Wales is still present.
5 to 10 Day Outlook
The next 5 to 10 days will be dominated by light winds less than 20 knots (23 miles/hour). The only time where winds could exceed 20 knots will be around Friday, 4 May. Winds will generally be out of the north. Sea ice drift will be slow to the north on the west side of St. Lawrence Island with numerous broken floes.
The few storms forecasted for the next 5 to 10 days will be too far south to affect the northern Bering Sea and Bering Strait.
---
Arrows show wind direction and wind speed in knots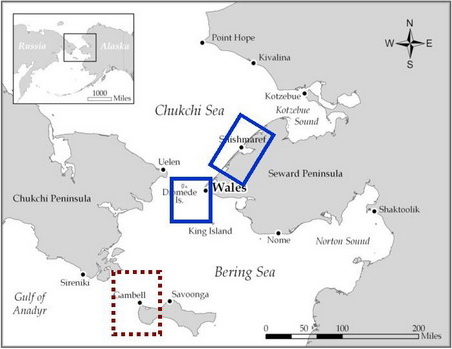 ---
Remote Sensing Images
Observations and Comments
Observations of Sea Ice Development
Comments From Gambell
30 April 2012 - Paul Siluk Apangalook
This past week boats were out among rough water as well as broken rough ice and thin ice. With occasional strong northerly winds and a broken ice cover, a large swath of open water has developed (also visible in the satellite images). The first arrival of large stretches of open water, important to hunters and referred to as kelliighinita when fully developed (with kelliighinak referring to the open water itself) has been occurring earlier in recent years. Rough water can be a problem for hunters under such conditions, and forced several crews to return from between 10 to 15 miles out. The southward current is drawing out broken-up ice that stretches from the north point of the village all the way to the visible ice pack to the southwest (singuraq).
With the whaling quota filled, hunters now look for maklak (bearded seal) and walrus. On 29 April, several boats reported walrus hauled out and in the water 20 miles southwest of Gambell. This may be the start of the main walrus migration with the central Bering Sea drift ice. The first report of a walrus with a young calf came in earlier in the week.
Comments From Nome
1 May 2012 - Fred Tocktoo
Nome's shorefast ice is starting to show some run-off due to melt but is still pretty healthy. Men are starting to gear up for the spring hunt, getting ready to go sea hunting. Fresh crack ice appeared on the outer portions of the main shorefast ice just between Nome and Sledge Island last week. Song birds are seen so we know spring is here but it doesn't feel it yet, so it's like a slow spring thaw. Lots of ice movement outside of the shorefast ice. Last year on May 15th, the ice was broken off on and near the shores of Nome.
Comments From Wales
1 May 2012 - Winton Weyapuk Jr.
It looks like the northerly wind brought the corner of the lead along the shore fast ice closer to the village again which usually means better hunting conditions here.
28 April 2012 - Winton Weyapuk Jr.
Winds mainly from the northeast have kept open a lead along the shorefast ice which sometimes extends to 12 miles or 15 miles north. Pack ice continues moving north with the current. Large ponds and leads were shown further out during the week as dark water sky.