Date:
Assessment of Current Ice Conditions Relevant to Distribution and Access of Walrus
Near St. Lawrence Island
Sea ice conditions have not changed much since last week. Air temperatures remain below freezing and NE winds have pushed the sea ice pack up against the north shore of St. Lawrence Island. Sea ice south of the island remains 2 to 4 tenths new/young with lots of open water and leads. Satellite imagery shows open water along the shorefast ice by the presence of low cloud formations just south of the open water. This is also the case along the western shore of St. Lawrence Island. Heavy concentrations of thicker ice occur along the coast from Savoonga eastward. In general the area will continue to have northerly winds that will keep similar ice conditions through Monday, 9 May.
Wales to Shishmaref
Again, sea ice conditions have not changed much since last week. The northeast winds have pushed most of the heavy and larger floes westward into the central and western Bering Strait. The shorefast ice off Shishmaref continues to hold in place. Northerly winds will continue through Monday, 9 May and this will keep ice conditions nearly the same.
5 to 10 Day Forecast
At present there is a low over the central Aleutians and a high over the Arctic producing cold, northerly winds. This low will slowly drift into the western Gulf of Alaska leaving a weak pressure gradient over the northern Bering Sea beginning late Saturday, 30 April. This will result in light winds 10-15 knots through Wednesday, 4 May. A strong low in the western Aleutians on Wednesday, 4 May will move eastward into the eastern Gulf of Alaska by Friday, 6 May. This will tighten up the gradient over the Bering Sea and produce NE winds 25-30 knots on Thursday, 5 May and Friday, 6 May. A high pressure ridge will form over the western Bering Sea and move slowly eastward bringing light winds Saturday, 7 May.
---
Arrows show wind direction and wind speed in knots


---
Remote Sensing Images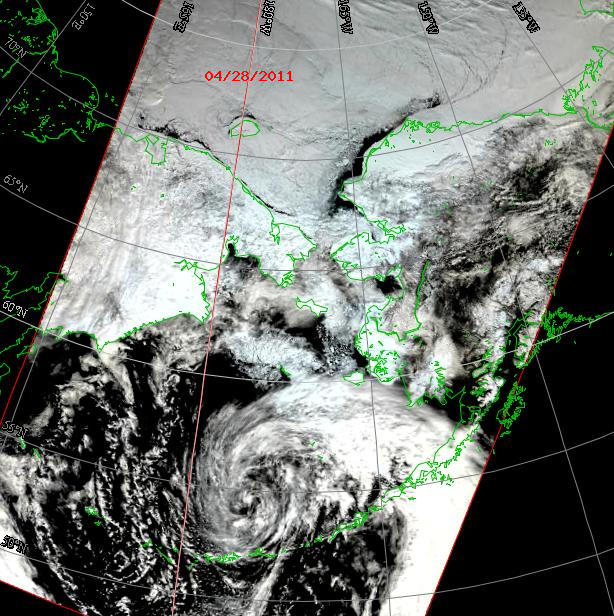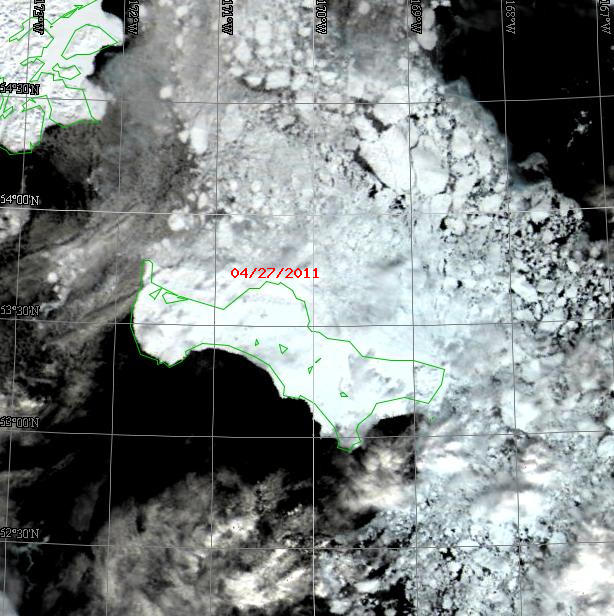 Observations and Comments
Observations of Sea Ice Development
29 April 2011 - Simeon John; local observer in Toksook Bay
Observations on the 7-9 April Bering Sea Storm
During the storm, the river where we park our boats overflowed from high tides, but there were no signs of ice lifting off from the riverbanks or the beaches. At Umkumiut, a fish camp about 5 miles down from where the boats are parked, there were waterlines of flood but no damage. The piles of ice on the northwestern side of the bay below Umkumiut are visible, and there are more Evuuneqs (a Yupik word meaning "piles of ice used as markers") than normal where the pressure of the ice and tide had pushed. Overall, conditions were not very unusual.
The week after, I visited Kasigluk and around the Baird Inlet area there were signs of overflows but no damage to the ice cover.