Sea Ice Prediction Network–Phase 2 (SIPN2), 2018—2022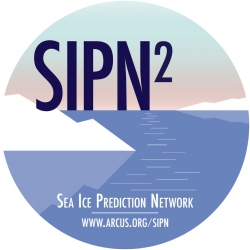 The Sea Ice Prediction Network–Phase 2 (SIPN2) is a network of U.S. and international members working to advance research on the processes driving sea ice predictability, prediction products, and the communication of findings to interested stakeholders. SIPN2 is funded by NSF-Arctic Sciences Section and the UK Natural Environment Research Council (NERC), with several collaborators and partners.
Sea Ice Outlook Reports
The Sea Ice Outlook (SIO) provides an open process for those interested in Arctic sea ice to share ideas and predictions for Arctic ice extent, sea-ice probability, ice-free date, and other variables. The 2019 Sea Ice Outlook season included monthly reports in June, July, and August, and an interim post-season report in October.
Based on the National Snow and Ice Data Center's (NSIDC) Sea Ice Index, the 2019 September average sea ice extent was 4.32 million square kilometers, the third lowest in the satellite record that began in 1979. The medians of the Outlook contributions for June, July, and August were 4.40, 4.28, and 4.22 million square kilometers, respectively, with the July SIO coming closest to the observed September extent. The interquartile range of the projections from June (4.2 to 4.8 million square kilometers), July (4.0 to 4.6 million square kilometers), and August (4.0 to 4.4 million square kilometers) all bracketed the observed September extent.
A full post-season report, with a more in-depth analysis of the sea ice season and an evaluation of the accuracy of the Outlook predictions, will be published in February 2020.
SIPN2 Webinars
The last SIPN2 webinar was held in September, featuring a talk by Pablo Ortega, Barcelona Supercomputing Center, on the European-Union-funded project APPLICATE. The webinar series will continue in 2020, with 2–3 webinars per year. All past webinars are archived here, and future webinars are announced via the SIPN2 mailing list.
SIPN2 at AGU
SIPN2 will convene a sea-ice community open meeting on Tuesday, 10 December from 12:30–1:30 p.m. PT during the 2019 American Geophysical Union (AGU) Fall Meeting in San Francisco, California (Hotel Nikki, Monterrey I Room). This meeting will promote knowledge exchange and collaboration among members of the sea ice research community. A brief overview of the 2019 Arctic sea ice/Sea Ice Outlook season will also be provided, and discussion will focus on regional sea ice predictions. More information about the meeting is available here.
More Information on SIPN2
More information about SIPN2 is available through the SIPN2 website and through the SIPN mailing list, or by contacting Betsy Turner-Bogren, ARCUS (betsy [at] arcus.org).
---
About the Author
Betsy Turner-Bogren is a Project Manager at ARCUS who provides staff support to the SIPN2 project and its team members. She also manages the NSF-supported publications Witness the Arctic and Witness Community Highlights.