Feature Article
International News
A Note from the ARCUS President
Interagency News
National Science Foundation News
Science Policy News
Study of Environmental Arctic Change (SEARCH)
Arctic System Science Program
Arctic Social Sciences Program
Science News
Arctic Natural Sciences Program
U.S. Arctic Research Commission
Capitol Updates
About
Witness the Arctic provides information on current Arctic research efforts and findings, significant research initiatives, national policy affecting Arctic research, international activities, and profiles of institutions with major Arctic research efforts. Witness serves an audience of Arctic scientists, educators, agency personnel, and policy makers. Witness was published biannually in hardcopy from 1995-2008 (archives are available below); starting in early 2009 the issues have been published online. Witness has over 8,700 subscribers.
Download
Fall 2010 PDF (2.1 MB)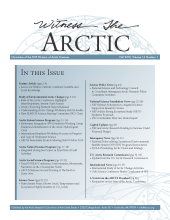 Archives
With the Spring 2009 issue, ARCUS changed the format of Witness the Arctic. To provide more frequent updates and reduce printing and mailing costs and associated environmental impacts, the newsletter is now distributed online in three or four shorter issues per year, depending on newsworthy events.
Search
Contact
If you have a question or an idea for a Witness article, contact Betsy Turner-Bogren at betsy@arcus.org.
Witness Community Highlights
Witness Community Highlights is an online publication launched in May 2017 to complement the regular publications of Witness the Arctic. It was developed in response to community feedback identifying the need for a monthly publication to highlight 1–2 Arctic research efforts and other timely items of interest to our readers. Community Highlights is distributed monthly via our Witness the Arctic mailing list of over 8,700 subscribers.
Arctic Research Consortium of the United States
3535 College Road
Suite 101
Fairbanks, AK 99709 USA
Phone: 907-474-1600
Fax: 907-474-1604

info

[at]

arcus.org
ARCUS is a nonprofit organization consisting of institutions organized and operated for educational, professional, or scientific purposes. Established by its member institutions in 1988 with the primary mission of strengthening arctic research, ARCUS activities are funded through cooperative agreements with NSF and the National Park Service, grants from NSF, a contract with the U.S. Fish and Wildlife Service, and membership dues.
Witness the Arctic is published periodically by ARCUS. Any opinions, findings, conclusions, or recommendations expressed in this publication do not necessarily reflect the views of NSF.
Executive Director: Susan E. Fox
Editors: Betsy Turner-Bogren, Kristina Creek, Helen Wiggins
Contributors: V. Alexander, A. Ballantyne, R. Crain, Y. Csonka, J.S. Damsté, J. Eberle, H. Eiken, J. Farrell, K. Farrow, D. Finney, D.R. Greenwood, H.R. Harvey, A. Hollowed, G. Hufford, M. Krause, I. Krupnik, S. LaFratta, C. Lee, A. Lloyd, R. Martin, J. Miller, K. Moran, F. Mueter, M. Murray, T. Nakamura, J. Napp, C. Nayokpuk, O. Orheim, J. Pundsack, M. Rawlins, C. Rosa, T. Rouleau, N. Rybczynski, J. Scott, V. Sharpton, M. Sigler, D. Smythe, N. Soreide, P. Stabeno, R. Storvold, G.R. Teichmann, K. Ultsein, T. Van Pelt, J. Ziker