Broadening Participation in Freshwater Ice Science and Education with Fresh Eyes on Ice
By: Katie Spellman, International Arctic Research Center, University of Alaska Fairbanks (UAF); Laura Oxtoby, Water and Environmental Research Center, UAF; Chris Arp, Water and Environmental Research Center, UAF; and Dana Brown, Institute of Arctic Biology, UAF
"The cold used to be dependable" Alaska Native Elder Sam Demientieff stated to the Zoom room full of educators, scientists, and village environmental coordinators participating in the Fresh Eyes on Ice community-based monitoring program ice season kick-off in October 2020. Demientieff, of Fairbanks/Holy Cross, proceeded to share his lifetime of river-ice observations from growing up in interior Alaska. Participants shared their own experiences with river and lake ice, and sketched maps of rivers or lakes in their community and the changes they have observed through time (Figure 1). One thing is clear: Alaskans know ice, how it influences our lives, and have noticed that it is changing.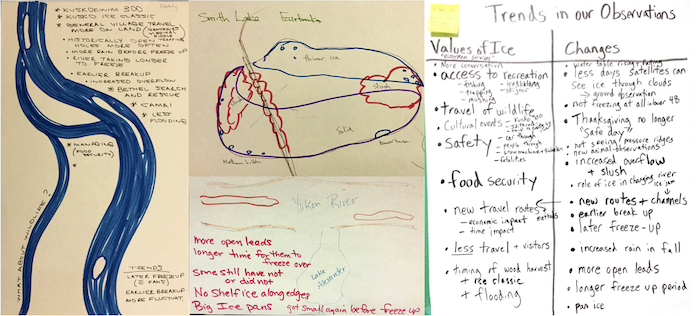 Figure 1. Maps of changes observed in river and lake ice drawn by educators participating in Fresh Eyes on Ice workshops (left), and trends in the observations across the maps (right). Figure courtesy of Katie Spellman.
With this in mind, the Fresh Eyes on Ice project, based out of the University of Alaska Fairbanks (UAF), combines science and learning through community science (see Observing the Cycle of Ice through Fresh Eyes, Arp et al., this issue). The project is monitoring the formation and decay of lake and river ice through field measurements, drones, a network of ice phenology cameras and automated sensors, satellite imagery, and ground-penetrating radar. The community science dimension of this project elevates local perspectives on these data, provides opportunity for ice safety information sharing, and facilitates science learning. The youth and broader community engagement establishes a baseline of geographically diverse measurements and observations, and ground-truthing data (i.e., in situ observations) for comparison with the other types of data being collected remotely.
The community science operates at multiple levels to accommodate a wide range of engagement opportunities and types of learning across a broad diversity of Alaskans—from lasting community partnerships to casual ice observers. Inspired by the Alaska Lake Ice and Snow Observing Network of the early 2000s (Jeffries and Morris 2008), long-term community-based monitoring teams in 14 communities (Figure 2) are making monthly measurements of river- and lake-ice thickness and taking photo observations of freeze-up and break-up with smartphones and drones. These teams are primarily based in schools, but also include several homeschool families and local community scientists from Tribal or federal organizations.
Figure 2. Locations of long-term community-based monitoring teams in Alaska that participate in the Fresh Eyes on Ice project. Figure courtesy of Fresh Eyes on Ice.
Youth and adults from Alaskan communities of Arctic Village, Bethel, Copper Valley, Fairbanks, Galena, Kobuk, McGrath, Nenana, Noatak, Shageluk, Tok, Toolik, and Venetie make monthly measurements of snow and ice thickness on lakes and rivers and observe the timing of freeze-up and break-up. (Figures 3a and 3b)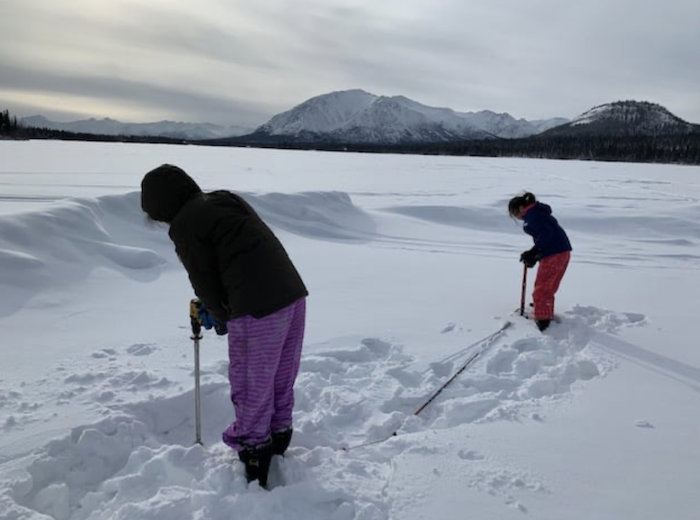 Figure 3a. Students from Copper Valley make monthly measurements of snow and ice thickness on lakes and rivers and observe the timing of freeze-up and break-up. Photo courtesy of Mark Proch.
Figure 3b. Students from Fairbanks make monthly measurements of snow and ice thickness on lakes and rivers and observe the timing of freeze-up and break-up. Photo courtesy of J.R. Ancheta.
Fresh Eyes on Ice applies a culturally responsive learning model to engage rural and urban youth across the state in ice science and education (Figure 4). The program follows a learning model that was collaboratively developed by the Association of Interior Native Educators and University of Alaska Fairbanks scientists, and builds on decades of work on culturally responsive science education within Alaska (see Spellman et al. 2018). The learning doesn't start with the data collection or reading what a book or online resource says about ice. It starts with listening to Elders and local knowledge holders. The process continues through personal stories and observations. Each child and adult acknowledge and share the knowledge and experience they already have with ice, which they bring to the collaborative effort. They use a standard protocol to collect ice thickness and snow depth measurements so that the measurements are comparable over the large spatial scale. Finally, youth and adults share their results and efforts back with their community through stories, art, ice safety information, or community events. To support this process, the Fresh Eyes on Ice team follows this model in their annual kickoff workshops and monthly ice science and learning program meetings. The project provides lesson plans for each phase of the learning cycle to use in classrooms.
Figure 4. Learning cycle model applied in the Fresh Eyes on Ice education. This learning model builds on decades of work and research in Alaska on culturally-responsive ways of teaching and learning science. Figure courtesy of Katie Spellman.
As the protocol has been refined through collaborative testing and feedback between educators and scientists in our first program years, youth have largely been collectors, interpreters, and sharers of the data. This coming year of 2021—22, we will head into a new model of co-creating science, with youth driving their own research questions in collaboration with local knowledge holders and UAF scientists. The education researchers involved in the project are interested in the potential differences in youth learning outcomes between the co-created and contributory models of community science, and the tradeoffs in time and resources for educators facilitating this type of science.
Alaskans throughout the state seeking to contribute in less intensive ways submit photographic observations through a portal that is accessible by smartphone or computer. Their information is shared in real time with the National Weather Service Alaska Pacific River Forecast Center (NWS APRFC) to inform river travel safety and flood risk assessments. UAF and collaborating scientists are using the information alongside historical ice photos, satellite imagery, and records to better understand how ice conditions are changing. Fresh Eyes on Ice is excited to continue to develop a user-friendly smartphone app for this type of engagement in partnership with Tanana Chiefs Conference, NASA's Global Learning and Observations to Benefit the Environment Observer App program, and NWS APRFC.
Broader engagement in ice science and learning occurs through social media, where a vibrant conversation on freshwater ice is ongoing across several hundred people from within Alaska and outside the state. The Fresh Eyes on Ice Facebook page and Instagram groups share ice information, observations, stories, and even poems and jokes. The learning across such a diversity of members has been inspiring. Learn more about the project, or contribute observations of ice conditions at fresheyesonice.org.
Acknowledgements
We are grateful for the many educators, youth, families, and community scientists in the 14 Community Based monitoring teams, and the many observers contributing their photos from across Alaska. Karin Bodony, Allen Bondurant, Sarah Clement, Melanie Engram, Tohru Saito, Theresa Villano, and Peter Webley have been critical to the program development and implementation in the first two years. Fresh Eyes on Ice community-based monitoring and learning research is funded through the National Science Foundation Navigating the New Arctic and Arctic Observing Network programs (OPP-1836523) and the expanded photo observation effort is funded through the NASA Citizen Science for Earth Systems Program (Award 80NSSC21K0858).
References
Spellman, K.V., Sparrow, E.B., Chase, M.J., Larson, A., Kealy, K. 2018. Connected climate change learning through citizen science: an assessment of priorities and needs of formal and informal educators and community members in Alaska. Connected Science Learning 1(6): 1-24.
Morris, K. and Jeffries, M. 2008. The Alaska Lake Ice and Snow Observatory Network (ALISON): Hands-on Experiential. In American Geophysical Union, Fall Meeting 2008, abstract# ED32A-03.
---
About the Authors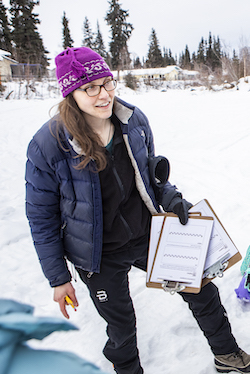 Katie Spellman is an Assistant Professor at the International Arctic Research Center at the University of Alaska Fairbanks. She is a life-long Alaskan who splits her research evenly between ecology and education research, with a focus on citizen science in a rapidly changing climate as a focus area at the interface of the two disciplines. She is dedicated to empowering diverse youth to address climate issues in their community through science.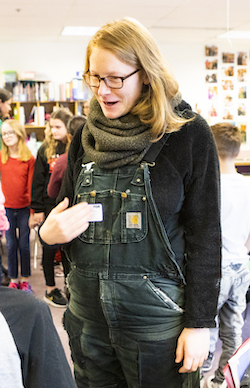 Laura Oxtoby is a research professional with the Water and Environmental Research Center at the University of Alaska Fairbanks. Laura splits her research time between aquatic ecology and learning sciences. She is passionate about working with youth—from providing safe spaces for homeless youth to gather, to offering projects that span art, science and outdoor adventure for youth to explore.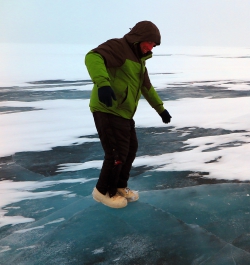 Chris Arp is Research Associate Professor with the Water and Environmental Research Center at the University of Alaska Fairbanks. Chris studies how Alaskan lakes and rivers fit into the broader hydrologic cycle, are responding to changing climate, and serve as habitat and other socio-ecological functions. The Fresh Eyes on Ice project is his first endeavor into community-based monitoring and science education.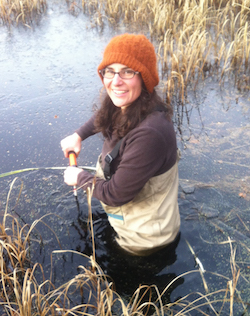 Dana Brown is a Postdoctoral Research Fellow at the Institute of Arctic Biology at the University of Alaska Fairbanks. She uses satellite remote sensing to study how the seasonality of river ice is changing and to map the spatial dynamics of the ice cycle to help foster safe travel.
About
Witness Community Highlights is an online publication launched in May 2017 to complement the regular publications of Witness the Arctic. It was developed in response to community feedback identifying the need for a monthly publication to highlight 1–2 Arctic research efforts and other timely items of interest to our readers. Community Highlights is distributed monthly via our Witness the Arctic mailing list of over 8,800 subscribers.
Archives/Subscribe
Starting with the premier issue in May 2017, articles published in Witness Community Highlights are archived online.

Archive

Subscribe
Contact
Editors of Witness Community Highlights welcome ideas for future articles. If you have an idea or a question about this publication, please contact Betsy Turner-Bogren at betsy@arcus.org.
Witness the Arctic
Witness the Arctic provides information on current Arctic research efforts and findings, significant research initiatives, national policy affecting Arctic research, international activities, and profiles of institutions with major Arctic research efforts.

Witness the Arctic