By: Katherine Schexneider, ARCUS Volunteer; and ARCUS Staff
The 2021 ARCUS Annual Meeting, held as a virtual event on 4 November 2021, brought together 128 members of the Arctic research and education communities to meet, talk, and connect. The event provided opportunities for participants to share what they and their organizations are doing to address key challenges and opportunities in Arctic research and identify actionable ways for people to work together and support each other. The meeting emphasized small group discussions focused around the themes of: (1) Collaborative/Transdisciplinary Research, (2) Community and Citizen Science in the Far North, (3) Navigating Post-COVID Arctic Research and Education, and (4) Coordination Networking Needs and Solutions.
In preparation for the meeting, ARCUS Member Representatives from eight of ARCUS' 27 member institutions shared a few recent activity highlights from their home institutions. Summaries of, and links to, the Member Updates are shared below:
---
Alaska Ocean Observing System
The Alaska Ocean Observing System (AOOS) is one of 11 regional associations in NOAA's Integrated Ocean Observing System (IOOS). Their assets allow scanning and data collection from air (glider surveys), land (radar installations and weather stations), and the sea (wave buoys, water level stations, and ecosystem moored observatories). At the start of 2021, Sheyna Wisdom was selected as the new AOOS Executive Director with former Executive Director, Molly McCammon, staying on as a Senior Advisor for the organization. Five new grant awards highlight their year. First, NOAA-IOOS provided $4.18 million in a five-year cooperative agreement focused on the Ocean Data Explorer data portal. Two grants strengthen the partnership with Russia: the World Wildlife Fund is sponsoring the Bering Strait Transboundary Incident Response Tool, and the National Park Service's Beringia Program is supporting a project focused on integrating Russian coastal and ocean data from the Bering and Chukchi seas. The NSF Convergence Accelerator Program is also funding the creation of ocean-observing buoy systems for Indigenous communities. Finally, an award from Alaska Sea Grant enables AOOS to partner with the Alaska Conservation Foundation to sample the seas for harmful algal blooms and levels of ocean acidification.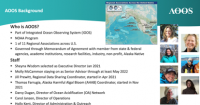 For More Information:
See the AOOS website
Member Update:
Alaska Ocean Observing System Update (PDF - 509.62 KB)
---
Dartmouth University
The Institute of Arctic Studies (IAS) is Dartmouth's crossroads for multidisciplinary Arctic scholarship and policy dialogues that center inclusion, justice, equity, and Indigenous Knowledge in solutions to Arctic and global challenges. Institute staff include Melody Brown Burkins (IAS' new Director as of 1 July 2021), Matthew Ayres (Associate Director), Ross Virginia (Distinguished Stefansson-Nef Faculty Fellow), and Lauren Culler (Science Outreach and Education Coordinator). Marnina Gonick has been selected as the next Fulbright Canada Chair and begins her work at IAS on gender and Indigenous issues this winter. Recent IAS efforts—such as a 2018 workshop to connect US and Greenlandic researchers, or recent community discussions facilitated through the Lancet Commission on Arctic Health—are working to leverage unique Arctic research perspectives, experiences, and best practices to inform broader audiences and global policy discussions, with a strong focus on inclusion.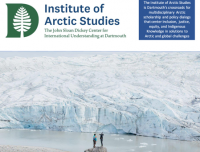 For More Information:
See the Dartmouth IAS webpage
Member Update:
Dartmouth Institute of Arctic Studies Update (PDF - 1.06 MB)
---
The George Washington University
Arctic investigators at George Washington University currently have a full slate of research studies that reach broadly across many disciplines. Robert Orttung is Research Professor of International Affairs at George Washington University's Elliott School and Assistant Director of The Institute for European, Russian, and Eurasian Studies. With 11 participating researchers, he and his colleagues are managing 13 NSF grants, including five from the new NSF Navigating the New Arctic program. They include: Arctic Cities: Measuring Urban Sustainability in Transition (MUST); Understanding Gender Equality and Empowerment in the Arctic; Coastal OceAn SusTainability in Changing Climate (COAST); and Building Socio-Ecological Resilience through Urban Green, Blue and White Space. These projects reflect Orttung's own expertise in urban centers impacted by climate change and the diverse scholarly interests of other George Washington University staff.
For More Information:
See the George Washington University's Arctic Program website
Member Update:
The George Washington University Update (PDF - 8.17 MB)
---
UIT: The Arctic University of Norway
The UiT member update provides an overview of five projects currently taking place at The Arctic University of Norway: Research Centre for Arctic Petroleum Exploration (ARCEx), The Nansen Legacy Project, the Developing Good Ocean Governance of the Arctic in Times of Unpredictable and Rapid Changes (DOGA) Research Coordination Network, the Fram Centre's Assessing the Implications of a Global Treaty on Marine Biodiversity in Areas Beyond National Jurisdiction for Ecosystem-based Governance in the Arctic Ocean (ARCTIC BBNJ II) project, and Disinformation and People: Impacts on Societal Trust and Resilience (FAKENEWS).
ARCEx is investigating risk reduction approaches from geological, environmental, and technological perspectives.
The Nansen Legacy Project is gathering 230 Norwegian scientists, among them 70 early career researchers, and international partners to study climate and ecosystem changes broadly and in an integrated fashion.
The five-year program (2021–2025) DOGA has Ingvild Jakobsen and her team reviewing the ecosystems approach to Norwegian law with an eye toward, "how law and science can be integrated to provide for adaptive governance."
In the Fram Centre's ARCTIC BBNJ II project, Vito De Lucia and his group are evaluating the new United National treaty on marine biodiversity.
FAKENEWS, led by Gunhild Hoogensen Gjørv at UiT's Centre for Peace Studies, examines Norwegian and Swedish reactions to the COVID-19 pandemic and the use of disinformation during the 2015 migration crisis as a hybrid threat to create destabilization in society.
For More Information:
See the English translation of the UiT website and the Nansen Legacy webpage, or contact ARCEx by email, Alfred.hanssen [at] uit.no
Member Update:
UiT: The Arctic University of Norway Update (PDF - 164.44 KB)
---
University of Alaska Fairbanks (UAF)
The University of Alaska Fairbanks (UAF) is a national and world leader in climate change and Arctic research, maintaining many partnerships and collaborations throughout Alaska and the world that drive innovation and create meaningful discoveries. Education at UAF provides a hands-on learning experience in the vast dynamic laboratory that is Alaska. The range of UAF research locations across Alaska and the US Arctic extends from Shemya in the southwest to Juneau in the southeast (over 2,000 miles apart) and up to Utqiaġvik in the north, approximately 500 miles from the UAF main campus. Research platforms and facilities include such assets as the R/V Sikuliaq operated by the College of Fisheries and Ocean Sciences, the spaceborne data receiving station (SAR) of the Alaska Satellite Facility, and the unmanned aircraft operations from the Alaska Center for Unmanned Aircraft Systems Integration (ACUASI). Many opportunities exist to collaborate with UAF's research, facilities, and experts. The member update report provides numerous links to help connect anyone who might be interested in partnering with UAF.
For More Information:
See the UAF Strategic Plan and the UAF Center for Arctic Security and Resilience
Member Update:
University of Alaska Fairbanks Update (PDF - 460.16 KB)
---
University of Lapland Arctic Centre
The University of Lapland Arctic Centre report highlights recent projects and collaborations taking place through the UArctic Critical Arctic Studies (CAS) Thematic Network, the Arctic GLOBal change research group, the Bermuda to Bear Island (B2BI) research initiative, as well as the Food (in)Security in the Arctic consortium.
The Critical Arctic Studies Network aims to strengthen and promote multidisciplinary, critical studies of the Arctic and its development in a time of environmental changes, and is led by ULapland with additional support from University of Alaska Fairbanks, University of Copenhagen, University of Cambridge, St. Petersburg Federal University, and Ural Federal University.
The Arctic GLObal change research group supports three studies. The Arctic Rain and Snow Study (ACROSS) partners UArctic with the National Snow and Ice Data Center in the US to learn about this phenomenon that impacts wildlife, infrastructure, and communities. Drivers and Feedbacks of Changes in Arctic Terrestrial Biodiversity (CHARTER) looks to advance adaptive capacity as climate and ecosystems change. Interacting Processes in Arctic Reindeer Systems Experiencing Rapid Climate Change brings together the Universities of Oulu and Lapland to study a significant issue in the Scandinavian north.
Bermuda to Bear Island (B2BI) focuses on the North Atlantic and Arctic Oceans, with an emphasis on the nexus of the natural sciences and policy making. Serving as a tool for transatlantic research cooperation and interdisciplinary networking, activities in 2021 included several seminars on issues such as ocean valuation for societies, fisheries expertise inputs, basin scale observation programmes, and others.
The Food (in)Security project, coordinated by Arctic Centre, investigates the role of traditional and local resources in food security and food systems of Indigenous and local populations of the European High North from an interdisciplinary perspective and represents a collaborative effort among 20 researchers from 6 European countries and Canada.
For More Information: See the NSIDC ACROSS website, the CHARTER website, the Bermuda to Bear Island website, and the UArctic website
Member Update:
Arctic Centre Update (PDF 928.92 KB)
---
University of Washington
The University of Washington (UW) update highlights numerous contributions to the understanding of sea ice this year, with 6 of the 11 posters and publications in the update document addressing this topic. Authors from UW's Polar Science Center, Department of Atmospheric Sciences, and School of Oceanography described how models compare with observations in high-frequency variability areas, sea-ice loss within the Wandel Sea, a cyclone-centered perspective on asymmetric patterns, contour modeling in probabilistic forecasting, sea-ice response to snow layer flooding, and a slowdown in sea-ice melting, despite warming conditions. Two other works spoke to risk assessment for polar bears as harvested species in the Chukchi Sea and southern Hudson Bay. Two articles published in Geophysical Research Letters on oceanography discuss changes in Pacific inflow from 1990–2019, and factors besides sea ice important to wave generation. The final paper included in the update reported on citizen science data being used in a snowpack modeling tool.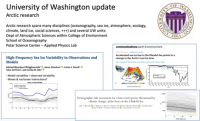 For More Information:
See University of Washington's Polar Science Center website and the Department of Atmospheric Sciences website
Member Update:
University of Washington Update (PDF - 1.03 MB)
---
University of Virginia
The University of Virginia's newly established Arctic Research Center (UVAARC) has spent 2021 launching a new five-year program supported though a $3 million grant from NSF. The center's initial focus will be designing and monitoring a network of integrated sensors throughout Utqiaġvik. Led by Principal Investigator and Environmental Science Professor, Howard Epstein, the UVAARC is further supported by a highly interdisciplinary team including Landscape Architect, Leena Cho; Architect, Matthew Jull; Data Scientist, Felipe Rosado Murillo; and Science, Technology, and Society Professor, Caitlyn Wylie who is studying the project team as we co-produce information collaboratively among the various within-team entities. Each team member brings unique perspectives to bear on the issues of sea-ice melting, coastal erosion, and thawing permafrost. They will work closely with local partners in Alaska, including: Ukpeaġvik Iñupiat Corporation (UIC), Tagiugmiullu Nunamiullyu Housing Authority, and North Slope Borough Planning and Public Works.
For More Information:
See the University of Virginia's School of Architecture website
Member Update:
University of Virginia Update (PDF - 26.42 MB)
---
About the Author
Katherine Schexneider is a recently retired US Navy physician now doing focused volunteer work on climate change in the Arctic. She is excited about working in fields beyond pathology and transfusion (her medical specialties), including professional-level writing, administrative tasks, and assisting with conferences. She is a member of several IARPC teams, the UNDOS team for the Arctic Ocean, T-MOSAiC, and serves on the ARCUS Membership and Development Committee. She lives in Meredith, New Hampshire.