Sea Ice Prediction Network (SIPN) Updates
By: Betsy Turner-Bogren and Helen Wiggins, ARCUS
SIPN 2017
During the final months of funding for the initial Sea Ice Prediction Network (SIPN) project, efforts were focused on the core Sea Ice Outlook (SIO) activities in the summer and fall of 2017. Activities included development of the June, July, and August monthly reports, and a post-season report to synthesize results from the 2017 melt season. Additionally, SIPN Leadership Team members contributed several peer-reviewed papers for publication and made presentations to the Marine Environmental Observations, Predictions and Response Workshop in Ottawa, Ontario and to the Interagency Arctic Research Policy Committee (IARPC) Sea Ice Collaboration Team Meeting (see SIPN Presentations and Publications).
The June, July, and August SIO reports received a total of 106 contributions for pan-Arctic extent predictions (based on multiple methods: statistical, dynamical models, estimates based on trends, and subjective information) along with contributions for Alaska regional extent predictions, descriptive regional contributions, and pan-Antarctic extent predictions—a new SIO feature for 2017.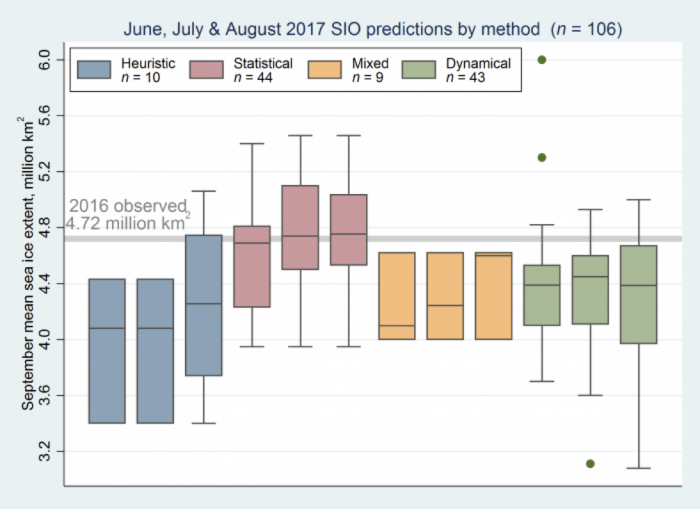 Distribution of June, July, and August 2017 Outlook contributions as a series of box plots, broken down by general type of method. The box color depicts contribution method and the number above indicates number of contributions for each type of method. The individual boxes for each method represent, from left to right, June, July and August.
The 2017 SIO Post-Season report, under development, will include discussion of the range of methods used by contributors, a review of the 2017 Arctic conditions, and discussion of the Antarctic outlooks.
SIPN will hold an open meeting during the 2017 AGU Fall Meetings to provide discussion of the 2017 Arctic sea ice/Sea Ice Outlook season, an overview of the recently-funded "SIPN 2" project and collaborations (see below), and opportunity for discussion and to share information on related efforts. The meeting will be held on Tuesday, 12 December from 12:30 to 1:30 p.m. (CST) in New Orleans, Louisiana. More information is available here. For questions and to RSVP, contact Betsy Turner-Bogren, ARCUS (betsy [at] arcus.org).
"SIPN2" Project Funded
As a follow-on to the current Sea Ice Prediction Network project, a collaborative proposal called "Collaborative Research: Advancing Predictability of Sea Ice: Phase 2 of the Sea Ice Prediction Network (SIPN2)" has been funded by NSF-Arctic System Science Program.
This project, which will begin in January 2018, will result in a better quantification of the role of oceanic heat and climate variations in the Pacific sector of the Arctic; new observational-based sea-ice products; and activities to improve seasonal predictability of Arctic sea ice, the limits of this predictability, and the economic value of forecasts for stakeholders.
More information about the new project will be announced via the SIPN Mailing List and discussed at the 12 December open meeting at AGU.