SEARCH is a collaborative program with an adaptive structure built to achieve SEARCH goals and engage the research community, government agencies and other Arctic stakeholders in the study of Arctic environmental change.
The National Science Foundation (NSF) provides the largest share of support for the SEARCH program. These resources have been further supplemented by recent contributions from the National Center for Atmospheric Research, the U.S. Geological Survey, the University of Alaska Fairbanks, the Center for the Blue Economy (Middlebury Institute of International Studies at Monterey) and the U.S. Arctic Research Commission. Other agencies have provided past program support in the past and continue their intellectual engagement.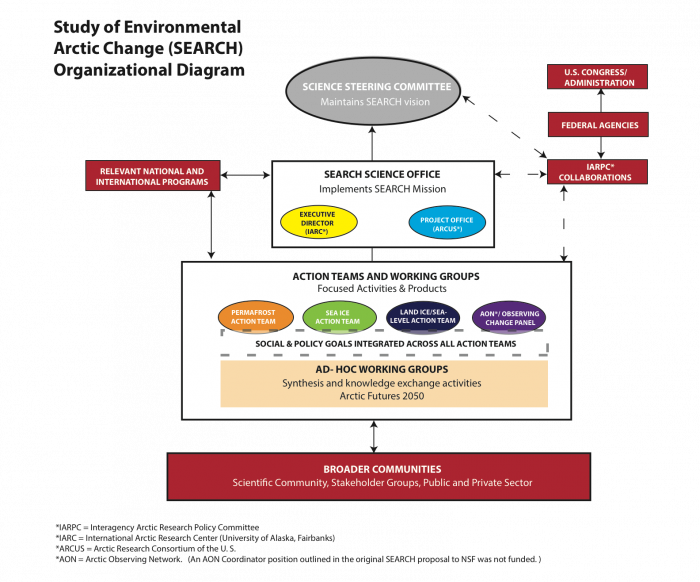 SEARCH Organizational Diagram
SEARCH Science Steering Committee
SEARCH is led by a Science Steering Committee (SSC). The SSC ensures that the program is achieving its vision, mission and long-term science goals by providing oversight and guidance to the program and to the Executive Director.
Executive Director
The SEARCH Executive Director is responsible for implementing the SEARCH program and overseeing its day-to-day activities.
This position is administered through the International Arctic Research Center (IARC) at the University of Alaska Fairbanks.
Dr. Brendan P. Kelly was selected by the SEARCH SSC as the program's first Executive Director in August 2015. See the press announcement here.
Contact:
Brendan P. Kelly: bpkelly [at] alaska.edu
Project Office
The SEARCH Project Office is housed at the Arctic Research Consortium of the U. S. (ARCUS). ARCUS staff works closely with the SEARCH SSC, Executive Director and Action Teams to provide strategic planning, project management, meeting planning, and communication activities. Current funding provides dedicated ARCUS staff support for SEARCH at the level of approximately 1.3 full-time employees (FTEs).
Project Office contacts:
Helen Wiggins, Director of Programs:

helen

[at]

arcus.org

Brit Myers, Project Manager:

brit

[at]

arcus.org

Lisa Sheffield Guy, Project Manager:

lisa

[at]

arcus.org
Action Teams
Three Action Teams currently support the SSC in achieving SEARCH's science goals:
Action Team 1: Improve Understanding, Advance Prediction, and Explore Consequences of Changing Arctic Sea Ice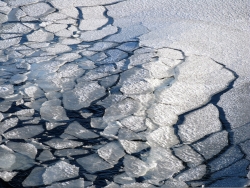 Sea ice photo by Lollie Garay (PolarTREC 2007/2008)
Leads: Jennifer Francis (Rutgers University) and Henry Huntington (Huntington Consulting)
Facilitator/Communicator: Matthew Druckenmiller (Rutgers University)
Action Team 2: Document and Understand How Degradation of Near-Surface Permafrost Will Affect Arctic and Global Systems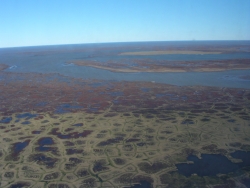 Tundra polygons formed by permafrost freeze-thaw cycles. Photo by Leslie Pierce (PolarTREC 2005)
Lead: Ted Schuur (Northern Arizona University)
Research Associate: Christina Schädel (Northern Arizona University)
Action Team 3: Improve Predictions of Future Land-ice Loss and Impacts on Sea Level
Greenland ice sheet. Photo by Mark Buesing (PolarTREC 2013)
Leads: Bob Bindschadler (NASA Scientist Emeritus) and Ted Scambos (National Snow and Ice Data Center)
Observing Change Panel
Although the SEARCH Action Teams described above have supplanted the panel structure that formerly directed SEARCH activities (see archived content below), SEARCH's Observing Change Panel (OCP) continues to guide SEARCH's ongoing efforts for Arctic Observing. To learn more about SEARCH's current Arctic Observing activities, please visit: http://www.arcus.org/search-program/sciencecoordination/observing
Communications Working Group
The SEARCH Communications Working Group (CWG) is an ad hoc, short-term working group convened in March 2016 to provide advice to the SEARCH Science Steering Committee (SSC) on a coordinated SEARCH communications strategy. More information can be found here.
Changes to the SEARCH Organizational Structure
SEARCH's current organizational structure is a significant change from the former "planning" structure. The previous SEARCH panel structure can be found here, the former Interagency Program Management Committee can be found here, and past Understanding Task Force activities can be found here.