Arctic Research Seminar Series: Science and Traditional Knowledge in Decision-Making - A Federal Agency Shares its Experience in Alaska
Speaker: Jeffrey Brooks, Bureau of Ocean Energy Management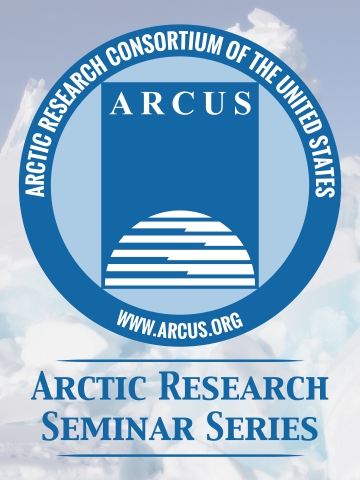 Event Type: Webinars and Virtual Events
When: 7 January 2020
Where: Online: 10:00 a.m. AKST, 2:00 p.m. EST
Find out more:
Link to Seminar Series Webpage
---
Summary
The Arctic Research Consortium of the U.S. (ARCUS) announces the next Arctic Research Seminar featuring Jeffrey Brooks, Social Scientist at the Bureau of Ocean Energy Management (BOEM). This event will be held online via Zoom.
Registration is required for this event.
The ARCUS Arctic Research Seminar Series invites leading Arctic researchers and community leaders to share the latest findings in Arctic research and what they mean for decision-making. The events are free and open to the public, and will be of particular interest to interest to the international Arctic research community, federal agency officials, congressional staff, non-governmental organizations, Arctic educators, and the public.
This seminar, titled Science and Traditional Knowledge in Decision-Making: A Federal Agency Shares its Experience in Alaska, will be presented by Jeffrey Brooks, Bureau of Ocean Energy Management. Dr. Brooks began his federal career in 1990 as a U.S. Peace Corps Volunteer in Benin, West Africa where he led public health and rural community development projects. He earned a bachelor of science in biology at Saginaw Valley State University, a master of science in conservation ecology and sustainable development at the University of Georgia, and a doctorate in natural resources recreation at Colorado State University. In 2006, Dr. Brooks completed a post-doctoral fellowship in the social sciences at the U.S. Forest Service, Rocky Mountain Research Station. He served as a social scientist for seven years with the U.S. Fish and Wildlife Service, Alaska Region in the National Wildlife Refuge System and the Office of Subsistence Management. Dr. Brooks has been with BOEM's Office of Environment in Anchorage since 2015 where he serves in the Environmental Sciences Management and Environmental Analysis sections.
Seminar Abstract:
Professionals who collect and use Traditional Knowledge to support resource management decisions often are preoccupied with concerns over how and if Traditional Knowledge should be integrated with science. To move beyond the integration dilemma, we view Traditional Knowledge and science as distinct and complementary knowledge systems. Dr. Brooks will share examples of how BOEM has applied Traditional Knowledge in decision-making in the North Slope Borough, Alaska, including applying information from both knowledge systems to monitor subsistence whaling practices and using Traditional Knowledge in environmental impact assessment. Applying Traditional Knowledge produces decisions that are more inclusive, creates mutual understanding, and enhances respect for Traditional Knowledge and science.
Instructions for accessing the webinar will be sent to registrants prior to the event.
---
Find out more:
Link to Seminar Series Webpage