Carleton University Institute on the Ethics of Research with Indigenous Peoples (CUIERIP) 5th Annual Summer Program
Story Keeping and the Story Bundle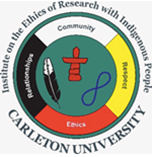 Event Type: Conferences and Workshops
When: 3 June 2018 to 8 June 2018
Where: Ottawa, Ontario, Canada
Find out more:
https://carleton.ca/indigenousresearchethics
---
Summary
Carleton University's Institute on the Ethics of Research with Indigenous People (CUIERIP) will hold its 5th annual week-long summer program. It is a six-day immersive experience devoted to learning about good practices in ethical research with First Nations, Metis and Inuit communities.
CUIERIP's mission is to provide a collaborative and safe learning environment for faculty, students, community members, and professionals working on Indigenous issues and research ethics.
CUIERIP is led by Carleton Faculty, research ethics professionals and community leaders. Presiding Elders guide all participants.
CUIERIP's 2018 theme: "Story keeping and the story bundle". Story bundles, a concept that pertains to Western and Indigenous ethical considerations around being a story-keeper, or more specifically, the person who brings the experiences and stories of others forward. During the week-long institute, we will consider the distinctions between different types of stories, the protocols/ethical considerations around who can carry/disseminate stories, historic and contemporary examples of story-keepers, examples of how carriers adapt to the evolution of ever-changing stories, what researchers need in their story bundles, and how a story bundle is developed, maintained and utilized.
Registration for the 2018 Institute is now open.
For more information about CUIERIP 2018, please visit our website at the link above.
---
Find out more:
https://carleton.ca/indigenousresearchethics