Event Type
Webinars and Virtual Events
Jeremy Mathis, PMEL/OERD Division Leader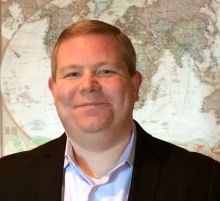 Location
ARCUS DC Office and online: 12:00-1:00 p.m. EST
The third speaker for the Arctic Research Consortium of the U.S. (ARCUS) D.C. Seminar Series will be Dr. Jeremy Mathis of the NOAA Climate Program Office.
Where: ARCUS DC Office - 1201 New York Avenue, NW. Fourth Floor. Washington, DC 20005 and live webinar online.
Registration: (required for both D.C. seminar attendees and for webinar) is now available online. Please see above link.
The ARCUS Arctic Research Seminar Series brings some of the leading Arctic researchers to Washington, D.C. to share the latest findings and what they mean for decision-making in clear and understandable terms. The seminars are open, and will be of interest to Federal agency officials, Congressional staff, NGOs, associations, and the public. Please help us by spreading the word to your colleagues and others who might be interested.
A live webinar is also available to those unable to attend in person. Instructions for accessing the webinar will be sent to 'Webinar Only' registrants prior to the event.
Space is limited for this free seminar, so please sign up today. This event is a brown-bag lunch. Cookies and beverages will be provided.
To read the abstract and Dr. Jeremy Mathis' bio, please follow the link above.