By: Liz Weinberg, Interagency Arctic Research Policy Committee (IARPC) Engagement Director
The Arctic is changing at an unprecedented pace, transforming in ways that are impacting communities and ecosystems in Alaska and beyond. In December 2021, the Interagency Arctic Research Policy Committee (IARPC) put forth the Arctic Research Plan 2022—2026, a strategy to provide the science we need to address these changes. The plan provides pathways to strengthen relationships between the many people and organizations working to make the Arctic resilient, including federal agencies, Indigenous communities, academic and non-federal researchers, the State of Alaska, nonprofits, and private sector and international organizations.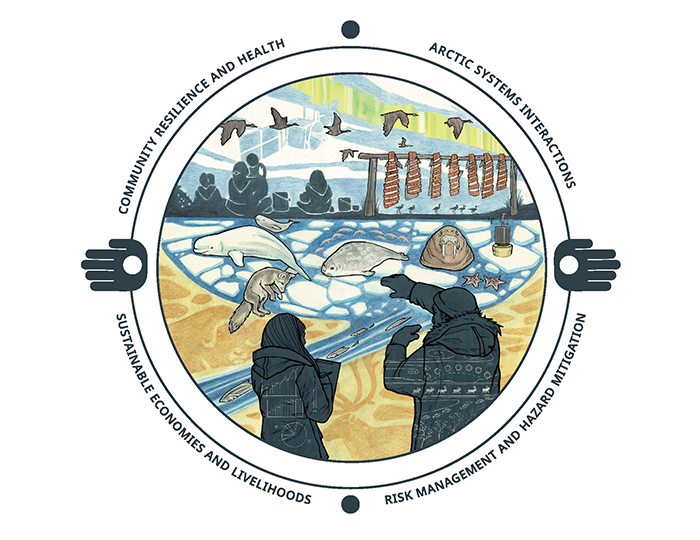 Now, IARPC has released a companion for the Arctic Research Plan: an implementation plan outlining the specific actions that federal agencies will take in the next two years to promote Arctic research.
While the Arctic Research Plan provides an overall, big-picture strategy, this new implementation plan provides short-term research objectives and deliverables. Like the Arctic Research Plan, it focuses on improving community resilience and well-being, advancing scientific understanding of ongoing changes in the Arctic system, creating more sustainable economies and livelihoods, and improving risk management and hazard mitigation.
The implementation plan outlines 90 deliverables centered around supporting research, creating products, and coordinating information sharing. Deliverables include, for example:
Producing a report on ice-dependent marine mammals in the Bering, Chukchi, and Beaufort seas, such as walrus, bowhead whales, and seals. This report will help identify and forecast changes that may impact food security and the long-term sustainability of traditional food supplies.
Developing and assessing ice sheet models for better prediction of sea level rise in the Arctic and around the globe.
Conducting a study of existing infrastructure so communities can be resilient to the climate crisis.
Developing models of fish distribution and populations so we can understand how key fishery species in the northern Bering Sea and southern Chukchi Sea may respond to climate change.
Better understanding how harmful algal blooms impact human health, and developing messaging to share what is learned.
Undertaking a study to identify the top 10 threats and hazards to communities and critical, remote infrastructure in the state of Alaska.
These concerted efforts will help us adapt to pressing environmental changes while also making more informed decisions.
While the Arctic Research Plan is a federally drafted plan, non-federal partners are key to its success. IARPC is grateful to the members of the Arctic research community who contributed ideas and input to the development of this plan, and asks that community members join its web platform, IARPC Collaborations, to participate in implementing the plan.
---
About the Author
Liz Weinberg is the IARPC Secretariat Engagement Director. She joined IARPC in 2020. She previously served as the Digital Outreach Coordinator and writer/editor for NOAA's Office of National Marine Sanctuaries, where she focused on increasing public engagement in and awareness of marine protected areas. Liz has a background in science communication and writing: she holds an MFA in creative writing from the University of Washington, and is the author of a book of essays about climate change, wilderness, and queerness. She is based in unceded Tongva/Kizh lands -/Lost Angeles, California.