By: Liz Weinberg, Web Manager and Community Coordinator, Interagency Arctic Research Policy Committee
On 15 December 2021, the Interagency Arctic Research Policy Committee (IARPC) released the new Arctic Research Plan 2022–2026. The Arctic is the most rapidly changing region on Earth, and the new Arctic Research Plan outlines a bold five-year vision for federal agencies to address emerging research questions about this vital region.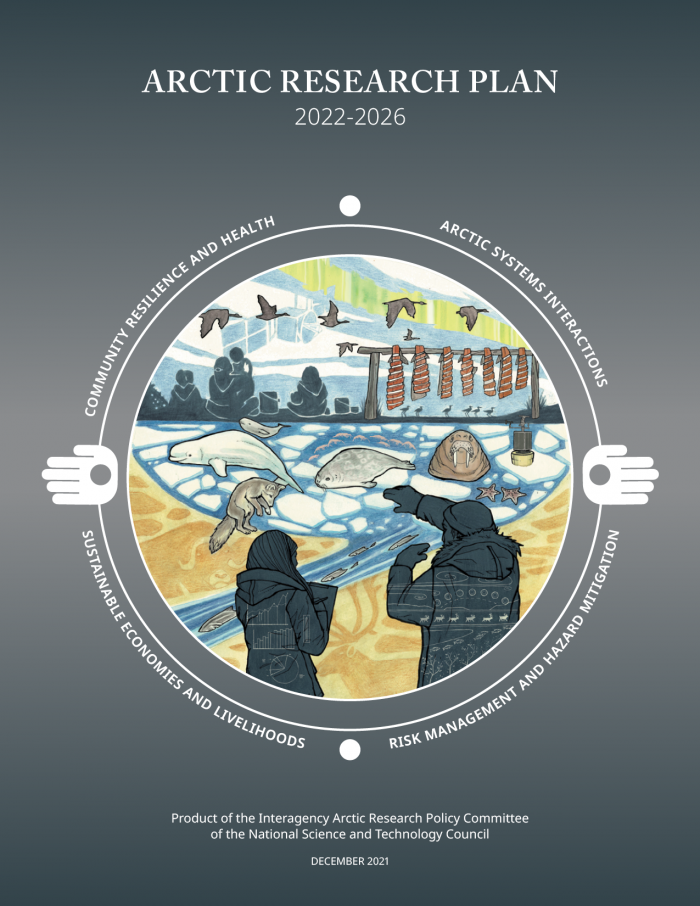 "Arctic peoples are experiencing unprecedented warming, changes in food distribution, and threats from the global COVID-19 crisis," says IARPC Executive Director, Dr. Larry Hinzman. "The Arctic Research Plan 2022–2026 supports integrated, knowledge-based action to address the needs of Arctic communities, as well as to better understand the impacts of Arctic change on the entire planet."
Building upon the accomplishments and understanding that were developed in the recent decades of Arctic research, this new plan will help address the challenges faced by the people of the Arctic and Alaska. It outlines key research goals that will address community resilience and health, Arctic systems interactions, sustainable economies and livelihoods, and risk management and hazard mitigation.
The plan also provides pathways to improve coordination among federal agencies working in the Arctic, as well as to strengthen relationships between federal agencies and Indigenous communities, academic and non-federal researchers, the state of Alaska, nonprofits, and private sector and international organizations.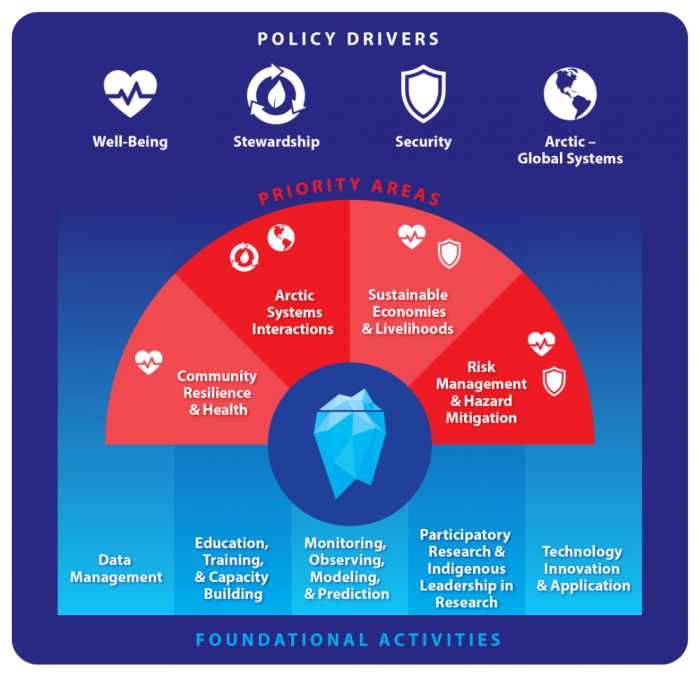 As the Arctic changes at an unprecedented rate, response to the needs of Arctic residents must be swift. Even on the five-year cycle of the Arctic Research Plan, novel challenges can arise. With that in mind, IARPC is moving to a biennial implementation process for the Arctic Research Plan.
Where the Arctic Research Plan 2022–2026 provides the high-level strategy and goals for federal investment in Arctic research, new two-year implementation plans will be more granular, providing specific and tangible objectives and deliverables. The first implementation plan will run from September 2022 through October 2024.
IARPC is now asking for members of the Arctic research community to share input on what should be included in the first biennial implementation plan. What do you think are the most important research questions to be pursued in the next two years?
From January through March, the transition teams for the biennial implementation plan will hold public meetings to inform the planning process and to invite the Arctic research community to weigh in. (See: Arctic Research Plan 2022-2026: Implementation)
You can also submit ideas for objectives and deliverables directly via a Google Form.
IARPC and the Arctic Research Plan depend on collaboration with the Arctic research community for success. We look forward to hearing your ideas!
---
About the Author
Liz Weinberg (she/her) joined IARPC as the Web Manager and Community Coordinator in 2020. She previously served as the digital outreach coordinator and writer/editor for NOAA's Office of National Marine Sanctuaries, where she focused on increasing public engagement in and awareness of marine protected areas. Liz has a background in science communication and writing: she holds an MFA in creative writing from the University of Washington, and is at work on a book of essays about climate change, wilderness, and queerness. She is based on unceded Multnomah (Chinook) and Stl'pulmsh (Cowlitz) lands / Portland, Oregon.