By: Michaela Stith, Program Assistant, Polar Institute, the Wilson Center
Cross-border collaboration and relationship-building among Arctic youth is an important way to forge a better future in the face of drastic change. With over 80 Indigenous languages spoken and four million people living in the Arctic, there is a great diversity of life experiences and identities across the region. By building relationships across borders, we can imagine innovative solutions to our shared challenges.
Over two dozen young leaders from all eight Arctic States (Canada, Denmark, Finland, Iceland, Norway, Sweden, the Russian Federation, and the United States) and Indigenous peoples across the circumpolar north gathered virtually on 17 and 18 May 2021 for The Arctic in 25 Years: the First Annual International Youth Symposium. The Wilson Center's Polar Institute hosted the event with Arctic Frontiers, the Arctic Council Permanent Participant Youth (supported by the Indigenous Peoples' Secretariat) and the Arctic Youth Ambassadors to inform potential Arctic policy and research for the next generation. As a 25-year-old Program Assistant at Polar Institute of the Woodrow Wilson International Center for Scholars, it was the first event I had the pleasure of independently planning, organizing and moderating.
The seeds for The Arctic in 25 Years initiative were planted back in November 2019, when the six Indigenous organizations recognized as Permanent Participants in the Arctic Council held the first ever Arctic Youth Leaders' Summit. When Indigenous youth from every country in the Arctic stood together onstage in Rovaniemi, Finland/Roavvenjárga, Sápmi and read aloud their joint declaration, it became abundantly clear that Arctic youth have the skills, knowledge, and expertise to contribute to policy in the region. Foremost on the youth's minds, among issues like free, prior, and informed consent and revitalization of Indigenous languages, was climate change.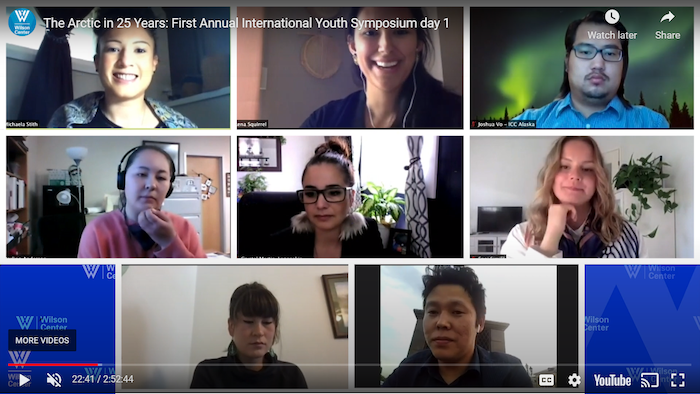 As an Associate at the Arctic Council Indigenous Peoples' Secretariat (IPS), which had assisted the Saami Council in organizing the event, I was lucky enough to listen in. My work with IPS was made possible by the Hart Leadership Fellows program, which awards Duke University graduates stipends to live and work abroad. Upon recommendation by the Arctic Athabaskan Council, I had volunteered with IPS from July 2018 to May 2019. During that time, I traveled to events like the 2nd Arctic Science Ministerial in Berlin, Germany; the 11th Arctic Council Ministerial Meeting in Rovaniemi, Finland; and the Arctic – Territory of Dialogue meeting in St. Petersburg, Russia. Outside of work, IPS staff introduced me to life in Sápmi by taking snowmobile rides in -15 C weather to reindeer herds outside Guovdegeaidnu in Troms og Finnmark county, Norway and introducing me to the Riddu Riđđu youth program, where I learned how to dance sydis (South Sámi dance).
As a lifelong Alaskan, traveling outside the state was expensive and uncomfortable at times. When I went to study in the Lower 48 of the United States, I learned that many people think the Arctic is devoid of people and filled with polar bears. Therefore, it became important to me to paint an honest portrait of the Arctic and the place I call home. I am a firm believer that a truthful story from the heart is the one people most need to hear. Through intimate interviews, laugh-out-loud stories, and my own observations, my newly released travel memoir, Welp: Climate Change and Arctic Identities, explores the effects of climate change, white supremacy, and cultural biases on Indigenous, Black, and dark-skinned identities in the north.
Above all, I've learned from Arctic youth that the solutions to systemic problems like climate change and racism will not come with a quick or technical fix. It will take a culture shift. And the very first step in that shift, before deep relationship-building or policy change, is exposure to new information. Please join me in amplifying Arctic youth perspectives by sharing these links:
The Arctic in 25 Years: First Annual International Youth Symposium recording
Welp: Climate Change and Arctic Identities on Amazon
---
About the Author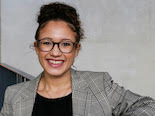 Michaela Stith (she/hers) is a lifelong Alaskan working at the Wilson Center's Polar Institute, where she has coordinated more than two dozen high-level events and multiple publications. She previously worked in Tromsø, Norway as a Hart Leadership Fellow and later as an Associate at the Arctic Council Indigenous Peoples' Secretariat. As a first generation college student, Stith graduated with distinction from Duke University in environmental science and policy. She is the author of Welp: Climate Change and Arctic Identities.