Jennifer Mercer Appointed as Section Head for the Arctic Sciences Section, NSF Office of Polar Programs
By: NSF Office of Polar Programs Staff
Dr. Jennifer Mercer has been appointed as Section Head for the Arctic Sciences Section within the Office of Polar Programs effective 25 October 2021.
Dr. Mercer has been a Program Director for Arctic Sciences and Arctic Research Support & Logistics since 2016, and she recently served as Acting Section Head for Arctic Sciences. She also chairs the international Forum of Arctic Research Operators (FARO). Dr. Mercer has a broad scientific background with extensive field experience in both the Arctic and Antarctic. Prior to joining the federal government, she served as a Senior Research Scientist at the University of Wyoming, where she conducted NSF-funded atmospheric research, mostly based in Antarctica.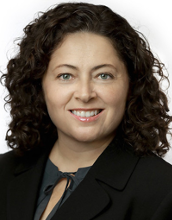 In 2009, Dr. Mercer joined the US Army Cold Regions Research and Engineering Laboratory (CRREL). She became a permanent NSF employee in 2016, and in 2017 completed an Embassy Science Fellowship (ESF) with the US Embassy in Denmark. During that fellowship, she focused on facilitating increased engagement between the Greenland and US research communities. Dr. Mercer also serves in the US Interagency Arctic Research Policy Committee (IARPC). She holds a bachelor's degree in Environmental Physical Science from Black Hills State University in South Dakota, and a doctorate in Earth Sciences from Dartmouth College.
About
Witness Community Highlights is an online publication launched in May 2017 to complement the regular publications of Witness the Arctic. It was developed in response to community feedback identifying the need for a monthly publication to highlight 1–2 Arctic research efforts and other timely items of interest to our readers. Community Highlights is distributed monthly via our Witness the Arctic mailing list of over 8,800 subscribers.
Archives/Subscribe
Starting with the premier issue in May 2017, articles published in Witness Community Highlights are archived online.

Archive

Subscribe
Contact
Editors of Witness Community Highlights welcome ideas for future articles. If you have an idea or a question about this publication, please contact Betsy Turner-Bogren at betsy@arcus.org.
Witness the Arctic
Witness the Arctic provides information on current Arctic research efforts and findings, significant research initiatives, national policy affecting Arctic research, international activities, and profiles of institutions with major Arctic research efforts.

Witness the Arctic