By: Dr. Laura Zanotti, Associate Professor of Anthropology, Purdue University; Dr. Courtney Carothers, Associate Professor of Fisheries, University of Alaska Fairbanks
The Leadership and Strength project, which began in 2009, is a decade-long process of collaboration with local advisors and community members in Utqiaġvik, Alaska (formerly known as Barrow). In our first months and years of building relationships, we explored several questions: what were local priorities for research; what stories did community members want to tell; and was there an appropriate and ethical way for us as non-Indigenous and non-locals to contribute? As conversations unfolded, community members shared observations that while longstanding and rich history of men's and women's roles in contributing to community life were recognized locally, these stories needed more attention and amplification outside of the local region for better representation of community life in non-local contexts. We subsequently co-generated a project whose focus, scale, and scope were tailored to these community's interests in highlighting stories of leadership and strength across generations.
In this work, we examined community strength and well-being and further focused on the pathways that women, men, and families forge to live well in Utqiaġvik. We drew upon engaged community-based research approaches through: 1) attending to the research process, especially the way in which was it was embedded in researcher legacies in the region; 2) assembling a diverse research team that engaged with project advisors, who were local research participants from Utqiaġvik, to guide, inform, and co-design research; 3) spending time in the community and participating in community life; 4) critically evaluating the theoretical and methodological foundations of this work; 5) addressing institutional constraints; 6) recruiting and training graduate students with different identities and backgrounds than our own who would bring diversity to the academic arm of the project team; and 7) using local language when possible.
Our methodology relied on our being in the community, critical case studies, and semi-directed interviews. We talked with knowledgeable women and men from different generations to explore leadership, strength, healing, and change. With the guidance of project advisors, we completed 32 interviews. We conducted a multiple stage follow-up process with participants so they had an opportunity to review, edit, and finalize their transcripts to prepare them for archiving if desired. Simultaneously, we sought to identify and collect previous stories of leadership and strength in locally-relevant media outputs and archived these for future use.
The stories shared as part of this work discussed historical legacies in the community that were sources of trauma, such as boarding school experiences, prohibition of spiritually central singing, dancing, and drumming, restriction or prohibition of subsistence activities, Western propertied notions of land, medical testing without consent, oil and gas development and extraction, and general regulatory and bureaucratic governance of their lands and peoples that have challenged Tribal sovereignty and local communities and institutions. These historical and ongoing challenges are disruptive to many community members and research was part of this extractive landscape of trauma.
Also shared were many stories of strength and hope. This is one the bigger take-homes from our work in Utqiaġvik. Community members directed us to collect and highlight with external audiences the positive stories of leadership and strength and the ways in which men and women, elders and youth are actively making their community well. Although those stories often contained really difficult and painful details that people have endured and survived on their paths to leadership and strength, those details are not the focus—the focus is on well-being and cultivating that moving forward—working not necessarily for "resilient" futures, but for just and equitable ones and the processes of healing that we all need to be engaging in.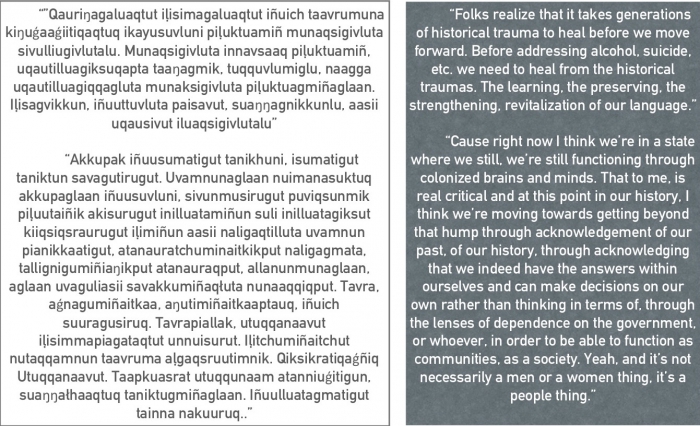 Indigenous values, cosmologies, and frameworks are critical to the future of science—especially conservation, natural resource management, and climate change—and provide pillars from which to craft researcher-community relationships that have specific policy outcomes that support pursuits of sovereignty and self-determination. Oral storytelling traditions, valuing of hybrid or plural systems that combine scientific and Indigenous knowledges, acknowledgement of "deep colonization" that still takes place, and the emphasis on crafting projects with, by, and for Indigenous peoples are central to this work.
This research was supported by the National Science Foundation, Division of Polar Programs, Arctic Social Sciences Program (Grant #1304660) and the College of Liberal Arts, Purdue University, Kinley Trust Grant. This project relied on a collaborative framework and we would like to acknowledge our research team members (Charlene Apok, Sarah Huang, and Charlotte Ambrozek), local project advisors who wished to remain unnamed in our published work, research participants, and the community of Utqiaġvik (Barrow), the Native Village of Barrow, IỊisaġvik College, Iñupiat Heritage Center, Iñupiat History, Language and Culture Commission, Ukpeagvik Iñupiat Corporation, UMIAQ, Barrow Arctic Science Consortium, and all the people and organizations who have opened their homes and lands to us.
More information on this project can be found on the Leadership and Strength project webpage.
About the Authors:
Laura Zanotti is an Associate Professor of Anthropology at Purdue University and holds a PhD from the University of Washington. She also has affiliations with the Center for the Environment, American Studies, Latin American and Latino Studies, and the Climate Change Research Center. Zanotti is an environmental anthropologist and interdisciplinary social scientist whose research program partners with communities to better understand how local, mostly rural, livelihoods and well-being can be sustained for future generations. Using a feminist political ecology framework, Zanotti maps out spatial inequalities and injustices experienced by resource-dependent communities and highlights local creativity in the context of acute change.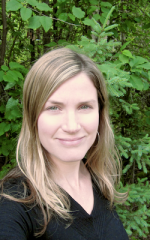 Courtney Carothers is an Associate Professor of Fisheries at the College of Fisheries and Ocean Sciences at the University of Alaska Fairbanks. She is an environmental anthropologist with broad interests in human-environment relationships, particularly in marine and fisheries systems. Her primary area of research has focused on exploring the material and symbolic shifts in fishing livelihoods as fishing rights become privatized. She is also exploring a "total environment of change" in Arctic Alaska. Carothers partners with Indigenous to understand social, cultural, and political dimensions of local knowledge, climate change, subsistence livelihoods, and decolonizing research.