Note: "Witness the Arctic" regularly features the research and related programs of ARCUS member institutions. This article spotlights UIC Science, located in Barrow, Alaska.
UIC Science is a subsidiary of the Ukpeaġvik Iñupiat Corporation, the village corporation for Barrow, Alaska formed under the authority of the Alaska Native Claims Settlement Act of 1971 (43 U.S.C. 1601). As such, UIC is a privately held company with the expressed mission to enhance shareholder value through business, educational, and employment opportunities guided by our core Iñupiat values of:
Compassion – Avoidance of Conflict – Love and Respect for our Elders and One Another – Cooperation – Humor – Sharing – Family and Kinship – Knowledge of Language – Hunting Traditions – Respect for Nature – Humility – Spirituality
UIC Science has been administered in various places within the corporate organization chart since 1996, but its current configuration was created in late 2014 by a merger with another UIC subsidiary, UMIAQ Science. Approximately 15 operational staff are based in Barrow and administrative offices are in Anchorage. In late 2015 UIC Science became the first indigenous organization member of ARCUS.
UIC Science provides logistical and technical support services to researchers and agencies, and conducts archaeological research throughout Alaska's North Slope. These activities include the following:
UIC Science is a partner (along with Polar Field Services and SRI International under lead contractor CH2M Hill) in CH2M Hill Polar Services (CPS) to provide Arctic science support and logistics services to researchers funded through NSF's Division of Polar Programs (NSF/PLR). UIC's role includes assistance with pre-field deployment preparations such as logistics, identification of necessary permits, community outreach, and cargo receipt and staging. UIC Science provides researchers with ground transportation to the Naval Arctic Research Laboratory (NARL) campus and provides an arrival orientation along with any other specialized training such as snow machine or ATV use and proper laboratory protocols. Science facilities available for researchers include laboratories, warehouse and staging space, lodging, vehicles, and small equipment. At the conclusion of fieldwork CPS assists researchers with demobilization of equipment and outbound shipment.

UIC Science provides these same support services on either a long-term contract or ad-hoc basis directly with projects and Principal Investigators funded through agencies other than NSF/PLR, including numerous foreign institutions. Among others, the client list includes the U.S. Department of Energy's Next Generation Ecosystem Experiment, the National Ecological Observatory Network funded through NSF's Division of Biological Infrastructure, the Bureau of Ocean Energy Management (BOEM), NASA, the Max Planck Institute of Ornithology, the Ocean University of China, and the Swedish Polar Research Secretariat.

UIC Science continues to perform technical support at the U.S. Department of Energy's Atmospheric Radiation Measurement (ARM) site in Barrow involving daily operations, maintenance, and repair of instrumentation at this world-class atmospheric observatory. This contract has been in place since 1997.
Dr. Anne Jensen is an Archaeologist with UIC Science who is an expert on pre- and post-contact North Slope cultures and sites. She is actively involved in several excavation locations near Barrow and regularly presents her research results at national and international conferences. She also conducts Cultural Resource Surveys of proposed research locations to help ensure that no archaeological sites are damaged.
As part of these service-oriented science support functions, UIC Science is the designated Management Authority for the Barrow Environmental Observatory (BEO). This is a 7,644 acre section of UIC-owned land specifically zoned by the North Slope Borough as a Scientific Research District, the only one in the nation. The BEO includes a wide variety of natural environments for researchers to access including coastal bluffs, estuaries, creeks, wetlands, polygonal tundra, and continuous permafrost. Caribou and migratory waterfowl are frequently seen nearby, while marine mammals are common in near- and offshore areas.
The hub of UIC Science's operations in Barrow is the Barrow Arctic Research Center (BARC, formerly referred to as the Barrow Global Climate Change Research Facility). Although only 1 of 5 originally planned phases has been constructed so far, this facility includes modern laboratories, a large server room supporting a wireless network for scientific users, offices for UIC Science staff, and publicly available meeting and conference rooms. Shared science equipment available at the BARC includes walk-in refrigerator/freezers, a -80°C freezer, a Millipore water purification system, analytical balances, and chemical storage cabinets. UIC Science can also produce dry ice on site.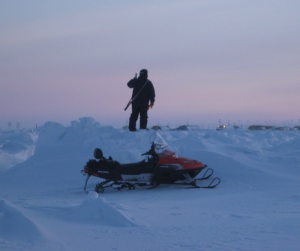 A unique strength of UIC Science is the integration of traditional knowledge in all our daily activities. Many of the staff grew up in Barrow and are well-versed in the natural, political, and economic environments in which scientific research occurs today, while at the same time participating in an active whaling culture. Barrow is an unusual location for field science because it is located in a residential community with many non-scientific stakeholders. UIC Science staff have the capabilities to help visiting researchers navigate this complex environment. UIC Science can provide bear guards for projects venturing into polar bear territory, advise on appropriate audiences and venues for community outreach, coordinate with subsistence hunters, tell researchers about the local sea ice and snow cover conditions, or recommend local restaurants and tell visitors when the next home high school basketball game will be played.
Key Staff of UIC Science
Contact her by email (terri.mitchell [at] uicumiaq.com) or phone 907-677-5208.
---
Contact him by email (nagruk.harcharek [at] uicscience.com) or phone 907-367-3905.
---
Contact her by email (anne.jensen [at] uicscience.com) or phone 907-852-7397.
---
Contact him by email (karl.newyear [at] uicscience.com) or phone 907-229-2915.
---
For further information, see the Barrow Bulletin website. UIC Science capabilities are also described in the European Union's INTERACT Station Catalog available here.