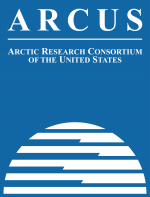 Greetings from the ARCUS D.C. Office, which is increasingly serving as a hub of Arctic research activity here in the nation's capital. The Arctic Research Seminar Series has been bringing policymakers and local stakeholders together with leading Arctic researchers each month since January. Our building also hosted the Interagency Arctic Research Policy Committee (IARPC) Re-visioning Workshop in December and an International Arctic Fisheries Meeting in April.
D.C. Arctic Research Policy Activities
A major advantage of my being based here in D.C. (with our headquarters remaining in Fairbanks, Alaska) is the ability to participate in the frequent policy discussions related to Arctic research. In April, I attended a presentation at the Brookings Institution by Admiral Robert J. Papp, Jr., who is U.S. Special Representative for the Arctic. He spoke of substantial progress made through the Arctic Council in establishing international agreement and cooperation on issues including black carbon, oil spill prevention and response, and search and rescue (including establishment of the Arctic Coast Guard Forum). He also highlighted Obama administration efforts to raise Arctic visibility within the U.S., primarily through the GLACIER Conference and the President's visit to Alaska last summer. Following up from that visit, progress has been made on obtaining a new Arctic icebreaker, enhancing emergency response and preparedness, promoting clean energy innovations in the Arctic, bolstering nautical charting, and signing an agreement on unmanned aerial systems in Alaska. There was a tabletop exercise in October called Arctic Zephyr to support search and rescue. Admiral Papp spoke about ongoing negotiations to achieve an international agreement (through the Arctic Council) on scientific cooperation in the Arctic, something which ARCUS and the community will be watching closely. It is hoped that this agreement will be signed as part of the Spring 2017 Arctic Council Ministerial Meeting in Fairbanks, Alaska .
Another major research-related Arctic event in D.C. was the Arctic Matters Day, held by the Polar Research Board (part of the National Academies of Science, Engineering, and Medicine) in January. ARCUS was a major participant in the exhibit hall, sharing inspiring hands-on Arctic research and education activities with the attendees, many of whom were government officials and NGO leaders.
Appropriations Update
ARCUS is pleased to have initiated a reciprocal membership agreement with the Consortium for Ocean Leadership, which has an active advocacy effort on behalf of the Earth Sciences. Here is a brief update from them on the Senate Appropriations Bill which just passed committee:
In a show of bipartisanship, the Senate Appropriations Committee voted unanimously to approve the Commerce, Justice, Science and Related Agencies (CJS) bill. The CJS bill appropriates a total of $56.3 billion for national security, law enforcement, and science. This year's Senate bill is $563 million above last year's enacted funding level and $1.6 billion above the Administration's Fiscal Year (FY) 2017 request, demonstrating the committee's support for science and innovation. While CJS Subcommittee Chairman Richard Shelby (AL) chastised the National Oceanic and Atmospheric Administration (NOAA) for its "inability to modernize the way it manages fisheries," the bill still proposes $5.7 billion for NOAA, a $33.5 million increase over last year's enacted funding. The Majority summary notes the inclusion of "$5.7 billion for NOAA, a $33.5 million increase above the FY2016 enacted level for core NOAA operations including: ocean monitoring; fisheries management; coastal grants to states; aquaculture research; and severe weather forecasting. The bill provides full funding for NOAA's flagship weather satellites, which are critical for accurate weather warnings to save lives and protect property." For more general information, click here.
Appropriations for research remain a concern in this tight funding environment. ARCUS urges everyone in the Arctic research community to pay attention and get involved in the process.
Shifting Roles in U.S. Arctic Research Leadership
NSF Polar Programs has announced some significant staffing changes:
The National Science Foundation announces that Brian W. Stone will serve as the NSF Director's Chief of Staff, and related personnel changes within the Antarctic Sciences Section (ANT) and the Arctic Sciences Section in the Division of Polar Programs (POLAR).
Brian W. Stone, who heads the Antarctic Infrastructure and Logistics (AIL) section in the National Science Foundation's Division of Polar Programs, will begin an assignment as chief of staff to NSF Director France A. Córdova on 1 May 2016.
Scott G. Borg, who is currently the head of the Division's Antarctic Sciences Section, will replace Brian as the head of AIL. Eric Saltzman, who is currently head of the Division's Arctic Sciences Section, will become the head of Antarctic Sciences.
Simon Stephenson, who formerly headed the Arctic Sciences section before taking a temporary assignment in the White House Office of Science and Technology Policy, will once again assume the role of Arctic Sciences Section head.
"This is an excellent opportunity for Brian and a fantastic chance for him to use his managerial skills to benefit the entire foundation," said Kelly K. Falkner, Division Director. "Although we will miss him during his upcoming assignment, we in Polar are fortunate enough to have a depth of talent and ability in our ranks to ensure that NSF remains a global leader in polar science with continuity in all of our operations."
Also, IARPC has announced a new Executive Director:
IARPC is pleased to welcome Martin O. Jeffries as their new Executive Director. Martin is currently on detail/secondment from the Office of Naval Research to the White House Office of Science and Technology Policy, where he also serves as the Assistant Director of Polar Science. Martin has been involved with IARPC as a co-lead of the Sea Ice Collaboration Team as well as section author of the IARPC Arctic Research Plan 2013-2017. More information about Martin is available on the IARPC Collaborations profile. IARPC wishes to thank Mike Kuperberg, U.S. Global Change Research Program, for his service as their Interim Executive Director. More information about Jeffries is available here.
Reports Released from IARPC and the Arctic Executive Steering Committee (AESC)
In March, the White House released two new key reports related to the Arctic: The 2015 Year in Review-Progress Report on the Implementation of the National Strategy for the Arctic Region; and, as an appendix to that report, the 2016 Implementation Framework for the National Strategy for the Arctic Region, discuss government-wide coordination activities in the Arctic. Also included as an appendix is the IARPC 5-Year Plan Collaboration Teams-Summary of Accomplishments and 2016 Priorities. These documents highlight the Nation's commitment to action on the challenges and opportunities presented by the rapidly changing Arctic environment. All are recommended background reading on where Arctic policy is headed.
Upcoming Arctic Science Ministerial
This fall, we expect to see a ministerial-level meeting of Arctic science ministers convened by the AESC and State Department. This presents a great opportunity to draw high level attention to the needs of our community and for connecting across boundaries in support of Arctic research. ARCUS is working to bring research voices to the table in these deliberations.
Conclusion and Summary
As I reported to ARCUS members last month, the environment for Arctic research remains uncertain. I would ask everyone to speak out and make sure that the important work being carried out to understand this vital and rapidly changing region remains a priority. At ARCUS, we seek to maximize the effectiveness of the research effort by enhancing communication, coordination, and collaboration across boundaries. Hopefully, this information on the D.C. policy scene is useful to you. If you have any comments or suggestions for future such columns, please email me at bob [at] arcus.org. Thank you for reading!