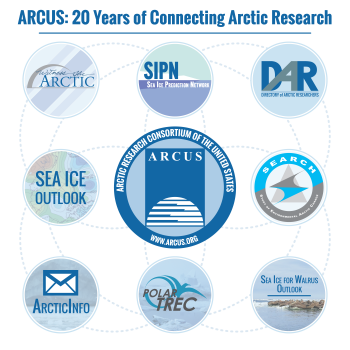 The Arctic Research Consortium of the U.S. (ARCUS) implemented a new membership structure in October 2015, opening membership up to anyone interested in promoting discovery and understanding of the Arctic. There are options for large and small research institutions, indigenous organizations, government agencies, corporations, and individuals.
ARCUS membership offers a variety of benefits, including a direct connection to our network of contacts and resources, outreach and collaboration services, and access to work space at our Fairbanks and Washington D.C. offices. Most significantly, membership with ARCUS signifies your support of and contributions toward interdisciplinary progress in the fields of Arctic science, outreach, and policy.
Each year, our members are invited to attend an annual meeting where we update the community on our activities and solicit their input on future plans. This year the annual meeting will be held at the American Geophysical Union (AGU) Fall Meeting in San Francisco, California on Wednesday, 16 December 2015 at 5:30-6:30 p.m. Pacific Standard Time. A reception will be held immediately following the meeting. Further details, including the location and agenda, will be posted on the ARCUS website and announced via ArcticInfo when available.
ARCUS plays a key role in connecting people across boundaries to support communication, coordination, and collaboration in Arctic research. We invite you to join us in our endeavors by reviewing the membership opportunities and applying for organizational or individual membership today.
For questions about becoming a member, please contact the ARCUS Director of Community Development, Kristina Creek (creek [at] arcus.org).