Recommendations from 2014 Arctic Observing Summit
By: Mikko Strahlendorff, Finnish Meteorological Institute
The second Arctic Observing Summit (AOS) was held 9-11 April 2014 in conjunction with the Arctic Science Summit Week (ASSW) in Helsinki, Finland. Both events surprised the organizers with more participants than expected. Attendance totaled 493 with almost half participating in AOS-2014. The feedback received and the high number of participants clearly showed that the integration of ASSW and AOS was well received. Following this model, the third AOS will be arranged at the ASSW 2016.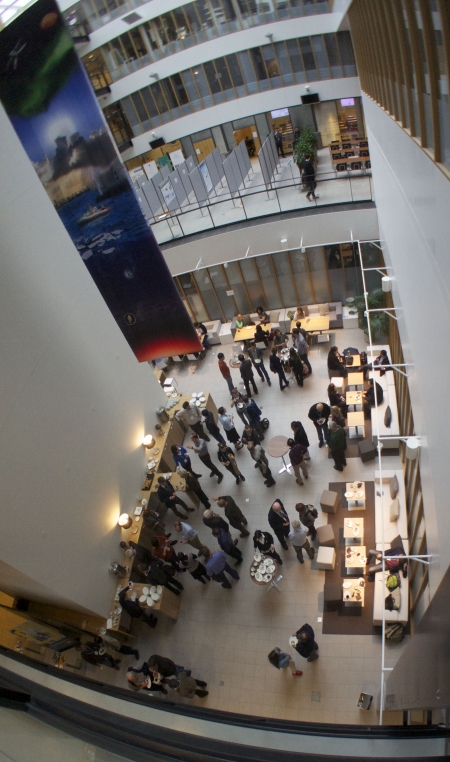 Attendees enjoy coffee break during Arctic Observing Summit. Photo courtesy of Mikko Strahlendorff.
Discussions at the summit built on results from the first AOS, held spring of 2013 in Vancouver, British Columbia, and expanded to include new topics such as remote sensing and Arctic technology innovations. Peter Schlosser, Co-Chair of the AOS Organizing Committee, along with Eva Krümmel and Mikko Strahlendorff, presented the following preliminary draft recommendations to a high-level panel of decision makers at the conclusion of the five AOS-2014 sessions:
Stakeholders and Arctic Observation
Create more inclusive and iterative communication platforms for planning Arctic observations.
Establish improved dialogue between traditional knowledge holders and science.
Example case from European Arctic: studying land-use history for Arctic observation information.
Coordination for Improved Arctic Observing
Establish internationally coordinated funding with common calls for research and common review of proposals.
Use Belmont Forum as pilot for multi-nation project funding.
Establish funding mechanisms for research and stakeholder observation campaigns.
In addition, identify funding sources for sustained operational observations for climate time series.
Technology and Innovation
Share technology and technology development to reduce cost.
There must be high-risk investments into technology and room for failure in development of new technology.
Enhance cooperation between industry and scientific community in technology development.
Remote Sensing Solutions
Arctic user requirements should be included in prioritizing Low Earth Orbit missions and to motivate specific polar missions.
Start preparing for real-time service.
Priorities: carbon cycle, permafrost, and snow cover monitoring.
Data Management
Open access to data in itself is not sufficient. Data uptake should be increased through appropriate easy-to-use data interfaces.
Data system designers have to be informed better by needs of data holders and data users.
Build on knowledge and data systems that already exists.
Develop interoperable data infrastructures to save cost.
The full report of the AOS will be published in summer 2014. It will also include the following recommendations from AOS-2013:
Improve cross-sector and collaborative approaches to the collection and maintenance of data.
Create a stakeholder advisory group to provide advice on observational need.
Better utilize and adopt modern technology for Observing System Design
 to more closely cooperate with global systems observation initiatives during the design phase.
Further information about the Arctic Observing Summits contact Mikko Strahlendorff (Mikko.Strahlendorff [at] fmi.fi).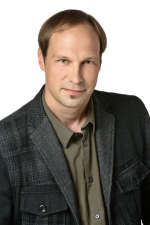 Mikko Strahlendorff Mikko Strahlendorff works as space adviser for the Finnish Meteorological Institute (FMI) and the Ministry of Transport and Communications. He represents Finland in European Union space and research related committees guiding the development of remote and in-situ observation networks. Previously he worked for the European Commission planning the EU Earth Observation program Copernicus and before that he lead the Information System development at FMI. His research interests include global observation capabilities in relation to climate adaptation needs.