U.S. Arctic Research Commission Releases 2011-2012 Goals Report
The U.S. Arctic Research Commission (USARC) recently released the "USARC Report on the Goals and Objectives for Arctic Research 2011-2012." This biennial report recommends key goals and objectives to the President and to Congress. The report lists five broad priority research goals:
Observe, understand, and respond to environmental change in the Arctic, Arctic Ocean, and Bering Sea;
Improve arctic human health;
Assess natural resources;
Advance civil infrastructure research; and
Assess indigenous languages, identities, and cultural research needs.
The report cites examples of current and proposed research programs that address these goals, including: the Sea Ice for Walrus Outlook project, the Arctic Observing Network initiative, water and sanitation needs assessments in rural Alaska, research and modeling of gas hydrates in the Arctic, arctic marine shipping assessments, development of environmental response management tools, documentation of indigenous languages, and study of rural emigration to urban centers in Alaska. The report also highlights national and international communication and coordination efforts related to arctic research, and emerging topics in arctic research.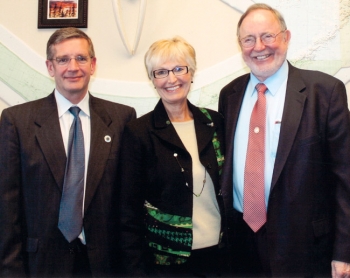 USARC Executive Director John Farrell (left) and Commission Chair Fran Ulmer meet with Alaska Congressman Don Young. Image courtesy: Office of Congressman Don Young.
Recommendations from this report are used by the Interagency Arctic Research Policy Committee (IARPC) to develop the federal government's five-year Arctic Research Program Plan (See: IARPC Developing Five-Year Plan, this issue of Witness). The USARC report and the IARPC program plan are required by the Arctic Research and Policy Act of 1984.
USARC's seven commissioners, appointed by the President, include four members from academic or research institutions, two members from private industry undertaking commercial activities in the Arctic, and one member from among the indigenous residents of the U.S. Arctic. The Director of the National Science Foundation serves as an ex officio eighth member. Terms for three current members expire in late February 2012. The White House will likely appoint new commissioners in 2012. Ms. Fran Ulmer will continue to Chair USARC.
For further information, and to read the full USARC goals report, please go to: http://www.arctic.gov or contact John Farrell (jfarrell [at] arctic.gov).