SEARCH Progress and News
SSC Meeting in August Moves Forward Strategic Plan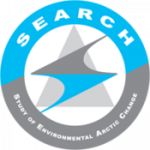 Study of Environmental Arctic Change
The Study of Environmental Arctic Change (SEARCH) Science Steering Committee (SSC) met in August 2011 in Denver, Colorado to continue its strategic planning activities (see Witness the Arctic, Volume 15, Number 2). The SSC made significant progress on five-year priority science goals to guide future SEARCH activities. The draft science goals and updated SEARCH vision and mission were reviewed after the meeting by members of the SEARCH panels. The SSC is currently refining the goals based on the panel input. The vision, mission, and draft goals will be distributed to the wider community for input in late 2011 and will be discussed at an American Geophysical Union (AGU) Town Hall in December 2011 (see below). More information about the August SSC meeting can be found at: http://www.arcus.org/search/meetings/2011/ssc-august.
Town Hall Scheduled for AGU Fall Meeting
A SEARCH Town Hall will be held at the AGU Fall Meeting in San Francisco, California on Tuesday, 6 December 2011 from 12:30-1:30 p.m. Pacific Standard Time. The Town Hall will provide a forum for open exchange on several issues, including the new SEARCH vision and mission statement, draft 5-year science goals, and activities of the Arctic Observing Network Design and Implementation Task Force. More information about the Town Hall will be announced through the ArcticInfo email list.
Arctic Observing Network Activities
A U.S. Arctic Observing Coordination workshop will be held 20–22 March 2012 in Anchorage, Alaska. The meeting goal is to advance U.S. interagency coordination within the context of arctic observing activities. A meeting report will: (1) summarize agency missions, needs, activities, and resources; (2) draw connections with observing components; (3) provide recommendations for advancing interagency coordination; and (4) outline one or more tractable pilot coordination projects, with recommendations for short-term action. The meeting will be co-chaired by John Payne, North Slope Science Initiative; and Don Perovich, U.S. Army Cold Regions Research and Engineering Laboratory.
The AON Design and Implementation (ADI) Task Force was convened in 2009 to provide guidance on how to achieve a well-designed, effective, and robust Arctic Observing System. The ADI Task Force is currently working on a final report with recommendations for the next steps in optimizing and enhancing the existing components of an international arctic environmental observing system, with emphasis on the U.S. Arctic Observing Network (AON). The final report will be completed in 2012.
Another Successful Season for the Sea Ice Outlook and Sea Ice for Walrus Outlook
The SEARCH Sea Ice Outlook, supported by NSF, the National Oceanic and Atmospheric Administration (NOAA), and through volunteer efforts, provides community projections of the September arctic sea ice minimum. This year, 27 groups contributed to the monthly pan-arctic and regional Outlook reports using a variety of methods. The National Snow and Ice Data Center's value for the minimum this year—using the average September 2011 ice extent—was 4.61 million square kilometers, the second lowest in the satellite record. The Outlook organizers and contributors will release a post-season report this fall that evaluates the outlook predictions, methodologies, and lessons learned.
The Sea Ice for Walrus Outlook (SIWO) provided weekly reports April–June on sea ice and weather conditions as a resource for Alaska Native subsistence hunters, coastal communities, and others interested in sea ice and walrus. The weekly reports integrated ice and weather forecasts, satellite data, and local observations, and were made available through the SIWO website, a Facebook page, and faxes to local communities.
For more information about the Sea Ice Outlook, go to: http://www.arcus.org/search/seaiceoutlook/.
For more information about the Sea Ice for Walrus Outlook, go to: http://www.arcus.org/search/siwo.
SEARCH Contact Information
For more information about SEARCH activities, visit the SEARCH website at: http://www.arcus.org/search or contact Helen Wiggins, ARCUS, at helen [at] arcus.org.