Fran Ulmer Appointed Chair of the U.S. Arctic Research Commission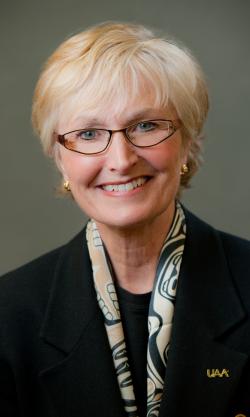 Fran Ulmer Appointed Chair of the U.S. Arctic Research Commission
President Barack Obama appointed Fran Ulmer to a four-year term as the Chair of the U.S. Arctic Research Commission (USARC) on 10 March 2011. Ulmer is Chancellor of the University of Alaska Anchorage.
As the Chair of USARC, Chancellor Ulmer will advance federal arctic research in coordination with the state of Alaska and international partners. The Arctic Research Commission's current goals for the U.S. Arctic Research Program include: expanding a federal emphasis on Arctic Ocean and climate research; improving efforts to prevent and respond to oil spills in ice-covered waters; and strengthening research in arctic human health and indigenous languages and cultures.
Ms. Ulmer has served as a member of the Aspen Institute's Commission on Arctic Climate Change and held Board of Directors positions with the Alaska Nature Conservancy, the National Parks Conservation Association, the Union of Concerned Scientists, the Alaska Commonwealth North Board, and several other state and community organizations. In 2010 President Obama appointed her to serve as a member of the National Commission on the BP Deepwater Horizon Oil Spill and Offshore Oil Drilling.
Prior to her academic appointments, including Director of the Institute of Social and Economic Research at the University of Alaska Anchorage, Ms. Ulmer served as Mayor of Juneau, Representative in the Alaska State Legislature, and Lieutenant Governor of Alaska. Ms. Ulmer earned a Doctor of Law cum laude from the University of Wisconsin Law School, and has been a Fellow at the Institute of Politics at the Kennedy School of Government.
For more information, see: http://www.arctic.gov/ulmer.html.