The Savoonga School Land Steward Program
The purpose of the Savoonga School Land Steward Program was to create an extracurricular activity of marine debris monitoring of beaches near the Hogarth Kingeekuk Sr. Memorial School with the students that could be used as a basis for writing in English class. The focus was two-fold: (1) to raise awareness of environmental concerns (helping to raise a generation of environmentally conscious citizens); and (2) to add meaning to writing (punctuation, grammar, spelling, and content) in non-fictional areas – specifically to make place-based learning help the kids connect their lives to academic subjects, and using this particular long-term project as a means to teach students about various branches of science.
For example, students learned about:
Hydrology: how streams and rivers within a watershed are interconnected and eventually lead to the ocean;
Oceanography: how ocean currents move marine debris around the planet and how ice sheets can trap marine debris and what that means for the environment;
Biology and ecology: how the ocean is home to many organisms, and how those organisms are impacted by marine debris; and
Material science: how marine debris is mostly composed of plastic, and how the chemical makeup of plastic makes it such that it does not biodegrade over time.
The learning goals for students included:
Understanding the interconnectedness of environments across the planet;
Understanding that humans can make major impacts on the environment;
Understanding that humans can only survive if the environment around them is healthy and functioning;
Understanding that in the case of marine debris, their actions and choices can make a difference in reducing its harmful impacts;
Understanding that writing about science is a great way to use English class to make life in Savoonga more connected to the outside world;
Increasing vocabulary through the use of science in English class;
Increasing sentence writing fluency through meaningful projects that are place-based; and
Creating an interdisciplinary project to allow students to see the connection between science, the natural world, and reading and writing skills.
We aimed to create relevance to the Savoonga community by:
Raising and educating children to be environmentally conscious;
Giving students writing tools to work in the sciences;
Raising awareness among the community of how their actions impact the environment around them;
Building a culture of caring for the environment; and
Keeping the environment clean through beach cleanup activities.
Project status and milestones:
Marine debris collection and categorization trip in Savoonga – September 2016
Results presented at Alaska Marine Science Symposium – January 2017
Products and Resources
Project products and resources are available below.
Website
Dates
1 June 2016

to

1 June 2017
Location
Savoonga, Alaska
Members
Lead Scientist
Veronica Padula
Aleut Community of St. Paul Island
Anchorage, AK
United States
Lead Teacher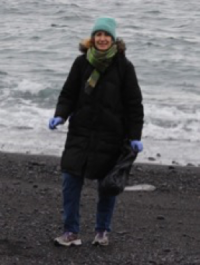 Tracy DiPaola
Yukon-Koyukuk School District
Lead Teacher
Christina Brancaleone
Hogarth Kingeekuk Sr. Memorial School
Savoonga, AK
United States