Friday, 3 June 2022 - Sea Ice for Walrus Outlook
Weekly Outlook
Click the name of each community below to view more frequently updated and detailed information from the National Weather Service.
Synopsis High pressure remains over the northern Bering Sea and southern Chukchi Sea through next week.
Low stratus clouds have prevented a recent view of the island. Shorefast ice is mainly on the northeast side of the island and extends up to 2 miles (3km) from shore. Most of the ice on the north side of the island is very close pack ice to compact pack ice. There appears to be several areas of very open to open pack ice between Gambell and Taphook Point. The pack ice has been streaming down the west side of the island where it is thinning, melting in warmer water. There is a little more spacing in the close pack ice on the east side of the island where it is also melting in the warmer water. Beyond the consolidated ice on the north side of the island is close pack ice consisting of small to big floes with a few vast floes.
The only sea ice remaining in the Nome area is shorefast ice between Singigyak and Dexter that extends up to 2 miles (3 km) offshore. Otherwise, sea ice free waters extend for at least 50 miles in all directions from Nome.
Nome port entrance webcam (via AOOS webpage): https://bering-sea.portal.aoos.org/?ls=79875242-e362-65cb-914e-fed20ff9e...
The previously shorefast ice continues to show signs of weakness and decay as a vast piece has broken off to the southeast of Port Clarence. Beyond the nearshore ice is open water, with close pack ice 10 miles to the south of Tin City extending to Ukivok.
Shorefast ice extends 13 miles (21 km) to the north of Wales, and 2 miles (3 km) to the north of Shishmaref. Beyond the shorefast ice, between Wales and Ikpek is very open pack ice with brash ice to small floes. From 25 miles west of Shishmaref through Espenberg is close to very close pack ice with medium to vast floes extending out 15 miles beyond the shorefast ice.
The shorefast ice appears to have broken away in the last week leaving behind very open pack ice in the vicinity of the island. Between Diomede and Wales is open pack ice with small to vast floes.
Forecast Discussion
Ice Forecast
The generally light winds will lead to ice moving with tides and currents for the next few days. Near St. Lawrence Island, sea ice will continue to move from the Gulf of Anadyr to north of the island. Through the Bering Strait, southerly currents continue to dominate ice motion. Even with the northerly winds developing, the remaining ice in the Bering will stream to the north. Those northerly winds, however, will move some of the pack ice from Point Hope to Cape Krusenstern southward toward Shishmaref.
NWS 5-day Sea Ice Forecast
NWS Sea Ice Stage Analysis
Wind Synopsis
From St. Lawrence Island north through the Bering Strait, variable winds 10 knots or less (12 mph or less) on Friday turning northerly on Saturday 10 to 20 knots (12 to 23 mph) and persisting through Thursday. South of Nome, northwest winds 5 to 10 knots (6 to 12 mph) on Friday, increasing to 10 to 20 knots (12 to 23 mph) on Saturday persisting through Tuesday. Northwest winds continue Tuesday through Thursday but decrease to 5 to 10 knots (6 to 12 mph).
Temperature Trend
High temperatures from St. Lawrence Island to Wales, Diomede, and Shishmaref will top out in the upper 30s to around 40 this week. Temperatures near Savoonga will be warmer, in the low 40s, while high temperatures near Gambell will be in the mid 30s. Overnight lows for these areas will be in the lower 30s. For the Brevig Mission/Port Clarence area, high temperatures will be in the mid 50s this week, except in the low 50s on Sunday and Monday. Overnight lows will be in the upper 30s to around 40. For the Nome area, high temperatures will be in the mid to upper 50s, with lows warming to the mid 40s Friday night, and to the upper 40s by Wednesday night.
Daily Weather, Wind, and Temperature Updates
The National Weather Service provides twice-daily, text only updates on the weather, wind, and temperature conditions in specific geographical zones. An interactive weather map for access to other Alaskan zones can be found here: http://weather.gov/anchorage/ice
Higher resolution satellite images and wind maps (wind updated daily) can be viewed here: http://www.weather.gov/afg/SIWO_overview
The Alaska Ocean Observing System shares a variety of weather and sea ice related resources in their Bering Sea Portal at https://bering-sea.portal.aoos.org/.
Remote Sensing Images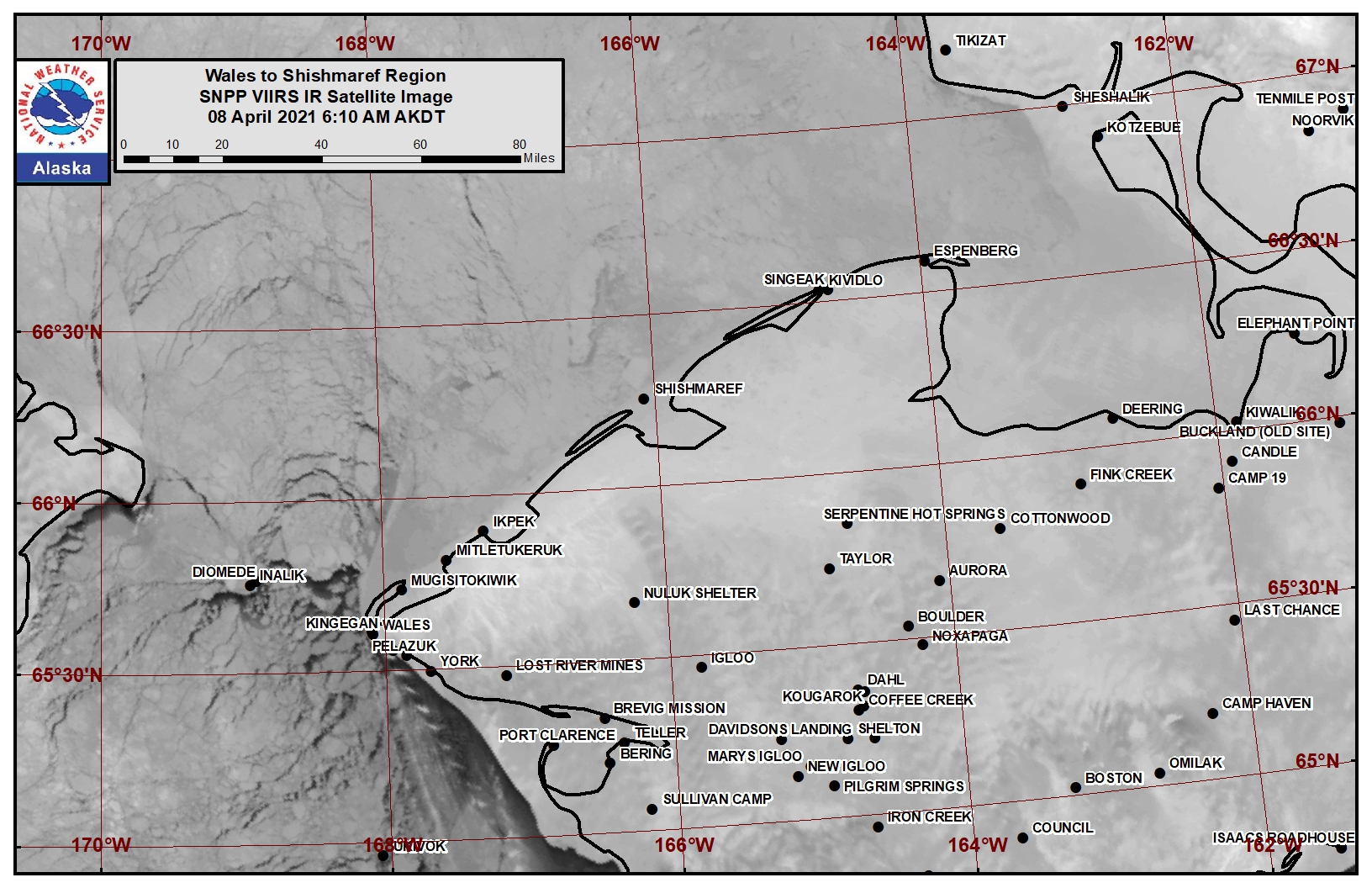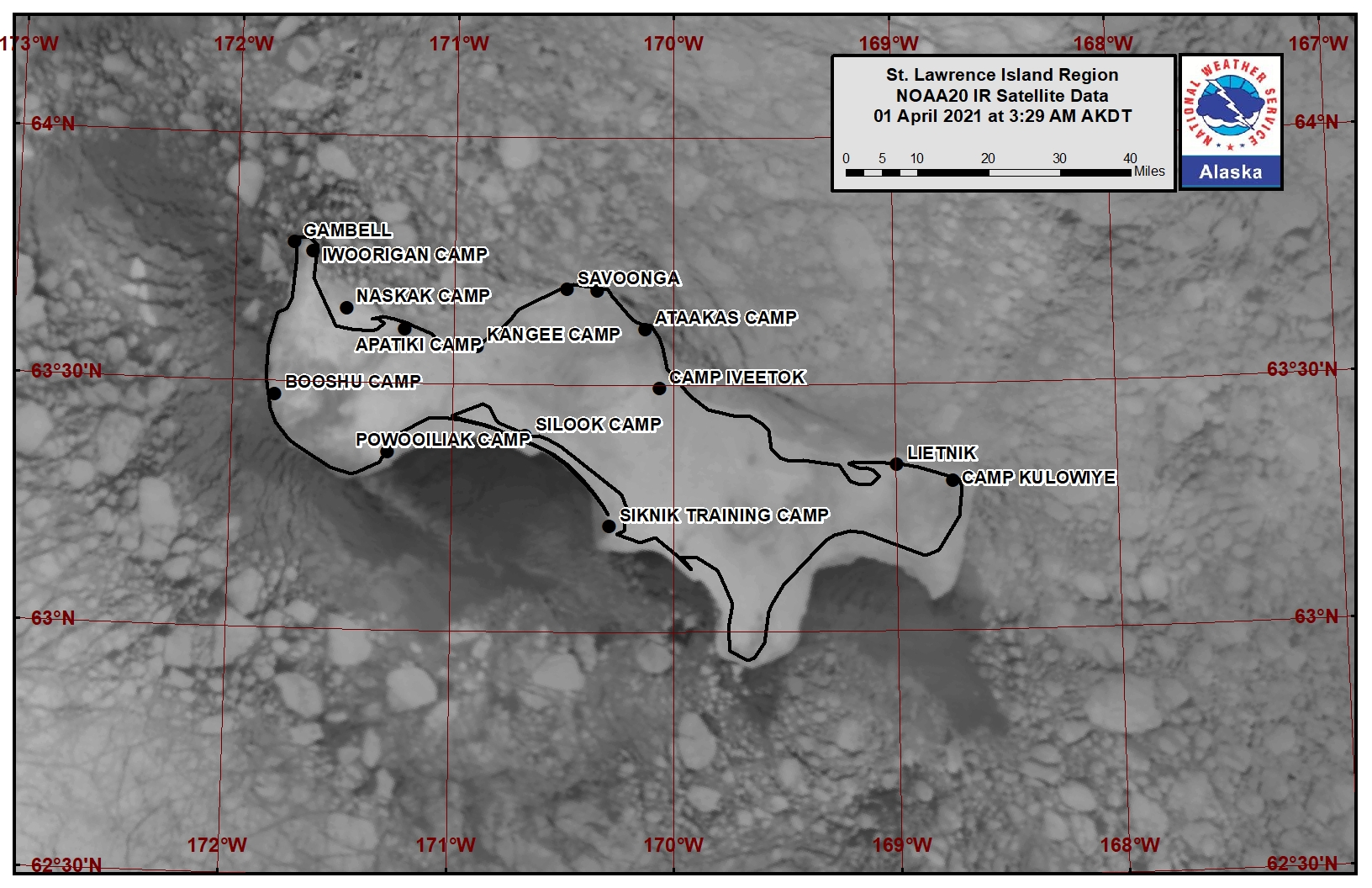 Observations and Comments
Observations of Sea Ice Development
Observations from Shishmaref
Thursday, 2 June 2022 – Curtis Nayokpuk
Four crews went out and brought home some Bearded Seals. Reports are
hunting was poor as game scarce and must have moved up coast into Kotz
Sound. Thick freezing fog and last visual of launch edge loose pack
ice moving back in. Shore fast ice still stable for few more days?
Monday, 30 May 2022 – Curtis Nayokpuk
Hunters reported shore fast ice to West showing new cracks from
wave/swell during high SW winds last week. All boats hauled to ice
edge back in town. Limited access to ice free launch and combined with
S-SW (off shore) winds and fog slowed hunting for a week. Some Walrus
seen and heard further out but hunting of Bearded Seals first on the
list before they move North. Pending winds and melting /rotting ice
hunters venturing out by snowmobiles to search for Bearded Seals.
Leads opening to the west.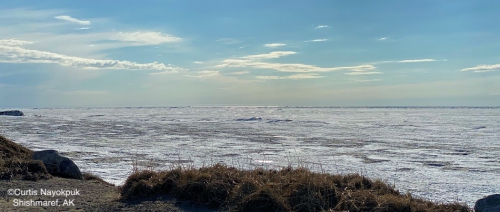 Leads opening to the west in Shishmaref.
Shishmaref hunters heading out in the afternoon on Monday, 30 May 2022.
Midnight sun in Shishmaref on Tuesday, 31 May 2022.
Observations from Savoonga
Thursday, 2 June 2022 – Aqef Waghiyi
Yesterday couple boats went out. I guess they got walrus. I don't know what they all got. Ice is still kinda plugged in, but there was a couple boats getting ready to head out. Probably going to have to push through that ice to get out to the outside of the ice. Even though we're kinda foggy it's kinda warm out still, 36 degrees. Past couple nights couple boats went out to hunt for birds and rake for sea peaches. Some of the murres already got half developed eggs [internally], but no shell around the yolk part. In the next week they'll probably form a shell around it.
Observations from Port Clarence, Brevig Mission, and Cape Douglas
Friday, 3 June 2022 – Marcus Barr
Port Clarence bay has started to move out, nobody has gone out since the last time we got walrus. Or one boat went out and got a young bearded seal. Right now until ice goes out for more boating, is egg gathering.
Observations from Gambell
Saturday, 4 June 2022 – Clarence Irrigoo, Jr.
First time boating when the fog left June 3 still have lots of ice.
Seal on ice near Gambell.
Seal on ice near Gambell.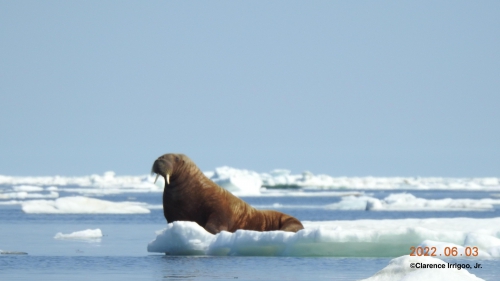 Walrus on ice near Gambell, AK.
Group of walrus on ice near Gambell.
Additional Comments Provided by Local Experts and Other Contributors:
Visit the SIWO Facebook page @seaiceforwalrus to view this animation showing the predicted movement of ice predicted by the HYbrid Coordinate Ocean Model (HYCOM). Snapshots from the forecast show ice coverage from 0% (black) to 100% (white) and arrows show the relative speed and direction of the ice. A light boundary is drawn at 15% predicted ice cover to highlight the ice edge, but ice may be predicted to extend beyond it. Some bays, lagoons, and areas very close to shore are not covered by the model (Image produced by the Alaska Ocean Observing System / Axiom Data Science).
Visit the SIWO Facebook page @seaiceforwalrus to view this animation.