Date:
Assessment of Current Ice Conditions Relevant to Distribution and Access of Walrus
Click the name of each community below to view more frequently updated and detailed information from the National Weather Service.
Forecast Synopsis for 14–18 March 2019
Synopsis. Low pressure will remain over the eastern to northern Bering Sea through Monday with high pressure remaining over eastern Russia.
Compact to consolidated ice pack extends from the north coast of St. Lawrence Island generally to the Bering Strait. Close ice pack with medium to big floes extends from both the east and west coasts of the island, into Russian waters to the west and up to 25 nm from the east coast. A polynya has formed on the south and southeast sides of the island, extending from 4 to 15 nm offshore. This polynya is filling in with new sea ice.
Shorefast ice extends up to one half nm from shore to the west of Nome. A polynya has formed from the Nome coast up to 3nm offshore, and is filling in with new sea ice. An area of close ice pack then extends 10 to 15 nm farther offshore, with ice cakes to big floes. To the southeast of that area is open pack ice consisting of ice cakes to medium floes, and otherwise very open pack ice throughout a large portion of western and central Norton Sound.
The forecast has not yet begun for 2019 in this region. Please check back later for updates.
The forecast has not yet begun for 2019 in this region. Please check back later for updates.
Forecast Discussion
Ice Forecast
For St. Lawrence Island: Sea ice will continue to compact against the north coast and fill in the polynya on the south side of the island through the next week.
For Nome: New sea ice is expected to fill in across much of Norton Sound over the next week. During any periods of northerly winds, the existing ice pack will likely move farther south.
Wind Synopsis
On St. Lawrence Island, east to northeast winds 20 to 25 kt (23 mph to 29 mph) on Friday, March 15th will diminish to 10 to 20 kt (12 to 23 mph) Friday night as a low moves across the island. Winds will become northerly 15 to 20 kt (17 to 23 mph) Saturday, March 16th and diminish to northwest 10 kt (12 mph) Sunday, March 17th. Variable or light northerly winds 10 kt (12 mph) will continue through Wednesday, March 20th. On Thursday, March 21st, northeast winds will increase to 20 to 30 kt and continue into Friday, March 22nd.
At Nome, southeast winds 10 to 15 kt (12 to 17 mph) on Friday, March 15th will shift to north 10 kt (12 mph) Friday night. Generally north to northwest winds 10 to 15 kt (12 to 17 mph) will persist through Wednesday, March 20th. On Thursday, March 21st, east winds 15 to 20 kt (17 to 23 mph) will develop and continue into Friday, March 22nd.
Temperature Trend
High temperatures will be in the 20s through Sunday, March 25th, with a cooling trend over St. Lawrence Island on Sunday, March 17th with highs falling into the teens. Lows will mainly be in the teens across the region. On Thursday, March 21st, high temperatures will warm back into the 20s and low 30s, with low temperatures in the teens and 20s.
Daily Weather, Wind, and Temperature Updates
The National Weather Service provides twice-daily, text only updates on the weather, wind, and temperature conditions in specific geographical zones. An interactive weather map for access to other Alaskan zones can be found here: http://weather.gov/anchorage/ice
Wind maps are updated daily and can be viewed here: http://www.weather.gov/afg/SIWO_overview
Marine forecast for the West Coast and Arctic Coast
Remote Sensing Images
Observations and Comments
Observations of Sea Ice Development
Observations from Wales
14 March 2019 – Robert Tokeinna, Jr.
On March 4, 2019, Wales lost the shorefast ice, but the good news is the sea shorefast ice is forming since then. Today and for the past week, Wales has seen substantial amount of snow which is typical for March. Today is a balmy 3°F with wind chill and wind coming out of the Northeast. As you can see in the photos, lots of open water with very young ice forming on the shore, but lots of icebergs and floe ice both near and offshore. No recent activity in the waters, but a couple of weeks ago a seal hunter caught two seals. This ends my observation and I will also submit to Facebook page also.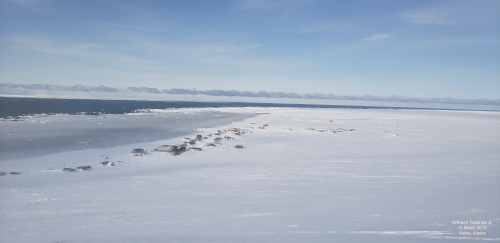 Observations from Nome
14 March 2019 – Boogles Johnson
The ice broke off the coast of Nome this weekend, Sunday, approx. 4pm. The Nome-Golovin snow machine race was going on and when the race was done and everyone left the ice broke off the coast and went out. Currently the ice is about a mile out in front of Nome and extends to about Topkok. The folks who had crab pots lost their pots on this ice since this ice breaking off happened so fast and early this year. It is time to hunt and all the hunters I know are getting their boats out of the snow, since we have had so much this year.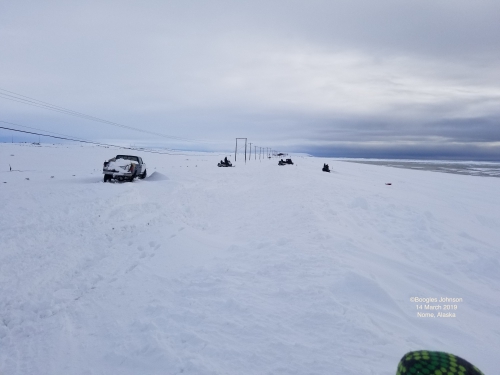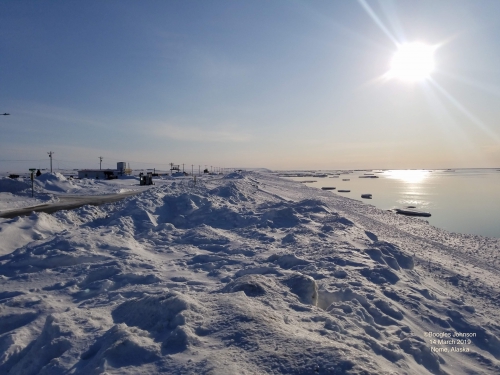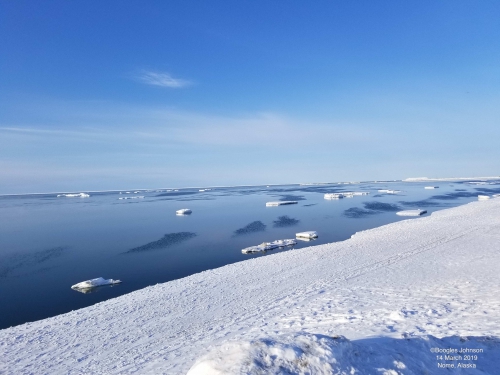 Observations from Savoonga
14 March 2019 – Aqef Waghiyi
No open water. Young ice, not too thick, less than a foot thick. Nobody went boating since last week. Most of the boats that went out got walrus a couple weeks ago now. There were quite a bit of walrus on chunks of ice, all males and young bulls and subadult bulls.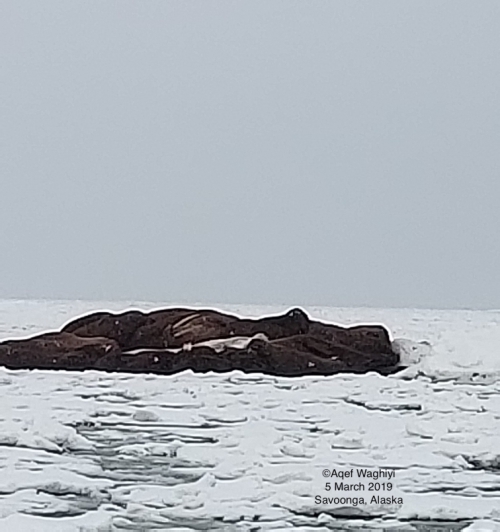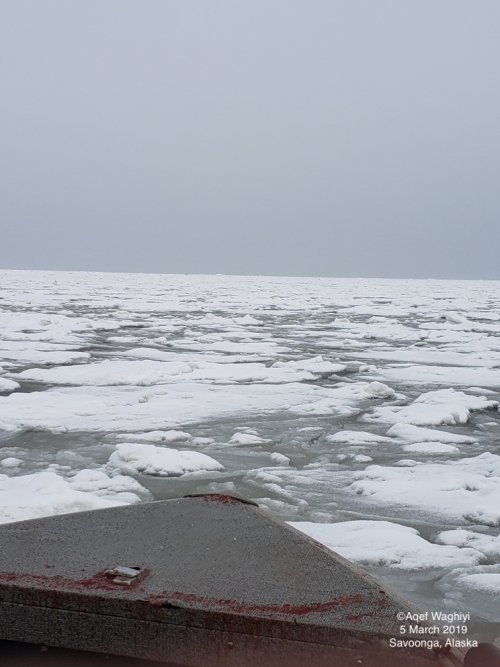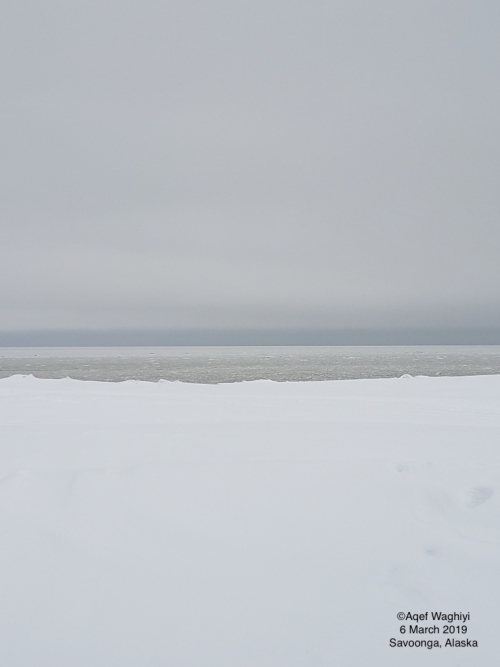 Observations from Gambell
14 March 2019 – Clarence Irrigoo, Jr.
Still windy and snowing but the ice is here. We have storm for about a week. Hopefully tomorrow we have good weather tomorrow
14 March 2019 – Glen
Fairly good amount of ice, seems like the ice was about 1-1.5' thick. Wind from NE @ 23, 25°, snowing. Observed from the beach.
Observations from Port Clarence and Brevig Mission
15 March 2019 – Marcus Barr
I went to two different places. The first 3 pictures are from the Port Clarence Point area about 15 miles SW of Brevig. There is high beach ice still attached, some scattered ice in the open sea and scattered ice that refroze at the ice edge. I took a photo of a freshly born seal that was on the main ice in the bay. The last 2 photos are from the seal camp area about 7 miles west of Brevig. There are rough ice near the ice edge. Cracks were forming along the beach ice. Seagulls and seabirds were spotted in the open water along with a lot of seals. Some slush formed after temps lowered.