Date:
Assessment of Current Ice Conditions Relevant to Distribution and Access of Walrus
Click the name of each community below to view more frequently updated and detailed information from the National Weather Service.
The waters surrounding St. Lawrence Island are sea ice free.
The waters around Nome are sea ice free. The 2018 SIWO season has ended for this area as of 10 May.
There is a small area of ice approximately 11 nm northeast of Wales. The nearest pack ice is about 90 nm north of Wales and 70 nm northwest of Shishmaref. Otherwise, waters surrounding the Wales to Shishmaref coastline are sea ice free.
The waters around Diomede are ice free.
Forecast Discussion
Ice Forecast
Waters will remain open or sea ice free.
Wind Synopsis
South to southwest winds 5 to 15 kt (6 to 17 mph) on Friday, June 1st will be strongest through the Bering Strait near Diomede. Winds will increase on Saturday and Sunday along the Bering Strait near Diomede to south at 20 kt (25 mph) with southeast 10 kt (12 mph) near Shishmaref. Monday, June 4th and Tuesday, June 5th the winds will weaken slightly and shift to south 5 to 10 kt (6 to 12 mph) for the Bering Strait near Diomede and Shishmaref. Tuesday night into Wednesday, June 6th wind will become northwest 10 to 20 kt (12 to 25 mph) with strongest along the Bering Strait near Diomede. North to northwest winds of 15 to 25 kt (17 to 30 mph) will remain from Thursday, June 7th and Friday, June 8th with strongest along Bering Strait.
Temperature Trend
High temperatures Friday, June 1st will start out cooler with upper 30's along Bering Strait near Diomede with lower 40s at Shishmaref. Then expect warming trend on Saturday and Sunday with temperature on Sunday, June 3rd in the mid 40s along Bering Strait to upper 40s near Shishmaref. High temperatures will remain through the remainder of the week from Monday, June 4th through Friday, June 8th in the lower 40s along the Bering Strait near Diomede and mid 40s near Shishmaref. Overnight lows will remain in the lower to mid 30s along the Bering Strait near Diomede through the week with mid to upper 30s near Shishmaref.
Daily Weather, Wind, and Temperature Updates
The National Weather Service provides twice-daily, text only updates on the weather, wind, and temperature conditions in specific geographical zones. An interactive weather map for access to other Alaskan zones can be found here: http://weather.gov/anchorage/ice
Wind maps are updated daily and can be viewed here: http://www.weather.gov/afg/SIWO_overview
Marine forecast for the West Coast and Arctic Coast
Remote Sensing Images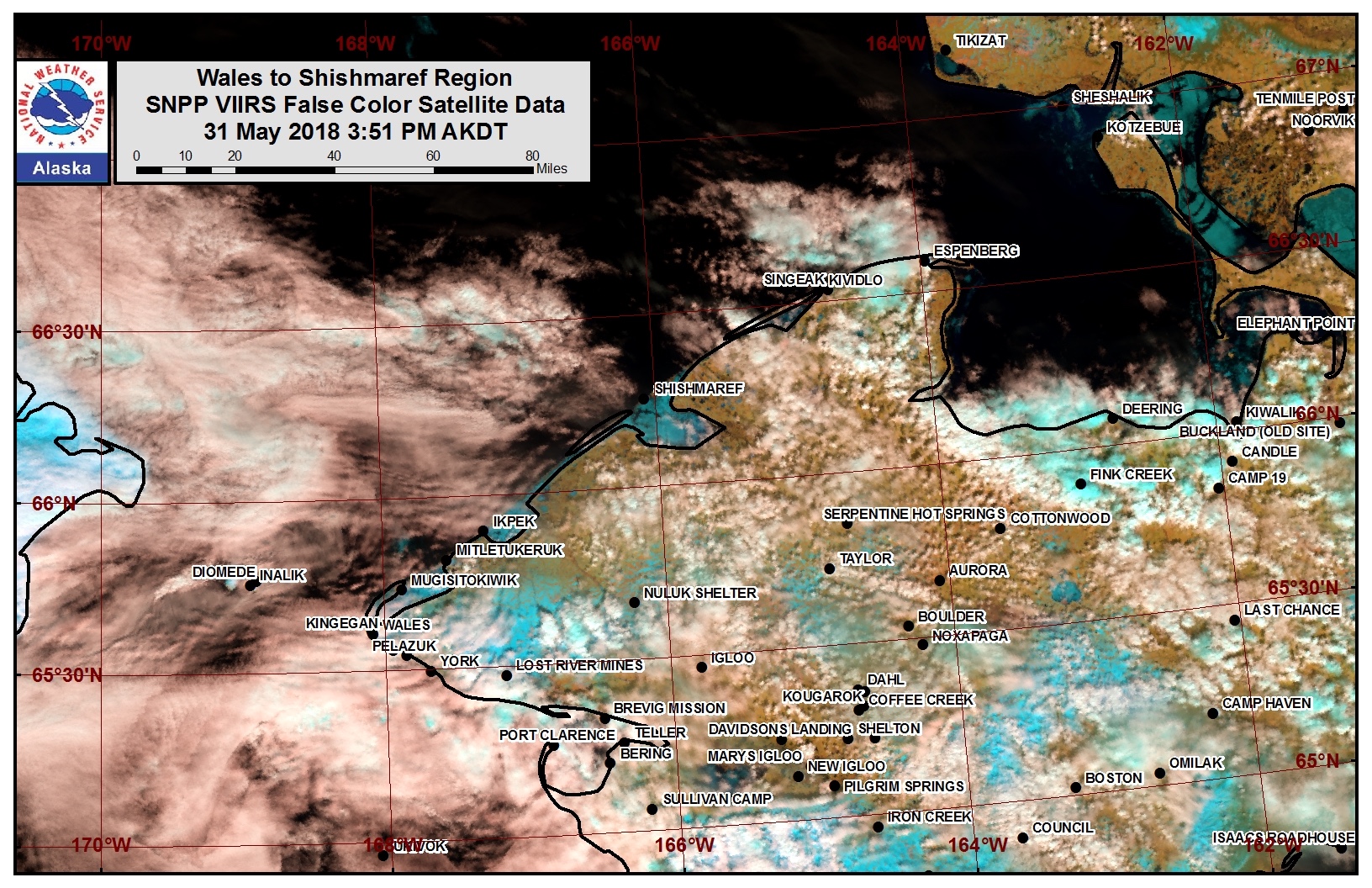 Observations and Comments
Observations of Sea Ice Development
Observations from Wales
1 June 2018 – Robert Tokeinna, Jr.
This week our Village Creek has fully opened up, but not quite ice or snow free. Hunters were catching both types of seals and walrus has been caught also. For pictures, the sea ice hung around for a day or two then drifted out at the beginning of the week then is ice free for now. There is sufficient amount of snow around town still, but it has warmed up nicely to also melt couple inches from last week. Overflows and running of creeks and runoffs are noticeable throughout the area. Snipes and different types of swallows were noticed around town along with snow geese, cranes, and other sea bearing ducks have been flying or hanging around. Temperatures were lower to mid 20's then warming up to 30 plus degrees at the end of the week. This ends my report.
Additional Comments Provided by Local Experts and Other Contributors
Additional Resource
31 May 2018 - Rick Thoman – National Weather Service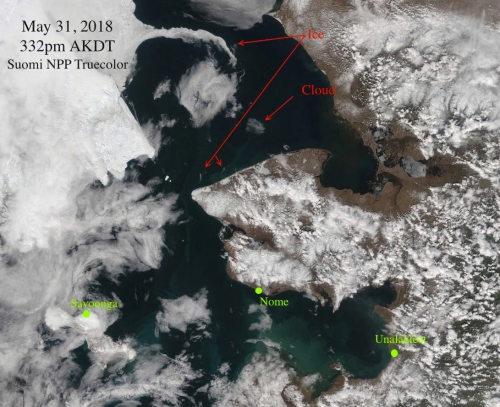 You can join Rick's Facebook group, Seward Pen/Bering Straits Weather and Climate Info, to see more images like this here: https://www.facebook.com/groups/631657950559392/
You can also follow Rick on Twitter - @AlaskaWx