Date:
Assessment of Current Ice Conditions Relevant to Distribution and Access of Walrus
Click the name of each community below to view more frequently updated and detailed information from the National Weather Service.
The waters surrounding St. Lawrence Island are sea ice free. There is some remaining close pack ice ranging from brash ice to big floes approximately 40 to 50 nm north of Gambell.
The waters around Nome are sea ice free. The 2018 SIWO season has ended for this area as of 10 May.
Open water extends approximately 7 nm offshore from Shishmaref. Beyond that is close pack ice comprised of medium to vast floes extending 15 to 20 nm offshore. Vast to giant floes of very close pack ice remain along the coast from Wales to 25 nm southwest of Shishmaref. This ice extends 5 to 10 nm offshore, with open water beyond that.
Open pack ice comprised of vast to giant floes is present along the northern coast of Diomede Island. The remainder of the island is surrounded by open water.
Forecast Discussion
Ice Forecast
Sea ice will continue to gradually melt out in the Bering Strait and along the Wales to Shishmaref Coast. Open pack ice may continue to drift into the vicinity of Diomede Island from the north during the next week. The close pack ice offshore of Shishmaref may drift closer to shore but should also decrease in concentration during the next week.
Wind Synopsis
Northeast winds 15 to 25 kt (17 to 29 mph) on Friday, May 18th will be strongest through the Bering Strait near Diomede. Winds will shift to the north on Saturday, May 19th and increase to 30 kt (35 mph) through the Bering Strait but diminish to northeast around 10 kt (12 mph) near Shishmaref. This wind pattern will persist through Monday, May 21st. Winds will diminish to north 15 kt (17 mph) through the Bering Strait and east 5 kt (6 mph) near Shishmaref by Tuesday, May 22nd. They will continue to diminish and become variable or light northerly 5 to 10 kt (6 to 12 mph) on Wednesday, May 23rd. Northeast winds increase again to 20 to 30 kt (23 to 35 mph) by Friday, May 25th and will be strongest through the Bering Strait.
Temperature Trend
High temperatures Friday, May 18th through Friday, May 25th will be in the mid 30's to the lower 40's. Overnight lows in the upper 20's to upper 30's. The warmest temperatures will be along the Seward Peninsula.
Daily Weather, Wind, and Temperature Updates
The National Weather Service provides twice-daily, text only updates on the weather, wind, and temperature conditions in specific geographical zones. An interactive weather map for access to other Alaskan zones can be found here: http://weather.gov/anchorage/ice
Wind maps are updated daily and can be viewed here: http://www.weather.gov/afg/SIWO_overview
Marine forecast for the West Coast and Arctic Coast
Remote Sensing Images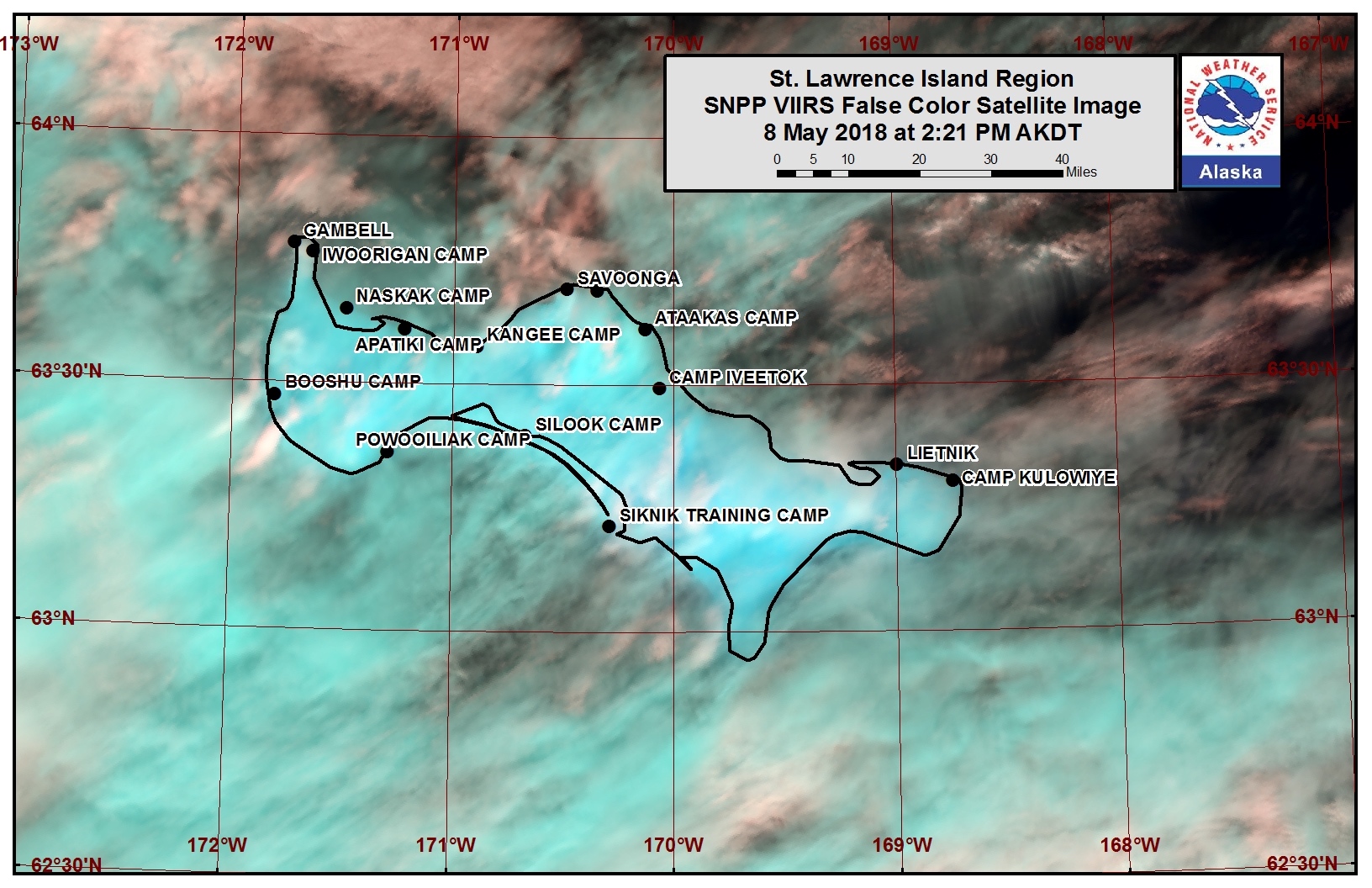 Observations and Comments
Observations of Sea Ice Development
Observations from Gambell
18 May 2018 – Clarence Irrigoo, Jr.
Very little ice left. Boats are harvesting walrus. Some went very far to the ice—up north 48 nm—and some in the water.
Observations from Savoonga
18 May 2018 – Aqef Waghiyi
Past few days people went to Punguk to get qasiqaq. They got them while they were in the water. There was no ice. There were adult walrus too, but none taken. The walrus rest on Punguk Islands or onshore where there isn't much people and traffic.
Observations from Shishmaref
18 May 2018 – Curtis Nayokpuk
Hunters have been venturing west 25 miles to remaining pack ice and have had good luck bringing in Bearded Seals and some Walrus encountered during hunting in calm weather conditions. Wind, fog, rain and choppy sea as well as long travel distance has limited hunting in ice free sea but overall looks to be a good season for Bearded Seals as one past elder from Wales said, "Shishmaref is the black meat capital of the world". Few boats still digging out and hunters going out pending good weather to finish up hunting in last of season pack ice. Hunting efforts will turn to bird hunting before rivers go out then prepare for fishing season. Have a good summer.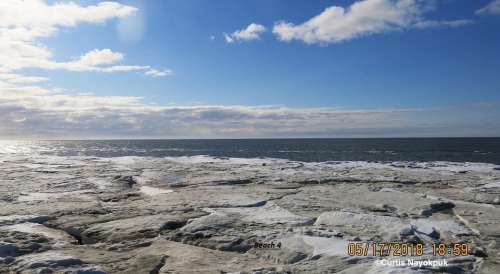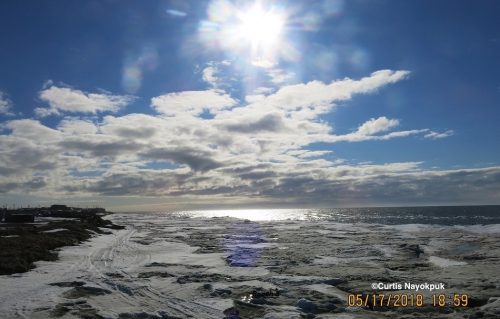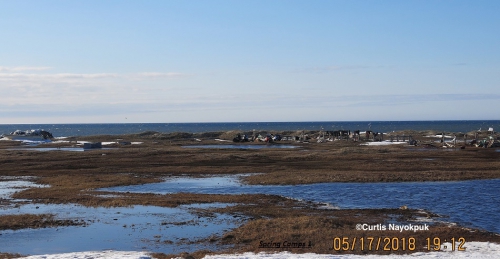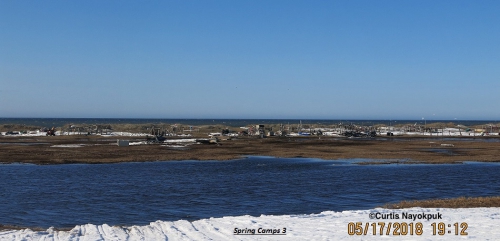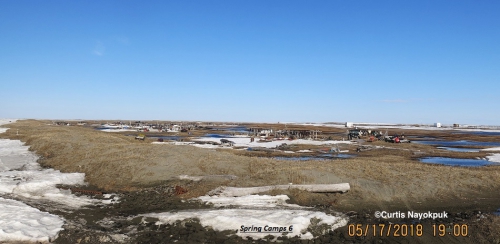 Observations from Wales
18 May 2018 – Robert Tokeinna, Jr.
This week lots of motion in the ice and water. Local boat crews were catching bearded seals and walrus. Bunch of cranes were harboring around the mountain during the week of fog we had. More recently, the water between the local Corporation building and airport has found its way to drain into Village creek which also led to Village Creek to drain also. We have been snowing with warm weather to follow then cool down to further stop thawing around town but seems to be that spring doesn't want to let go of winter. Temperatures were in the lower teens to upper 30s with dense fog for the most part of the week while ending the drought of no planes for 7 days due to soft runway or dense fog. Wales ended the week with warm temperate weather and now blowing from the north at 15-20 with gusts to 30. Looking at the pictures, there is no ice with the exception of small chunks below the school. Locals report the ice to be 10 plus miles up the coast with shorefast ice moving in that direction also. This ends my report.