Date:
Assessment of Current Ice Conditions Relevant to Distribution and Access of Walrus
Click the name of each community below to view more frequently updated and detailed information from the National Weather Service.
South of the island, there is a polynya that extends 18 to 32 nautical miles (nm) south that has begun to fill in with new (0-4 inches thick) ice, then there is an area 20 to 25 nm wide of close to very close pack ice that includes primarily big to vast floes up to 28 inches thick. To the west and north of Gambell and Savoonga, there is open water mainly west of Lietnik. East of the island is widespread close to very close pack ice.
Shorefast ice extends up to 2 nm offshore from Nome. Beyond the shorefast ice is a polynya extending 4 to 16 nm that is quickly filling in with new sea ice. There is widespread very close pack ice consisting of small to giant floes to the south of the polynya.
Shorefast ice extends up to 2 nm northwest of the coast from Wales to Shishmaref. Beyond the shorefast ice is widespread very close pack ice with a mixture of small to giant floes.
Very close pack ice consisting of a mixture of small to giant floes is present from Diomede north. This very close pack ice also extends up to 8 nm east of Diomede. Beyond this pack ice is close pack ice consisting of widespread new ice. There is an area of close pack ice to the south and southwest of Diomede consisting of ice cakes to medium floes. 
Forecast Discussion
Ice Forecast
Sea ice will continue to move southwestward throughout the region, although northward movement of the sea ice may continue through the Bering Strait due to currents. New sea ice will continue to fill in where ice pulls away from south-facing coasts and sea ice will move back toward and compact against north facing coastlines.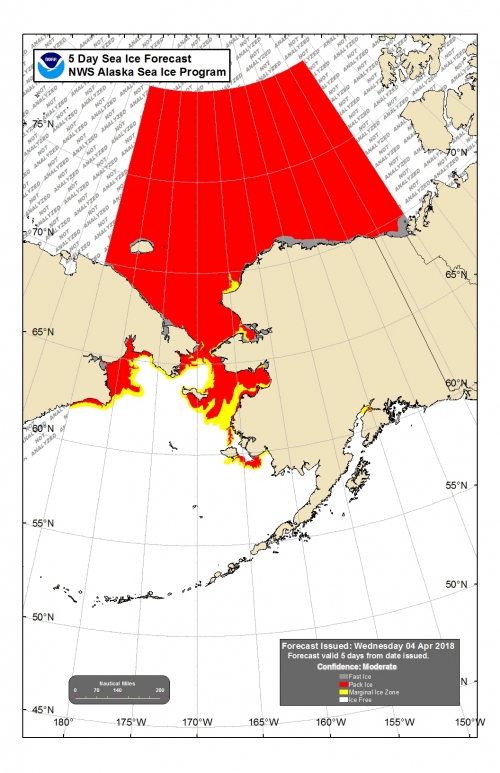 Wind Synopsis
Expect light east to southeast winds 10 to 15 kt (12 to 17 mph) from Friday, April 7th through Saturday, April 8th. Winds will become east to northeast 10 to 20 kt (12 to 23 mph) on Sunday, April 9th and increase to 15 to 25 kt (17 to 29 mph) on Monday, April 10th. Northeast winds will increase to 20 to 30 kt (23 to 35 mph) on Tuesday, April 10th and continue through Thursday, April 12th. Northeast winds will gradually diminish on Friday, April 13th. The strongest winds during the upcoming week will be from St Lawrence Island to the Bering Strait, including Diomede and Wales.
Temperature Trend
Temperatures will remain steady from Friday, April 7th through Friday, April 13th. Daytime highs will range from 20 to 30 degrees with overnight lows in the teens to lower 20s, with the warmest temperatures on St. Lawrence Island.
Daily Weather, Wind, and Temperature Updates
The National Weather Service provides twice-daily, text only updates on the weather, wind, and temperature conditions in specific geographical zones. An interactive weather map for access to other Alaskan zones can be found here: http://weather.gov/anchorage/ice
Wind maps are updated daily and can be viewed here: http://www.weather.gov/afg/SIWO_overview
Marine forecast for the West Coast and Arctic Coast
Remote Sensing Images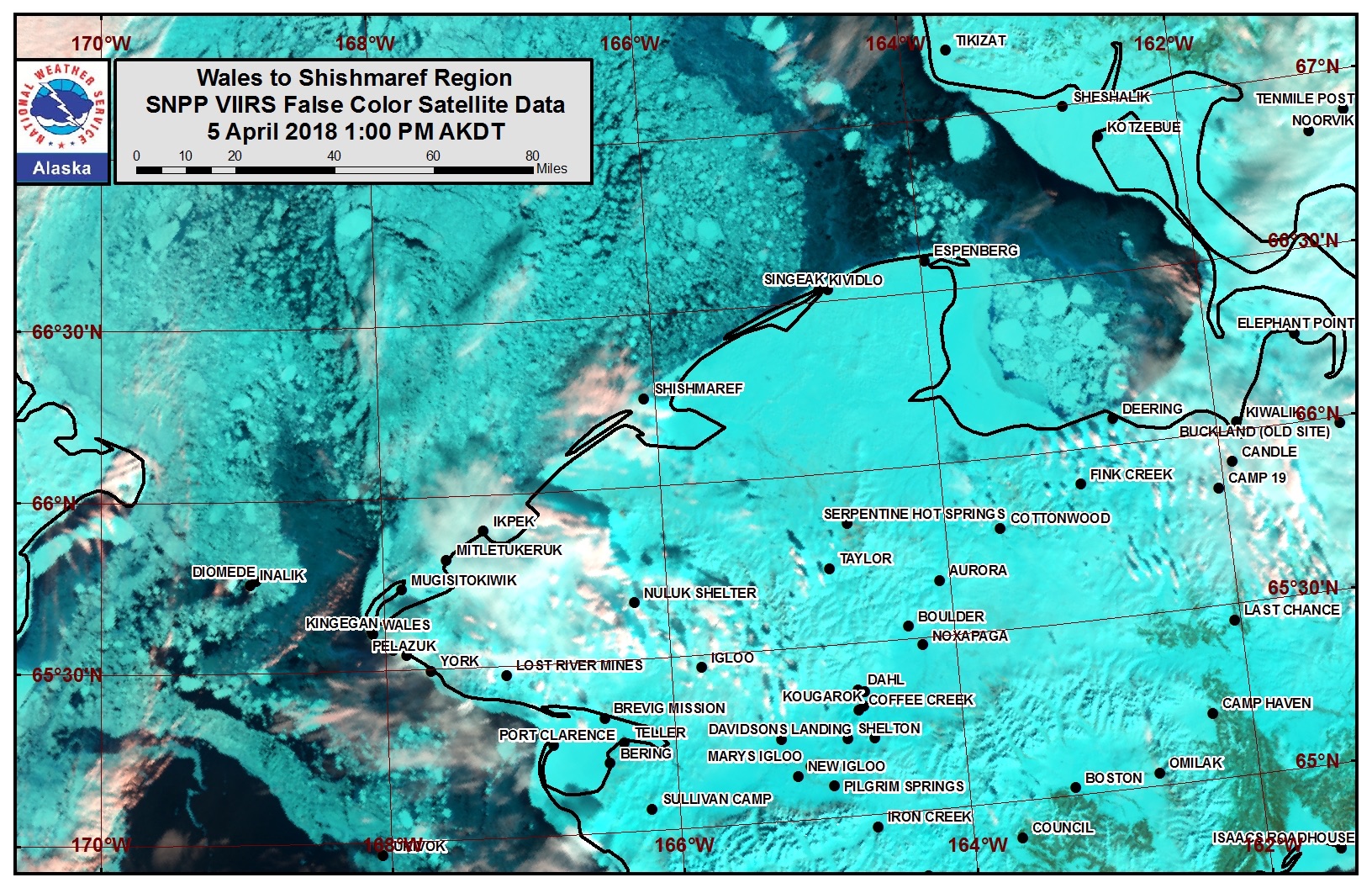 Observations and Comments
Observations of Sea Ice Development
Observations from Diomede
*5 April 2018 – Opik Ahkinga
9:15PM
NNE winds 20knots 
-5°F windchill 
It has been a bad crab-fishing season for Diomede, due to this year's poor ice condition. This is all new ice formed from slush. We've seen floating ice sheets cross into the strait and collide to a crumbled mound, where a good crabbing spot would be. It can be risky to crab further south of the island, where we usually go. A few people are crabbing more southerly. There has been no sightings of walrus yet.  Hunters have spotted seals and belugas, but none taken.  Our temperatures today are in the 20s, it's already coming spring weather too soon.  
Observations from Wales
5 April 2018 – Robert Tokeinna, Jr.
This past week at the beginning of this weekend call for warm calm winds the as the week progressed winds got gustier and colder. This week it averaged from lower 30s and cooler -5 with winds changing from south wind to easterly then to current north winds. The Wales' Kingikmiut Nanuaq Patrol has started in full force patrolling around the community for polar bears. Residents seen snow birds and seagulls which is a sign of spring and open water nearby. During the beginning of the week we had southerly winds and enclosed ice leads with patches of rare open water but as of couple days ago with easterly winds brought open water. You can see in one of the photos of a pressure ridges and a cake of ice that may have broken off.
The World Wildlife Fund brought a waterproof magnaphone to record underwater creatures. Local school kids were beach combing nearby the school for keepsake item as my oldest son brought home sea shells and rocks. Local hunters are getting their equipment ready for the upcoming hunting season. This ends my report.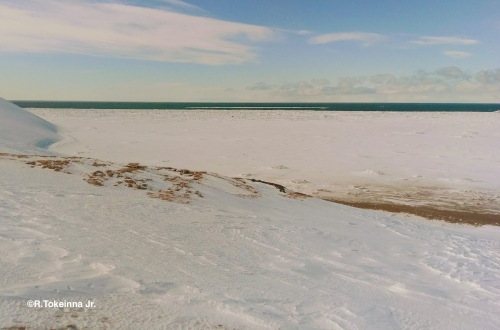 Observations from Nome
6 April 2018 – Boogles Johnson
We have had significant ice movement in Nome that can be seen from town. The local hunters are starting to gear up and get their boats ready for the spring hunt. Our ice currently is approx. 3-31/2 ft thick.  There are quite a few folks that have lost their crab pots with the recent departure of our ice.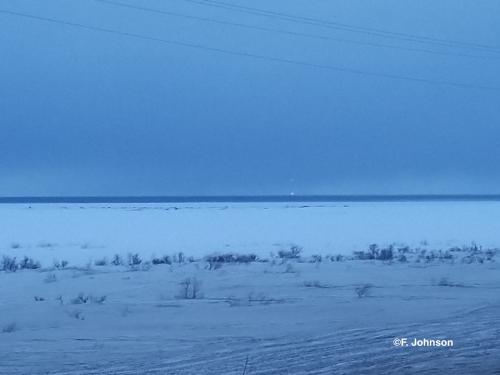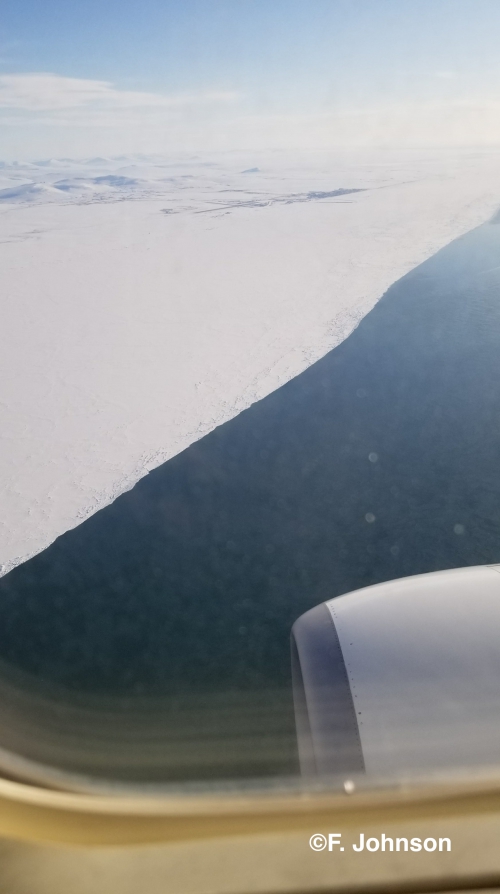 Observations from Shishmaref
6 April 2018 – Curtis Nayokpuk
No reports from hunters of sea ice conditions.  Northeasterly wind moved pack ice back in and close open sea. Few leads can be seen from the village and with cold temps at night any open water looks to have frozen over. Light snow today so no pictures to add.  Here is the link I check on and they take detailed shots of our areas on weekly (Saturday?)  basis from what I've seen: www.polarview.aq/arctic
Observations from Gambell
5 April 2018 – Clarence Irrigoo, Jr.
First day of April about seven boats went out some boats got walrus at NE most of the boats were on west side hunting whale. Since that day we have bad weather, very windy.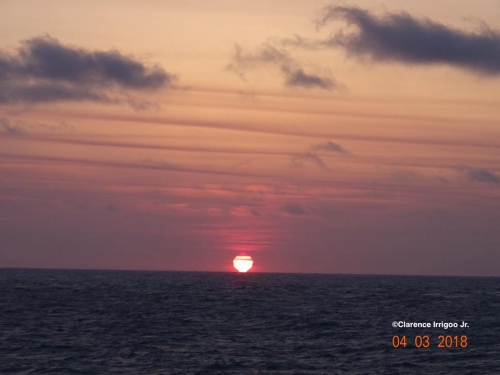 Observations from Savoonga
6 April 2018 – Aqef Waghiyi
Snowing. About one mile visibility. North winds. No one is boating. North wind for a few days and still no ice. People saw a whale but couldn't get to it.