Date:
Assessment of Current Ice Conditions Relevant to Distribution and Access of Walrus
This final outlook of 2017 focuses only on the remaining sea ice in the Wales to Shishmaref area
The ice along the coast continues to deteriorate and is no longer shorefast. Very close pack ice extends 1 to 3 nautical miles offshore. Beyond that is open water and sea ice free conditions, with the exception of a small area of open pack ice that extends up to 15 nautical miles offshore near Shishmaref.

Forecast Discussion
Ice Forecast
Near the Wales to Shishmaref coast, pieces of ice are expected to gradually break off the very close ice pack while concentration along the ice edge continues to quickly diminish through the next week. Pieces that break off of the pack will rapidly melt as they move into warmer waters offshore.  

Wind Synopsis
Winds on Friday Jun 9th will be northerly 15 to 20 kt (15 to 20 mph) and diminish to 10 to 15 kt (10 to 15 mph) on Sunday June 11th. Variable winds 10 kt (10 mph) or less will develop on Monday June 12th and persist through Wednesday June 14th. Winds will shift to northeast 15 to 20 kt (15 to 20 mph) Thursday June 15th.
Temperature Trend
Temperatures will remain near to slightly above normal from Friday June 9th to Friday June 16th.
Daily Weather, Wind, and Temperature Updates
The National Weather Service provides twice-daily, text only updates on the weather, wind, and temperature conditions in specific geographical zones. An interactive weather map for access to other Alaskan zones can be found here: http://weather.gov/anchorage/ice
Wind maps are updated daily and can be viewed here: http://www.weather.gov/afg/SIWO_overview
Marine forecast for the West Coast and Arctic Coast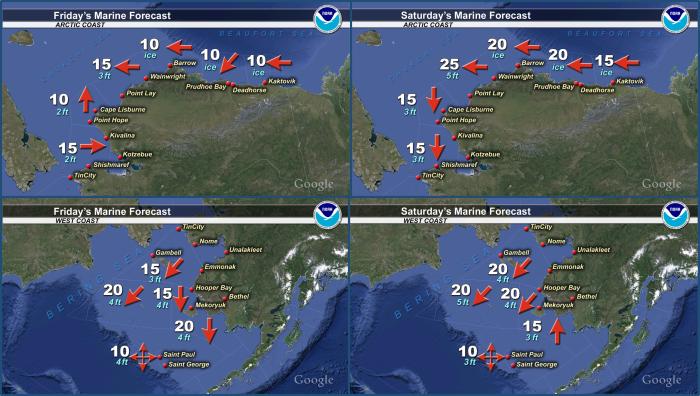 Remote Sensing Images
Observations and Comments
Observations of Sea Ice Development
Observations from Shishmaref
9 June 2017 – Curtis Nayokpuk
Our crew and one other made it back after hunting the ice fields north of Shishmaref. No Walrus seen or found anywhere and ice looks to have been beaten by large wave action. On return to launch area we encountered large 8 ft. swell coming in from the west and could not land at departure/launch site due to large wave swell and ice pans grinding so we made it in at another safe scattered ice a mile east to get back to shore ice. Thanks to our local search and rescue for going out to retrieve our snow machines and sleds and bring them back to town on shore ice heaving and breaking up with unexpected swell from the west. Forecast weather with light N-NE winds in our area was as forecast but winds reported by hunter near Wales were high west winds and building swell and tried to relay information to our hunters but we were already out hunting. Picture show our crews helping each other to move our skiffs to solid ice and home thru fracturing shore fast ice. Only had time for one picture shot during break watching fog roll in with west wind. Thanks for this site and look to see you all again next year.