Date:
Assessment of Current Ice Conditions Relevant to Distribution and Access of Walrus
NEW FOR 2017: Click the name of each community below to view more frequently updated and detailed information from the National Weather Service.
Sea ice remains shorefast along the northeast coast of St. Lawrence Island up to 2 nautical miles from the coast. Very close pack ice extends from 2 to 7 nm beyond the shorefast ice. Shorefast ice is gone from the northwest coast of the island, although shorefast ice remains within Nayvaghpak (Niyokpok) Lagoon. The remainder of the waters surrounding the island are sea ice free.
There is some close pack ice to the west of Nome along the coast and up to 12nm offshore. There is also some close pack ice along the coast near Safety. The coastal waters around Nome otherwise consist mainly of sea ice free waters. 
Shorefast ice continues to show rapid deterioration lately with new leads developing. Much of the previously shorefast ice continues to look more like very close pack ice or consolidated ice which extends 18 to 25 nm offshore, with open pack ice beyond that and then open water. The extent of the shorefast ice looks to be generally 1-2 nm from shore with an area up to 5-7 nm closer to Wales.  
Little Diomede Island is now sea ice free on all sides.
Forecast Discussion
Ice Forecast
Near the Wales to Shishmaref coast, shorefast ice is expected to remain in place through the next week as very close pack ice sits to the northwest of the shorefast ice. The pack ice in the region will continue to break up and melt, but some open water will remain west of Wales. The offshore waters of the Bering Strait region will likely remain sea ice free for the season. For St. Lawrence Island, the sea ice on the northeast side of the island will continue to melt as waters warm and it spreads apart with local winds and currents. Near Nome, the close pack ice to the west of Nome will continue to spread out and melt over the course of the next week.

Wind Synopsis
Winds on Friday, May 26th will be southerly 15 to 20 kt (15 to 20 mph) from Norton Sound to the Chukchi Sea but northerly 5 to 10 kt (5 to 10 mph) across St. Lawrence Island. Winds will generally become southerly around 10 kt (10 mph) across the region Saturday and Sunday. Winds will shift to northeast 15 to 20 kt (15 to 20 mph) on Monday, May 29th and increase to northeast 20 to 30 kt (20 to 35 mph) on Tuesday, May 30th with the strongest winds from the Bering Strait to St. Lawrence Island. Northeast winds 20 to 30 kts will persist Wednesday and Thursday and gradually diminish on Friday, June 2nd.
Temperature Trend
During the forecast period, temperatures 5 to 10 degrees colder than normal on Friday will gradually warm to near normal by Monday, May 29th. Temperatures will continue to warm next week to 5 to 10 degrees above normal by Friday, June 2nd. High temperatures will climb into the mid 40s over St. Lawrence Island and upper 50s along the Seward Peninsula.
Daily Weather, Wind, and Temperature Updates
The National Weather Service provides twice-daily, text only updates on the weather, wind, and temperature conditions in specific geographical zones. An interactive weather map for access to other Alaskan zones can be found here: http://weather.gov/anchorage/ice
Wind maps are updated daily and can be viewed here: http://www.weather.gov/afg/SIWO_overview
Marine forecast for the West Coast and Arctic Coast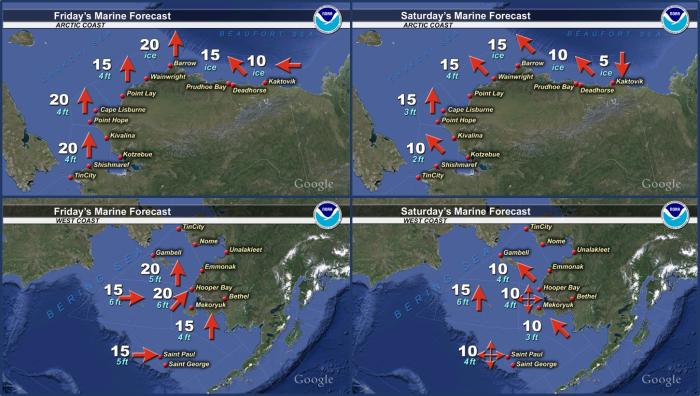 Remote Sensing Images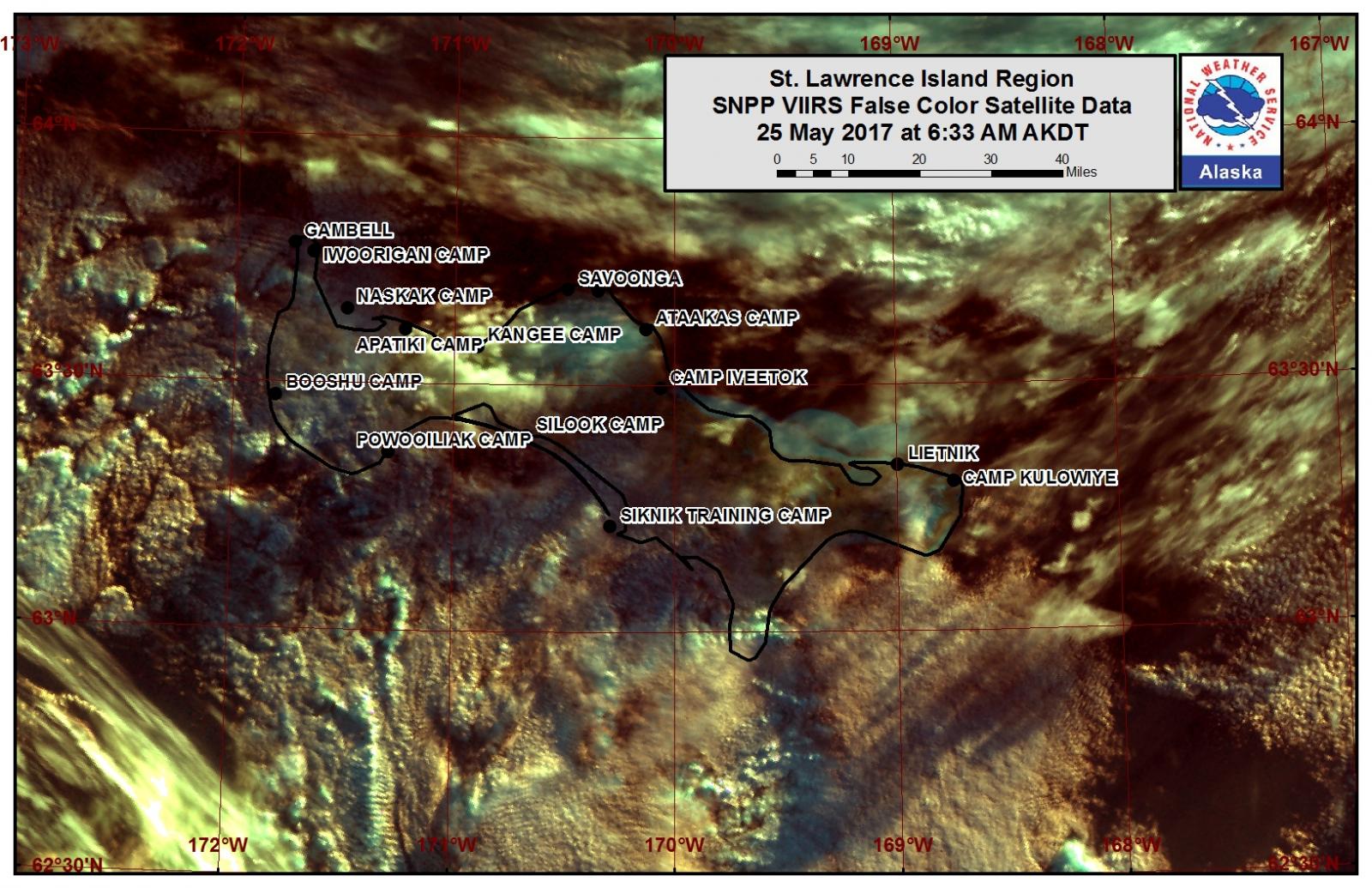 Observations and Comments
Observations of Sea Ice Development
Observations from Savoonga
24 May 2017 – Aqef Waghiyi
No ice near Savoonga. Shore ice here and there along the coast, not much though. Few walrus here and there, but they are mostly gone. Will be hunting seals, fish, and birds now. Waiting for the last of the ice to go out to launch boats.
Observations from Shishmaref
26 May 2017 – Curtis Nayokpuk
Hunters were able to launch boats over thin ice edge 20 miles west along shore fast ice. Bearded Seals were brought in during wet snow and rain conditions with calm sea. Spring camp drying racks showing successful hunting and filling up. Crews have been hauling boats back to the village with strong SW winds breaking off land fast ice and open leads can be seen 3-5 miles from Shishmaref.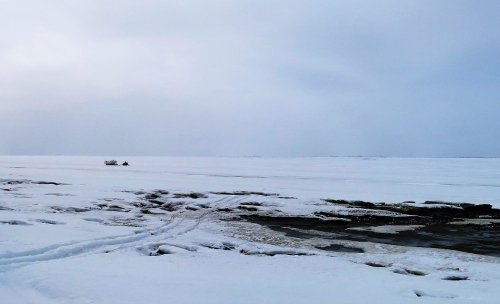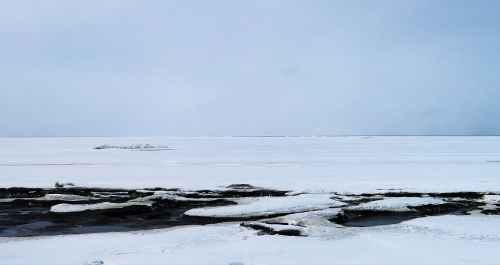 Observations from Wales
26 May 2017 – Robert Tokeinna, Jr.
This week the ice continued to come off piece by piece then completely came off the shore leaving just broken ice in front of the village. A boat from Teller came, but due to high winds and fog was stranded for weather in Wales. It finally rained, but later snow. Local duck hunters report good turnout of ducks and caught some to feed their families. Warm weather led the week with cool weather past couple days. With the shorefast ice gone in front of the community, it gives opportunity for local hunters to hunt both on land and out in the water. There is still shorefast ice couple miles north of the community.
No photo this week and too foggy. I will send one once I get a chance.