Date:
Assessment of Current Ice Conditions Relevant to Distribution and Access of Walrus
NEW FOR 2017: Click the name of each community below to view more frequently updated and detailed information from the National Weather Service.
Sea ice remains shorefast along the north coast of St. Lawrence Island out 1-2 miles on the northwest side of the island and to up to 2 miles from the coast on the northeast side. Beyond the shorefast ice on the northwest side of the island is close pack ice up to 1 mile. Very close pack ice extends on the northeast side of the island away from 2 to 7 miles out from the shorefast ice. The southeast side of the island has up to 1 mile of shorefast ice. Beyond the shorefast ice is open water. The south and west sides of the island are sea ice free.
Shorefast ice extends up to 2 miles from the Nome area coast, but is generally around 1 mile closest to Nome. A small area of very open pack ice and/or open water extends 3 to 5 miles beyond the shorefast ice, with big to vast floes of close to very close pack ice beyond that. 
Shorefast ice extends to approximately 10 to 20 miles from the coast between Wales and Shishmaref. Beyond the shorefast ice is very close pack ice, with some open water beyond the shorefast ice near Wales. 
Very close pack ice extends to the north of Little Diomede Island while very open pack ice or open water extends in all other directions.
Forecast Discussion
Ice Forecast
Pack ice in the Bering Strait region will generally move southwestward 10 to 15 nm through mid-next week. Near the Wales to Shishmaref coast, shorefast ice is expected to remain in place as very close pack ice sits northwest of the shorefast ice. From Wales to Shishmaref, the pack ice off the edge of the shorefast will continue to move slowly to the southwest, but some open water will remain west of Wales.  For St. Lawrence Island, the very close pack ice on the northeast side of the island will continue to move closer as well as push up against the island/shorefast ice. The highest concentration ice will remain to the east and especially northeast side of the island. For Nome, shorefast ice will continue to slowly erode as very close pack ice spreads out and new polynyas form in northern Norton Sound.

Wind Synopsis
Northeast winds will remain between 15 to 25 mph sustained from St. Lawrence Island to the Chukchi Sea coast through Saturday. Winds look to become light and more variable (below 10 mph) late Sunday through Monday as weak high pressure settles in. Low pressure passing to the south of St. Lawrence Island Monday night into Tuesday will increase winds over the region again out of the northeast between 10 to 20 mph, and between 15 to 30 mph from Tuesday night into Wednesday, before gradually diminishing on Thursday.
Temperature Trend
Temperatures will persist around 5 to 10 degrees above normal through this weekend, before returning to more seasonal averages Monday into next week.
Daily Weather, Wind, and Temperature Updates
The National Weather Service provides twice-daily, text only updates on the weather, wind, and temperature conditions in specific geographical zones. An interactive weather map for access to other Alaskan zones can be found here: http://weather.gov/anchorage/ice
Wind maps are updated daily and can be viewed here: http://www.weather.gov/afg/SIWO_overview
Marine forecast for the West Coast and Arctic Coast
Remote Sensing Images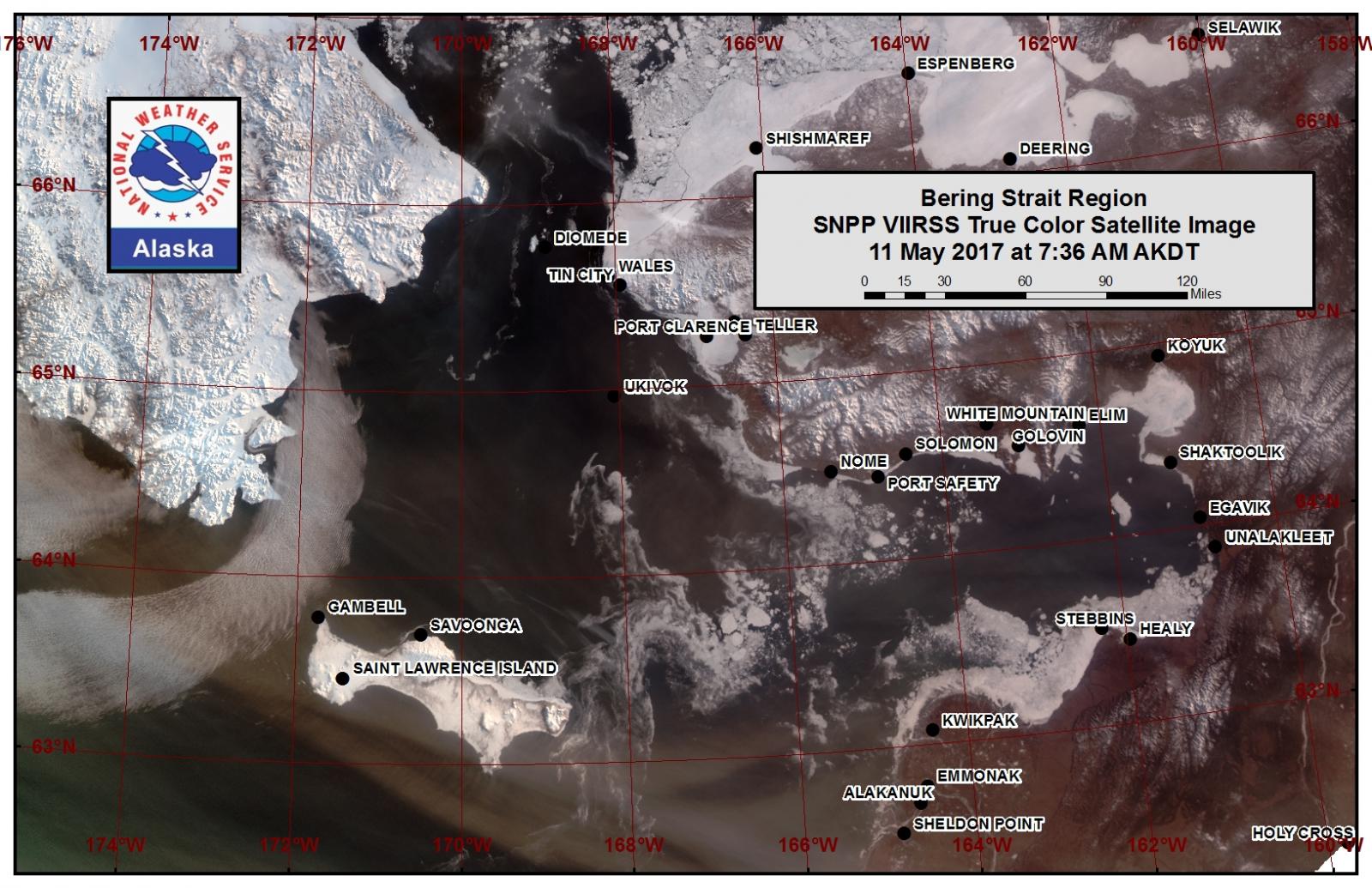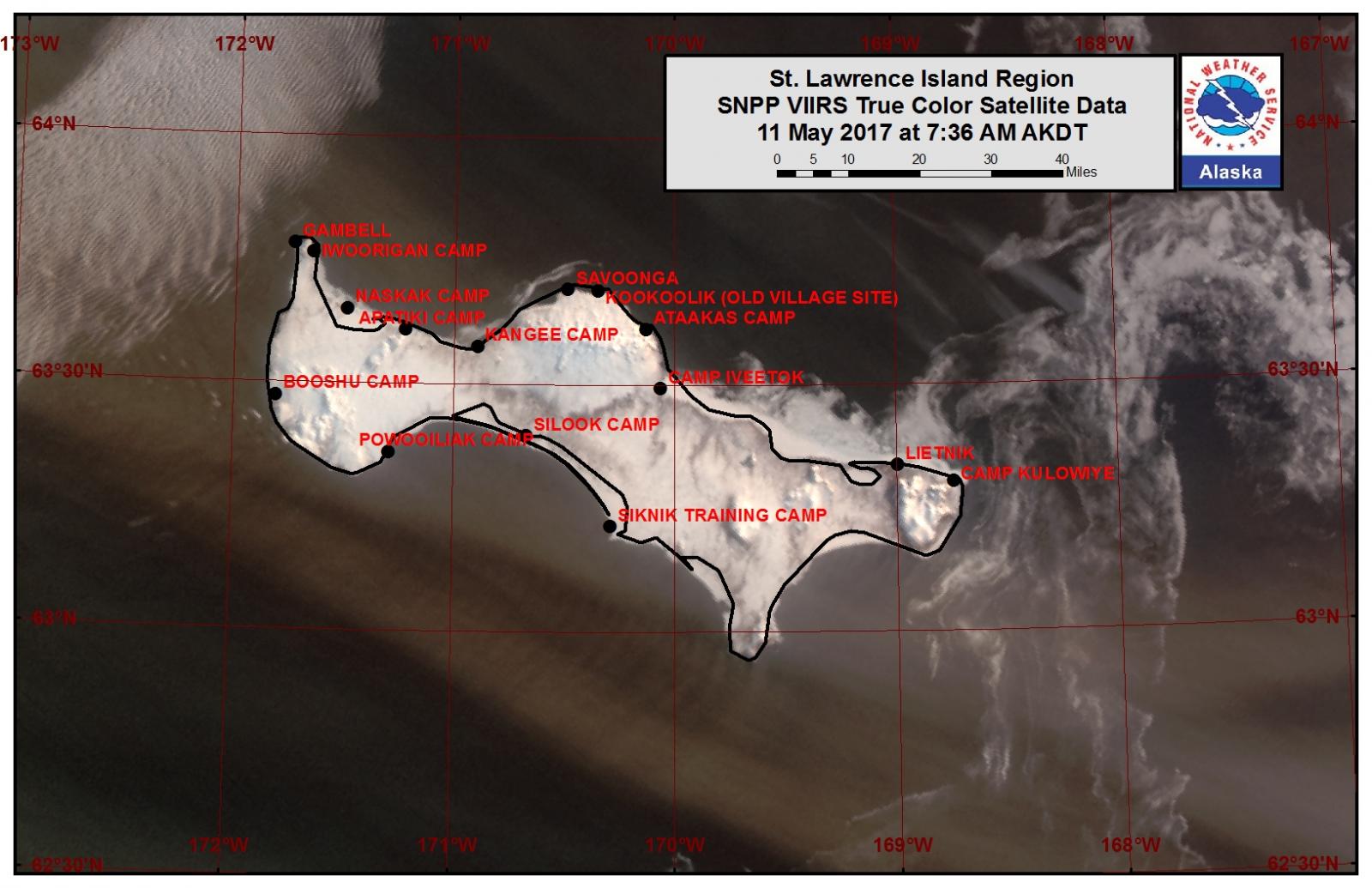 Observations and Comments
Observations of Sea Ice Development
Observations from Wales
11 May 2017 – Robert Tokeinna, Jr.
I have taken Image 1840 yesterday as I was walking home and ask a local resident if I can snap a photo on their meat rack approximately 40 feet off the ground of the ice as it is the tallest standing structure in middle of town. I have noticed since the last observation, some or all of the second set of pressure ridges have been coming off and turning into flow ice. I noticed also that thru the week the shorefast ice has been receding gradually. But the two other photos are courtesy of my Fiancé Octaivia Wilson respectively and have visual confirmation from these photos. If you remember my observation from middle and end of March, you can compare and see that the second set of pressure ridges have since came off of our shorefast ice. Today and for the past week it has been prominently northerly winds with couple days of variable winds. Locals and myself have spotted multiple sets of ducks and birds. I spotted Snow Geese and Emperor Geese this week along with multiple bunches of Cranes. There are more sea gulls showing up along with small birds. I have seen half a dozen squirrels out, bugs are starting to come back to life with this warmer weather past couple days. Locals also reported good source of frozen ice call niluraqs as it does not contain runoff water taste as the spring thaws, local village creek continues to run and drain underneath it's frozen top still intact and collapsing onto itself. Local hunters halted their efforts on acquiring a boat launch but have heard of couple locals walking to the edge of the ice. Local polar bear patrollers are still attempting to collect polar bear hair/fur samples, I am not too sure if they were successful or not.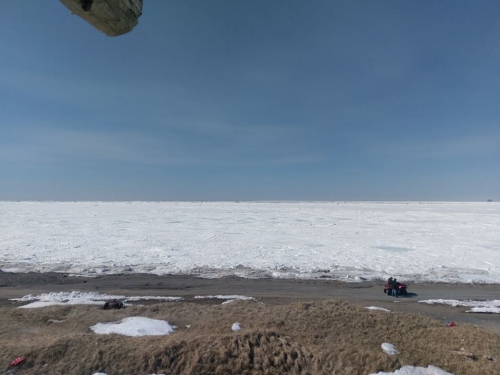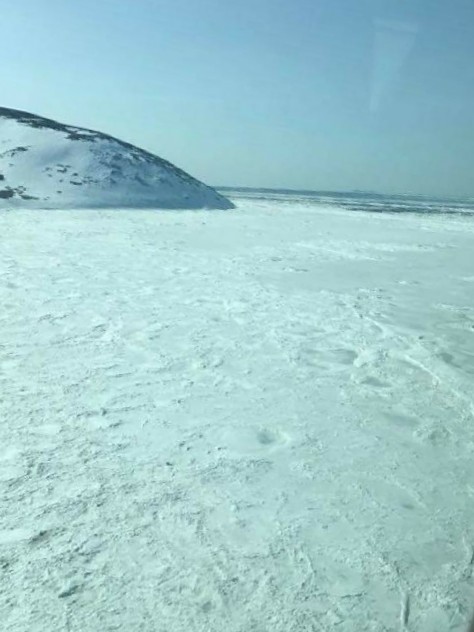 Observations from Nome
11 May 2017 – Boogles Johnson
Sea ice conditions May 8th at approximately 10pm - The high winds this weekend made the ice move south. The ice seems to be hanging around, with those winds it made some chop breaking up the rotten ice.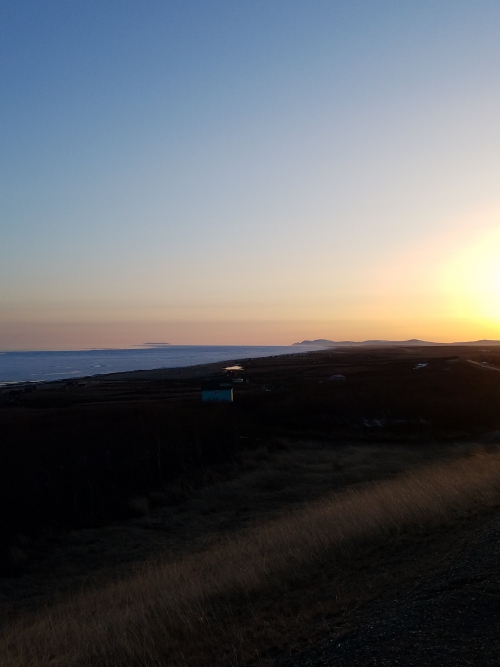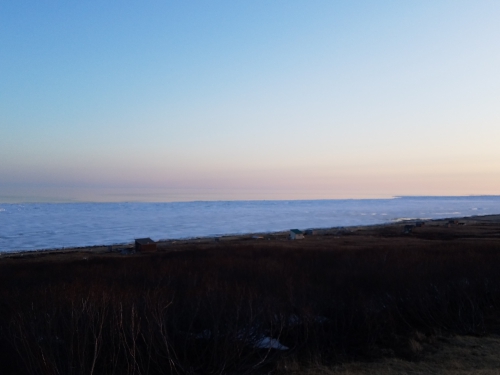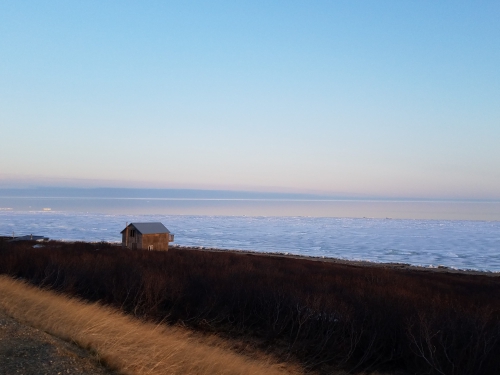 Observations from Shishmaref
12 May 2017 – Curtis Nayokpuk
No surface travel reports from hunters due to rough piled ridges limiting access to 1-2 miles out along coast. Warm temps back and ducks flying over the village. Our crew plans to scout ice NE (per POLAR VIEW map of 4-28-17) next couple days and will report back if reaching open leads to hunt Bearded Seals. Otherwise ducks are only game for now.
Observations from Gambell
12 May 2017 – Clarence Irrigoo, Jr.
Still hunting for swimmers and some boats going Savoonga side and getting walrus.
Additional Comments Provided by Local Experts and Other Contributors
Satellite Image Update
From NWS Alaska Sea Ice Program - 13 May 2017
The shorefast ice in the Wales-Shishmaref region looks to have deteriorated further off the coast, as well as more opening in the Nome area.