Date:
Assessment of Current Ice Conditions Relevant to Distribution and Access of Walrus
NEW FOR 2017: Click the name of each community below to view more frequently updated and detailed information from the National Weather Service.
Sea ice is shorefast along the north coast of St. Lawrence Island 2 miles out on the northwest side of the island and up to 3 miles from the coast on the northeast side. Very close pack ice extends on the northeast side of the island away from 2 to 10 miles out from the shorefast ice. The southeast side of the island has up to 1 mile of shorefast ice. Beyond the shorefast ice is open water. The south and west sides of the island are sea ice free. 
Shorefast ice extends up to 6 miles from the Nome area coast, but is generally 1-2 miles. Otherwise there is close to very close pack ice throughout the northern portion of Norton Sound with big to giant floes. There is a large polynya to the east of Nome with open water.
Shorefast ice extends to approximately 10 to 25 miles from the coast between Wales and Shishmaref. Beyond the shorefast ice is very close to consolidated pack ice, with some open water beyond the shorefast ice near Wales. 
Close to very close pack ice extends to the north and east of Little Diomede Island while shorefast ice remains to the west. Beyond the shorefast ice on the south and southeast sides of the island, there is open water.
Forecast Discussion
Ice Forecast
Pack ice in the Bering Strait region will generally move southward up to 25 nm through mid-next week.  Near the Wales to Shishmaref coast, shorefast ice is expected to remain as very close to consolidated pack ice sits northwest of the shorefast ice. The open water that is to the west of Wales will likely at least partially close off as pack ice moves back into the area. For St. Lawrence Island, the open pack ice to the north of the island will move southward toward the island but is not expected to reach St. Lawrence Island in the form of close pack ice. The highest concentration ice will remain to the east and northeast side of the island.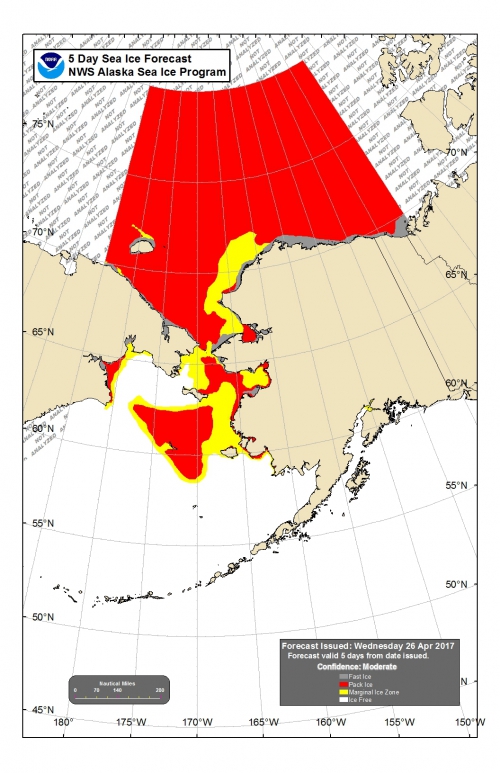 Wind Synopsis
East winds 5 to 15 kt (10 to 20 mph) will increase across St. Lawrence Island and the northern Bering Sea to 15 to 25 kts (20 to 30 mph) Saturday, April 29 and to 25 to 35 kts (30 to 40 mph) by Sunday morning, April 30. Sunday, April 30 into Monday, May 1, east winds will shift to the northeast and decrease to 10 to 20 kt (15 to 25 mph). Winds will shift to east at 10 to 20 kts (15 to 25 mph) Wednesday, May 3, increasing through Friday, May 5 to 15 to 25 kts (20 to 30 mph). North of the Bering Strait near Shishmaref, east winds 5 to 15 kts (10 to 20 mph) will shift to the northeast Saturday, April 29 and increase to 10 to 20 kt (15 to 25 mph) through Sunday. Northeast winds then will decrease to under 10 kt (15 mph) by Monday afternoon, May 1. Northeast winds will shift to the north on Tuesday morning, May 2 and remain under 10 kt (15 mph) and then increase through Friday, May 5 to 15 to 25 kt (20 to 30 mph). 
Temperature Trend
Temperatures will be around 5 degrees above normal with highs in the mid 30s through Tuesday, May 2. From Wednesday, May 3 into Friday, May 5, temperatures will cool by a few degrees into the lower 30s.  Overnight temperatures on Sunday and Monday night will be right around the freezing mark at 32 degrees, but otherwise see overnight lows below freezing.
Daily Weather, Wind, and Temperature Updates
The National Weather Service provides twice-daily, text only updates on the weather, wind, and temperature conditions in specific geographical zones. An interactive weather map for access to other Alaskan zones can be found here: http://weather.gov/anchorage/ice
Wind maps are updated daily and can be viewed here: http://www.weather.gov/afg/SIWO_overview
Marine forecast for the West Coast and Arctic Coast
Remote Sensing Images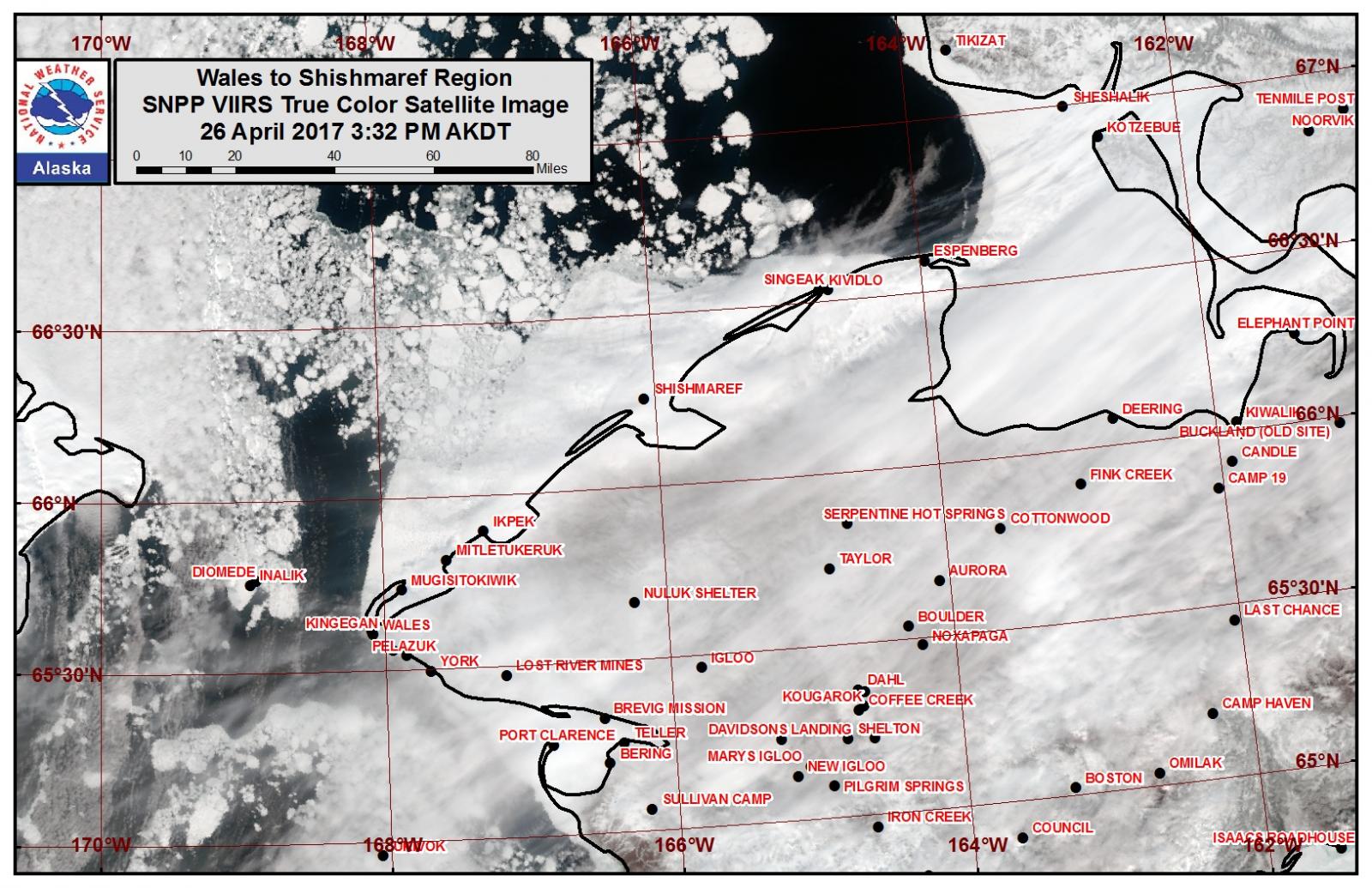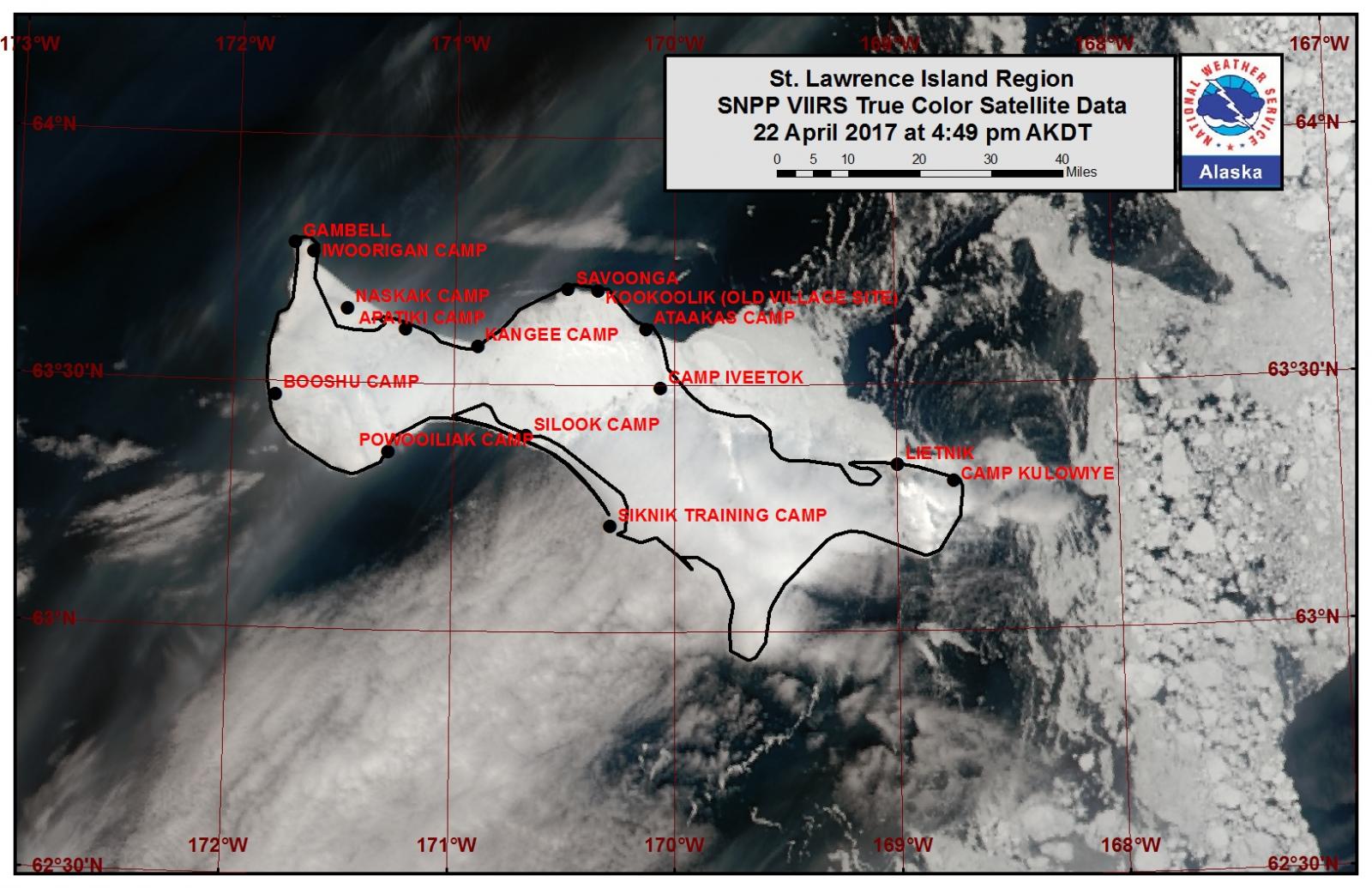 Observations and Comments
Observations of Sea Ice Development
Observations from Wales
24 April 2017 – Robert Tokeinna, Jr.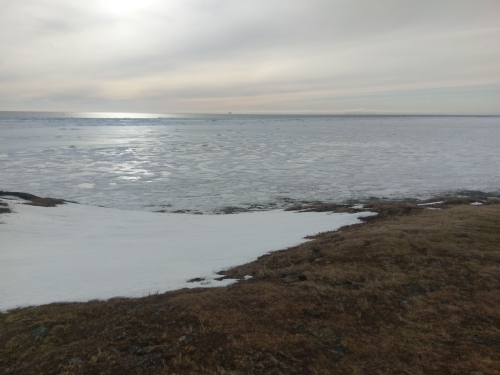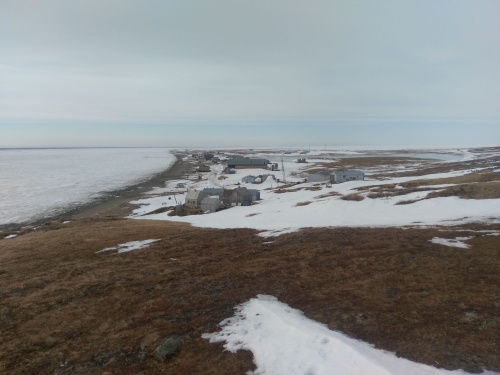 28 April 2017 – Robert Tokeinna, Jr.
This week we had persistent northerly winds with finally south wind at this present moment. Open water for the most part of this week with continued melt of snow. Not very much action on the ice as we laid to rest one our young adult. The local snow plow crew plowed snow to the main street and airport road. Local creek opened up and is running. Thanks to Mother Nature otherwise locals would need to shovel a trench for it to run, ever so often it chooses to open on its own.
Observations from Gambell
26 April 2017 – Clarence Irrigoo, Jr.
Still very windy (on April 26th). Freezing spray and the wind died down (April 27th).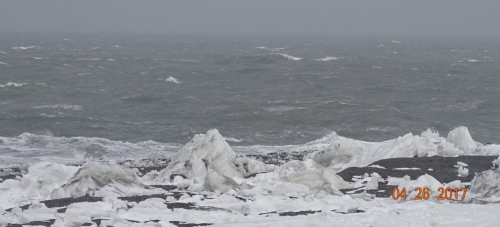 Observations from Savoonga
27 April 2017 – Aqef Waghiyi
Ice came in from the east side five days ago. Went 40 miles to get walrus. Few boats got walrus, some got maklak (bearded seal) too. One got a female with a calf inside and that has been the only qasiqaq (baby walrus) so far. Maybe tomorrow we'll go 60-100 miles east. No choice but to chase the ice eastward.
Some people down south saw high/thick ice on the east side – high pressure ridges not connected to the shore. You can climb up and see more. We will try to leave early tomorrow morning and try again.
Observations from Shishmaref
28 April 2017 – Curtis Nayokpuk
No reports of hunters out on sea ice. Rugged piled ice and loss of snow cover limiting travel. Current weather: light snow last couple days and forecast mix snow and rain with off shore winds over the weekend. Melting during day and freezing at night with nearest open sea require 20 (+) miles to haul boats (if any trail through rough ice found). Hunters out after arriving Geese and Ducks before rivers open up. 
Check back for more observations coming soon from Wales and Nome!